'Green Book' takes home best picture in Oscars upset
Updated February 25, 2019 - 12:06 am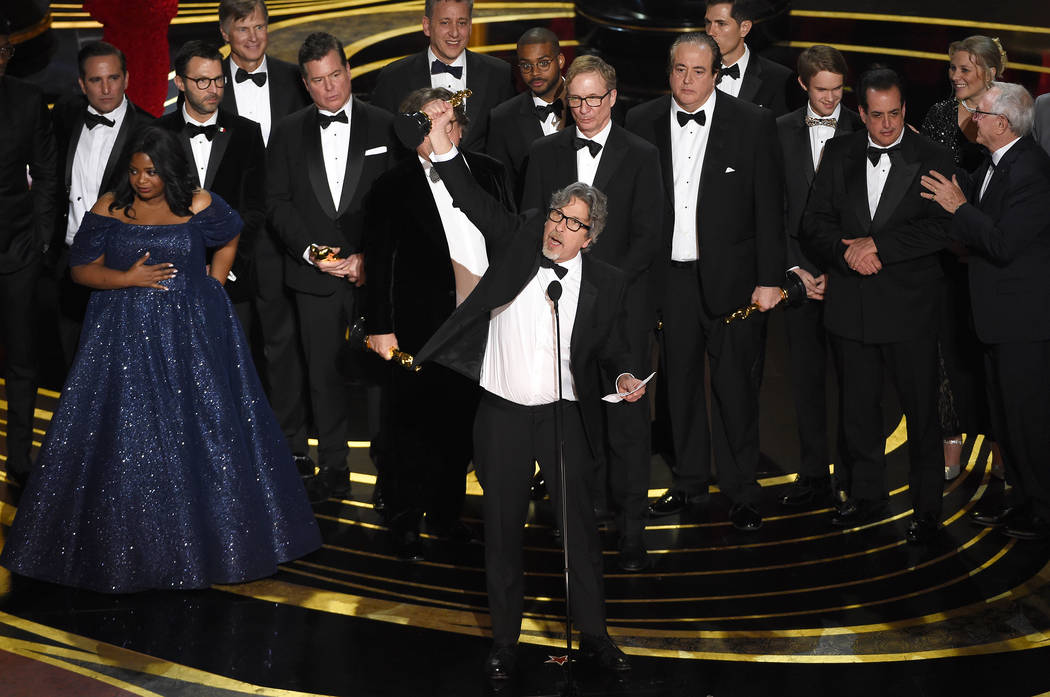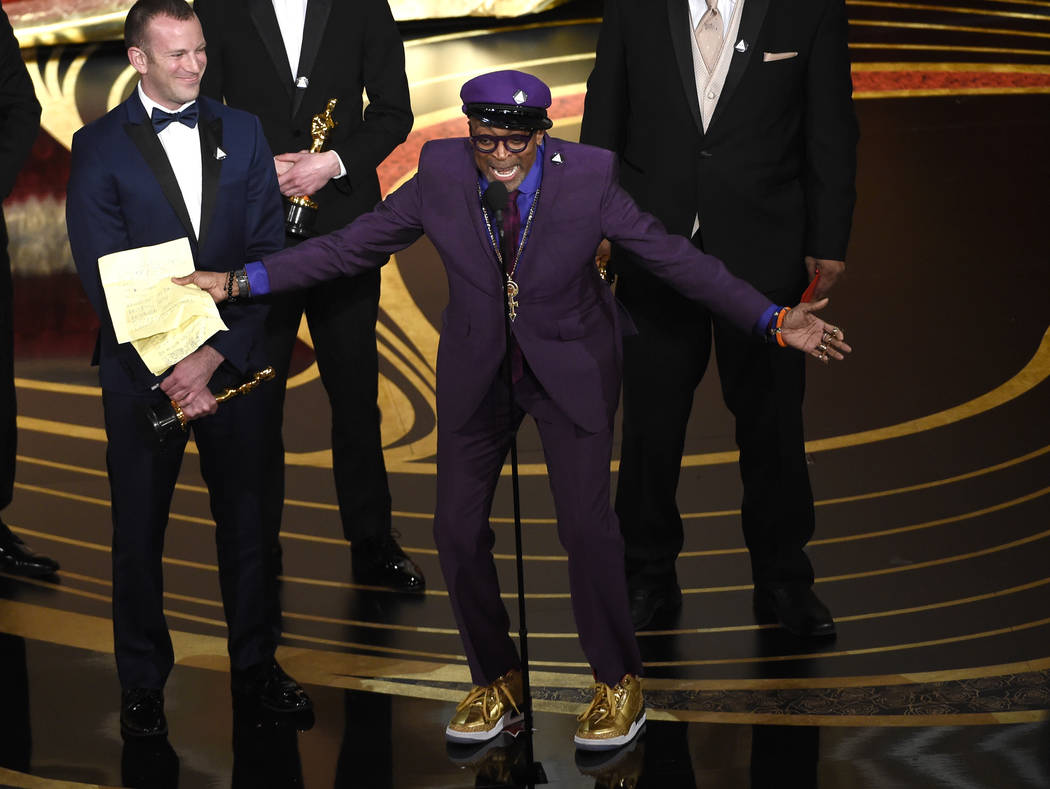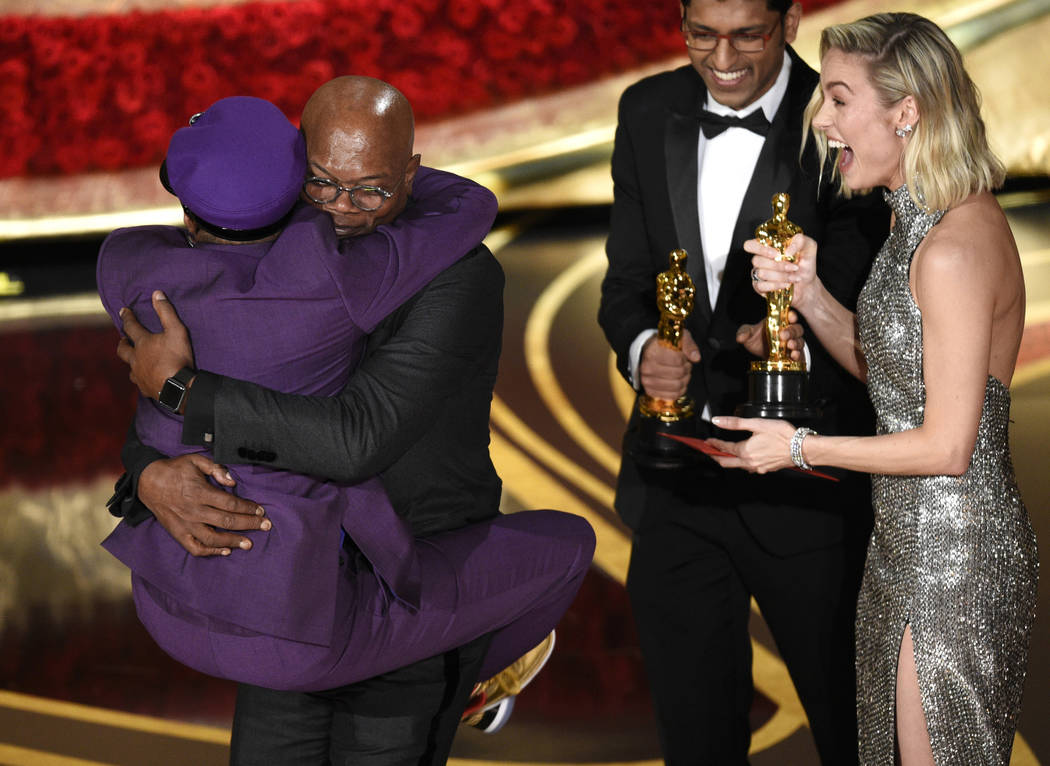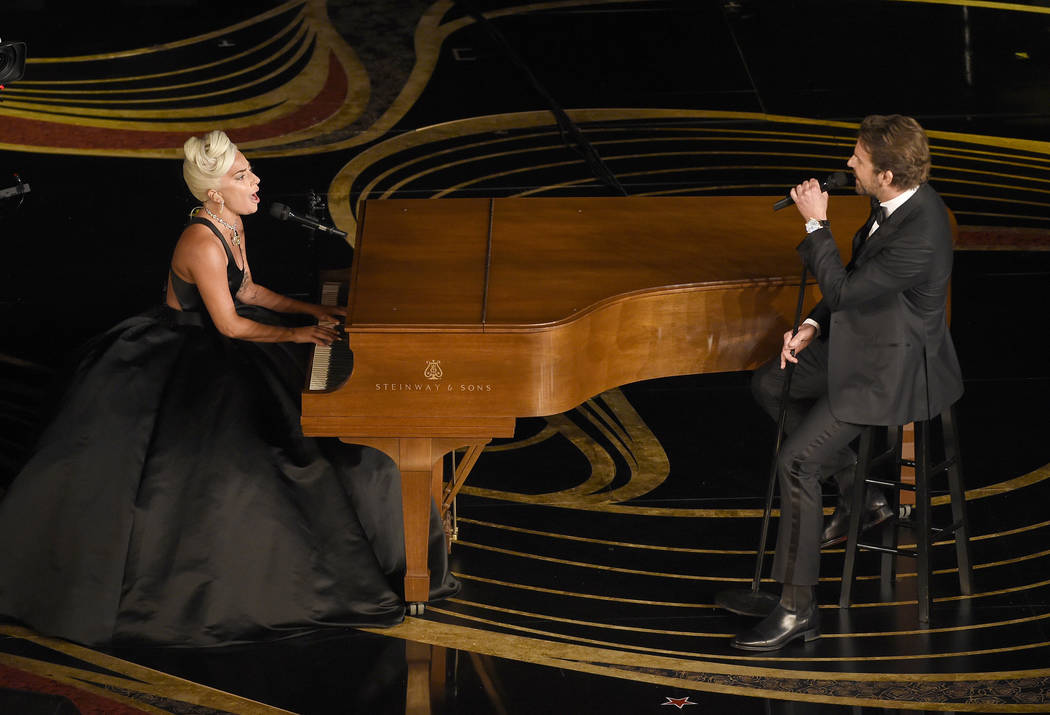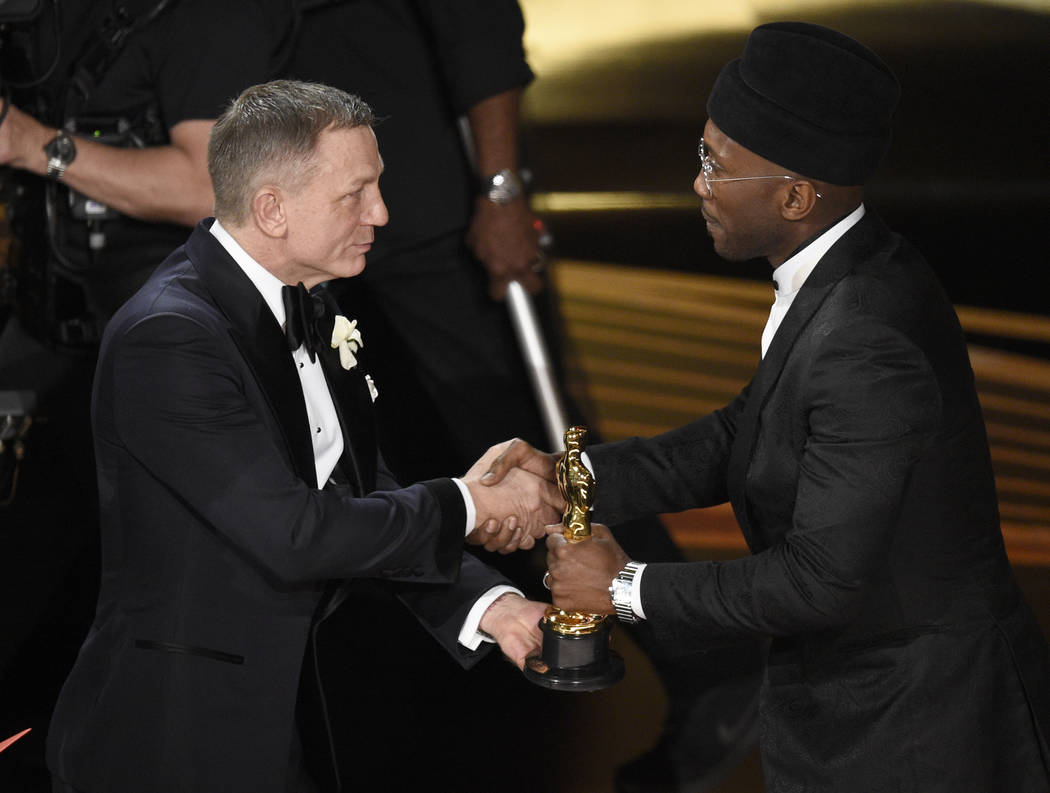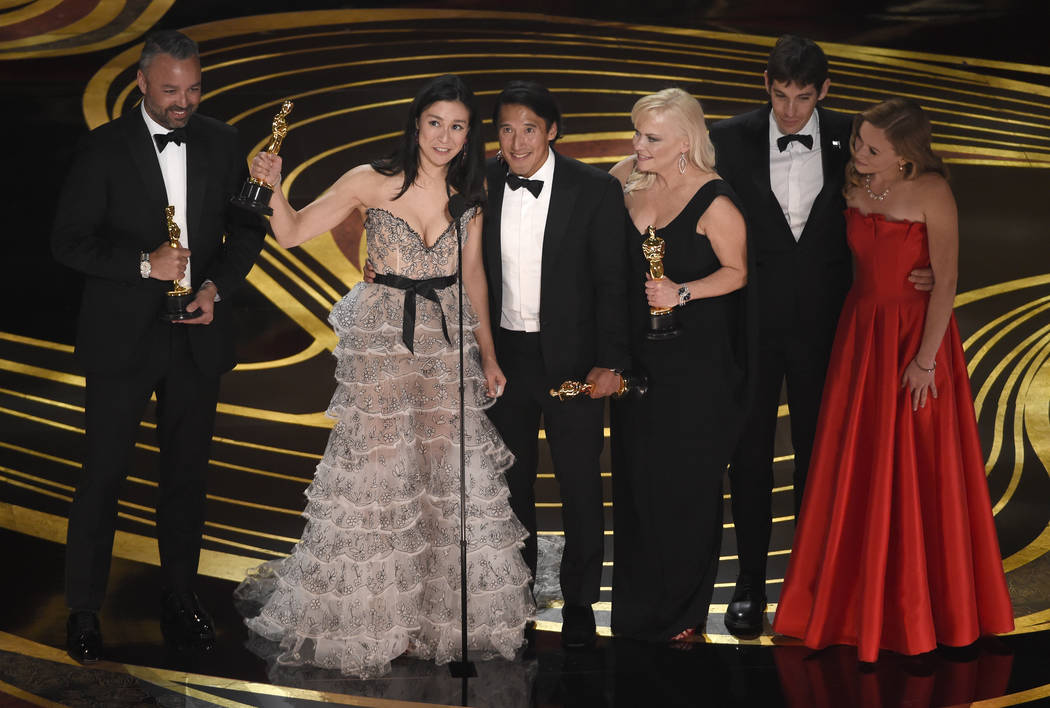 An evening that highlighted inclusion, from the diversity of presenters to the multiple victories by the Spanish-language "Roma," ended with one of the most divisive best picture winners in recent memory.
"Green Book," the tale of a New York bouncer (Viggo Mortensen) who drives African-American pianist Don Shirley (Mahershala Ali) through the Deep South during a 1962 concert tour, took home the top prize Sunday during the 91st Academy Awards.
The film — which earned Ali his second best supporting actor Oscar in the past three years and also won for best original screenplay — had been widely criticized for its clumsy portrayal of race relations and was denounced by Shirley's family for its inaccuracies.
That victory, at least, elicited an emotional response in a ceremony that was largely devoid of anything resembling excitement.
Olivia Colman provided a brief burst of enthusiasm after her surprising best actress win for her role as Queen Anne in "The Favourite." The actress appeared genuinely shocked and breathless while thanking her children, even though she wasn't certain they were watching. "I sort of hope you are. This isn't gonna happen again," she joked.
Regina King took home the best supporting actress Oscar for her spirited portrayal of a mother whose future son-in-law has been jailed for a crime he didn't commit in "If Beale Street Could Talk."
Rami Malek was named best actor as Freddie Mercury in "Bohemian Rhapsody." "We made a film about a gay man, an immigrant, who lived his life just unapologetically himself," Malek said, noting that he, too, is the son of immigrants. "And the fact that I'm celebrating him and this story with you tonight is proof that we're longing for stories like this."
Bradley Cooper emerged from the audience to sing with Lady Gaga for the second time — following their surprise duet Jan. 26 during the singer's "Enigma" residency at Park Theater — as the two performed a subdued, intimate version of "Shallow."
The song, from "A Star Is Born," netted Gaga her first Oscar. "I worked hard for a long time, and it's not about winning," the teary singer said in her acceptance speech. "What it's about is not giving up. If you have a dream, fight for it."
"Roma," the first best picture nominee for Netflix, had been considered the front-runner for the top prize. Instead, it had to settle for making history as the first entry from Mexico to be named best foreign-language film, while its director, Alfonso Cuaron, was the first person to win for best director and best cinematography in the same year. Cuaron, who was born in Mexico City, jokingly credited the foreign-language films on which he was raised, including "Citizen Kane," "The Godfather" and "Jaws."
Elsewhere, Spike Lee won his first Oscar, three years after he was presented with an honorary one, for best adapted screenplay for "BlacKkKlansman." And "Period. End of Sentence" director Rayka Zehtabchi may have had the sound bite of the night while accepting the award for best documentary short subject: "I can't believe a film about menstruation just won an Oscar!" She likely wasn't alone.
The Hollywood awards season, often described as a marathon thanks to its months of ceremonies and parties, finally crossed the finish line Sunday following what could only be described as a sprint.
Without a host to deliver a monologue, devoid of any sketches or pretaped bits — no pizza deliveries or Girl Scout cookie sales here — the ceremony was engineered with a greater emphasis on brevity than entertainment.
It mostly achieved the former — Sunday's broadcast lasted just 3 hours and 17 minutes, 36 minutes shorter than last year's slog — while being almost entirely free of the latter.
After Queen and Adam Lambert opened the night with a performance of "We Will Rock You" and "We Are the Champions," the ceremony largely relied on presenter pairings — including Tina Fey, Amy Poehler and Maya Rudolph, Mike Myers and Dana Carvey, and Awkwafina and John Mulaney — to generate sparks.
They very rarely came.
Contact Christopher Lawrence at clawrence@reviewjournal.com or 702-380-4567. Follow @life_onthecouch on Twitter.
LIST OF WINNERS
Best picture: "Green Book"
Best actress: Olivia Colman, "The Favourite"
Best actor: Rami Malek, "Bohemian Rhapsody"
Best director: Alfonso Cuaron, "Roma"
Best supporting actress: Regina King, "If Beale Street Could Talk"
Best supporting actor: Mahershala Ali, "Green Book"
Foreign language film: Mexico's "Roma"
Original screenplay: "Green Book," Nick Vallelonga, Brian Currie and Peter Farrelly
Adapted screenplay: "BlacKkKlansman," Charlie Wachtel, David Rabinowitz, Kevin Willmott and Spike Lee
Original Song: "Shallow" from "A Star Is Born," music and lyrics by Lady Gaga, Mark Ronson, Anthony Rossomando and Andrew Wyatt.
Cinematography: Alfonso Cuaron, "Roma"
Best animated film: "Spider-Man: Into the Spider-Verse"
Original Score: "Black Panther," Ludwig Goransson
Costume design: Ruth Carter, "Black Panther"
Production design: "Black Panther"
Sound Editing: "Bohemian Rhapsody"
Sound Mixing: "Bohemian Rhapsody"
Film Editing: John Ottman, "Bohemian Rhapsody"
Animated short film: "Bao"
Documentary short subject: "Period. End of Sentence"
Visual effects: "First Man"
Live action short film: "Skin"
Documentary feature: "Free Solo"
Makeup and hairstyling: "Vice"
— The Associated Press
Related
Lady Gaga shines with Oscar victory, performance of 'Shallow'
Lady Gaga, Regina King brighten red carpet at Oscars