DJ Simon enjoying diverse crowds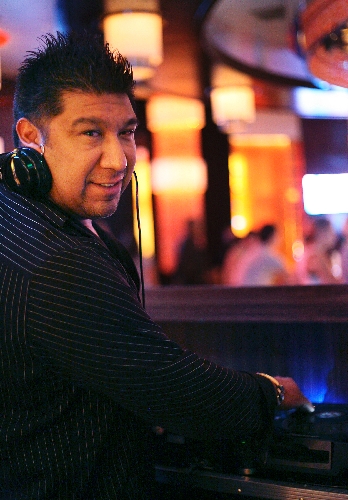 "DJ Simon" Sanchez works all over the world. He plays the Bahamas fairly regularly and just a few weeks ago was in Jamaica for a seven-day gig.
But one of his favorite places to play is Santa Fe Station, where Sanchez enjoys the high-energy atmosphere and diverse crowds he sees each Saturday at the resort's 4949 Lounge.
Sanchez, 35, was born in Las Vegas — his father was a jet mechanic at Nellis Air Force Base — but he was raised mostly in Lake Havasu City, Ariz., because his dad "just wanted us to grow up in a little smaller city."
Sanchez's father gave him a love of music.
"I always loved listening to my dad's records," Sanchez says, which happened to be heavy on tunes from the '50s and '60s, including "a lot of doo-wop."
When he was about 14, Sanchez discovered DJing and its potential as a paying gig.
"It's funny, because I was one of the only kids on the payroll of my high school," he says. "I did all the proms and homecomings and all of that. I did all of the student government events."
Eventually, Sanchez branched out into weddings and Christmas parties in the community.
"Really, that's how it started. I found out I can make money doing something I love," Sanchez recalls.
At 18, he started his own DJ company. Sanchez also spent a few years as a radio DJ in Lake Havasu City, working on a morning show, and had a club in Lake Havasu before moving back to Las Vegas several years ago.
His schedule here includes a weekly Saturday night date at the 4949 Lounge at Santa Fe Station, 4949 N. Rancho Drive. There, he enjoys playing to a crowd made up not only of locals who visit frequently but of tourists who, for instance, may be in town for weddings and other special events.
"It's not even like a job," Sanchez says. "I look forward to it. Just moving a crowd, making them dance, is the best feeling in the world."
— By JOHN PRZYBYS