How Las Vegas casino owner made downtown music venue a success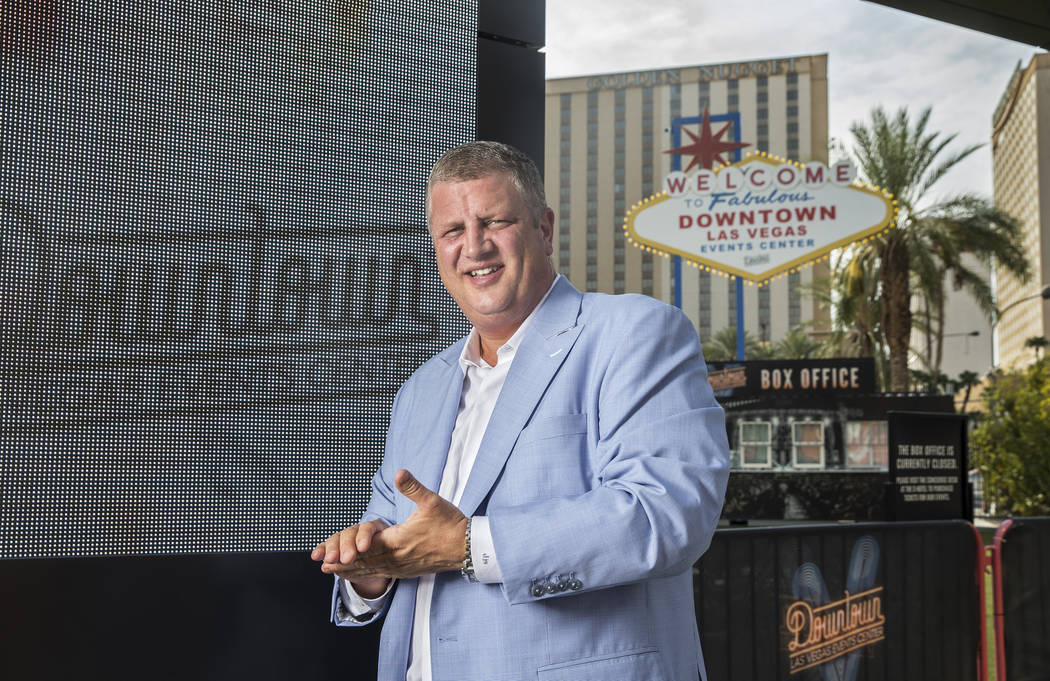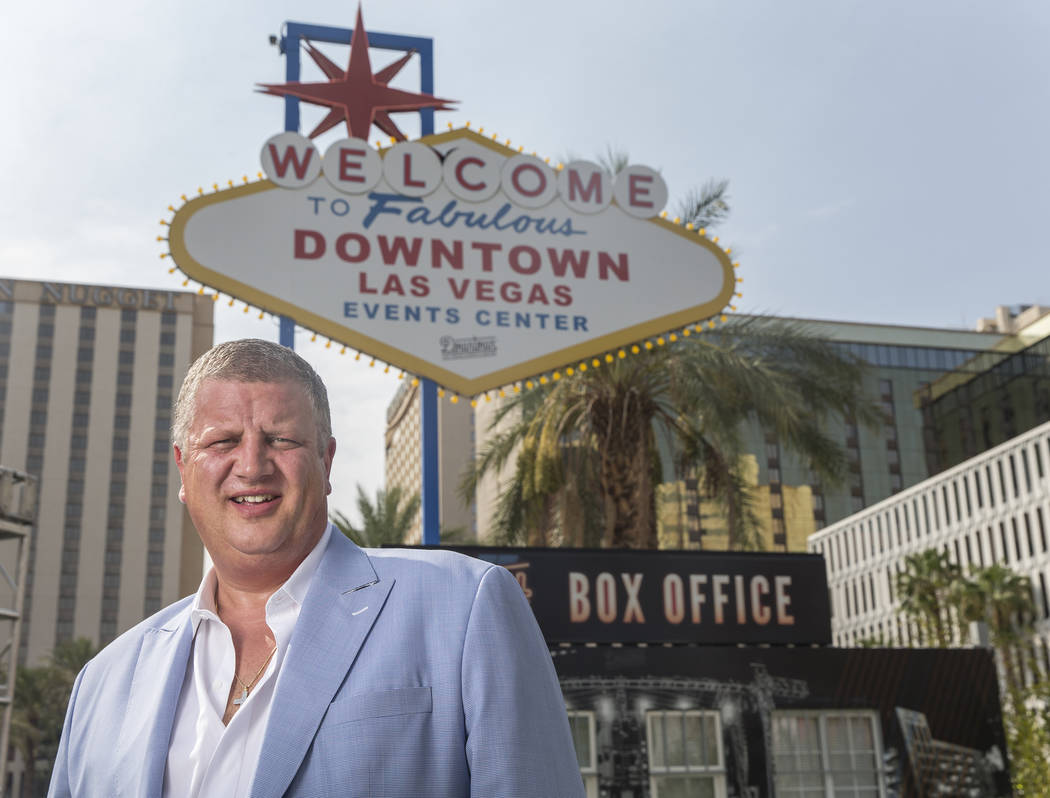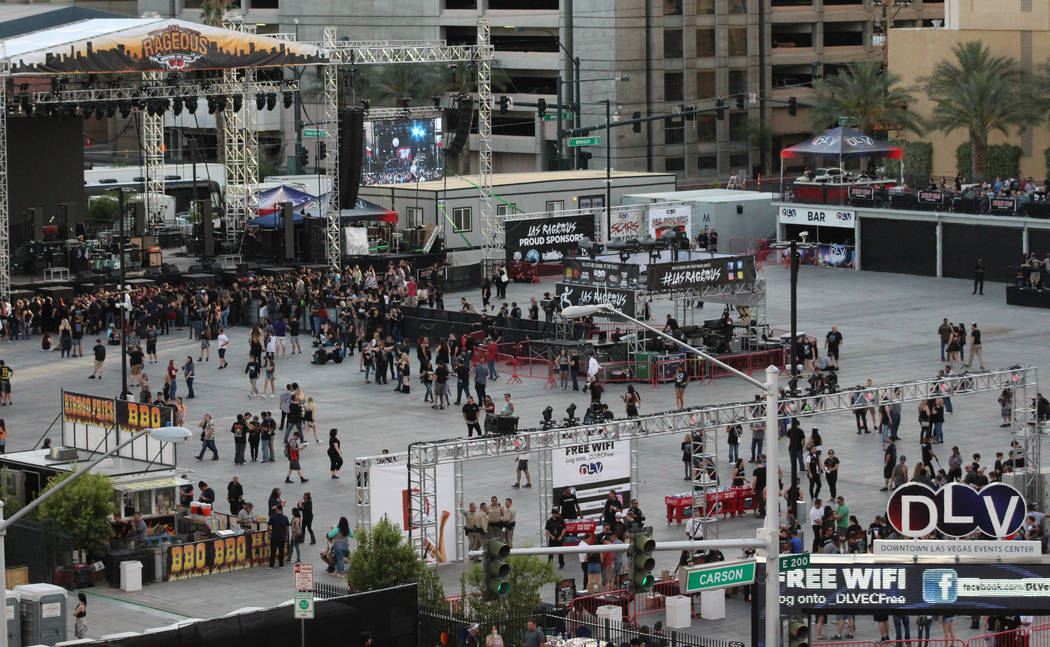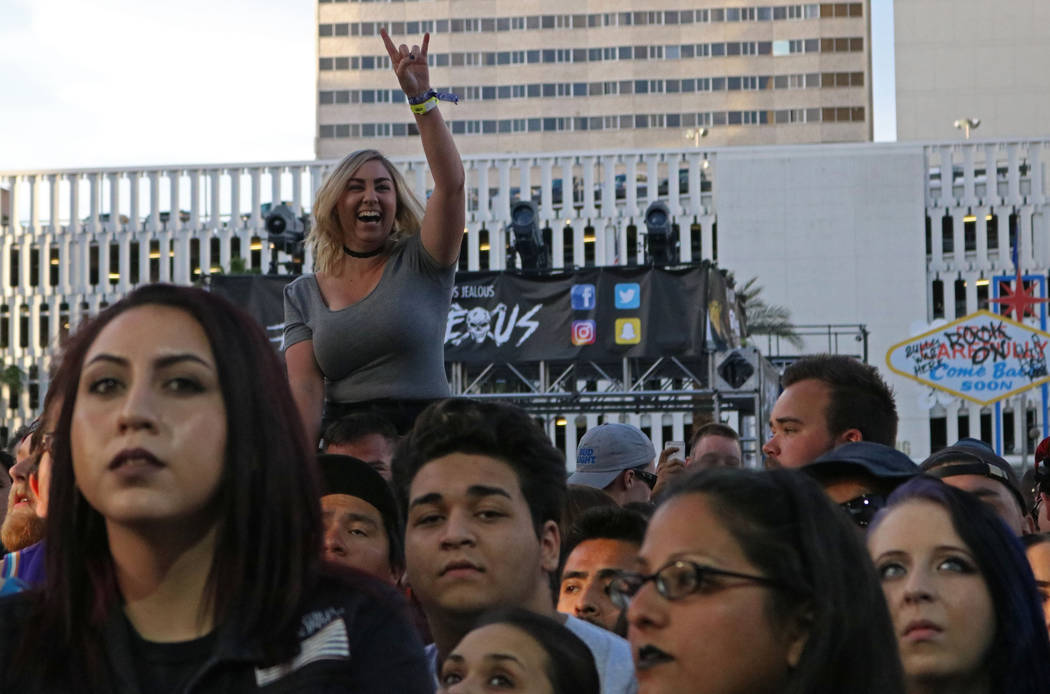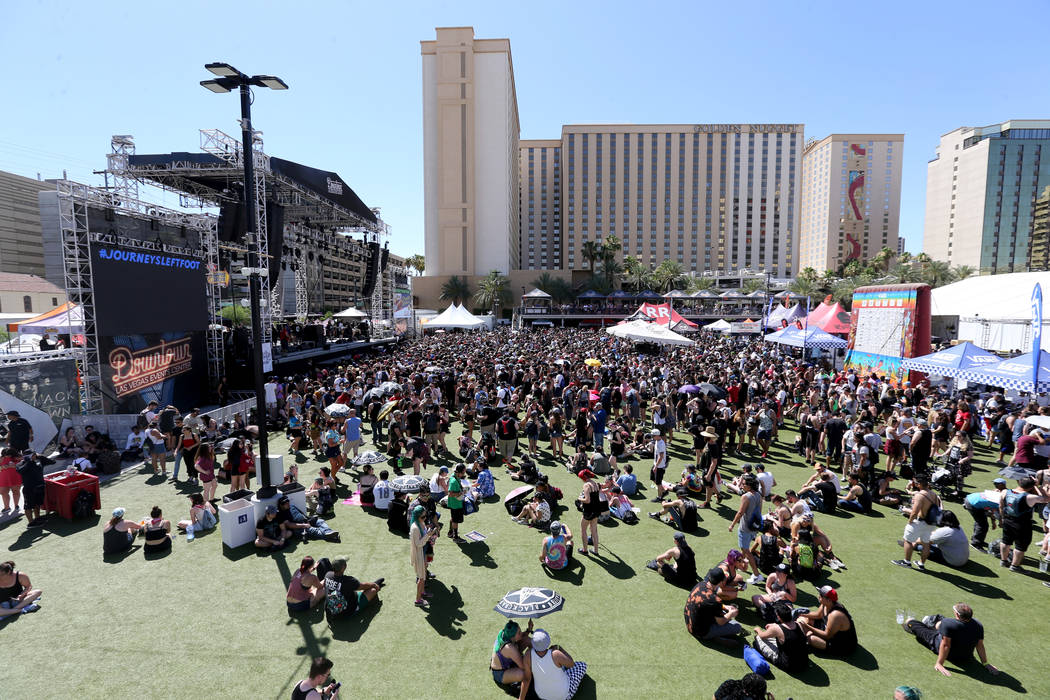 Vegas Voices is a weekly series highlighting notable Las Vegans.
It was a start that might have made others stop.
On Sept. 20, 2014, electro-pop duo Capital Cities inaugurated the Downtown Las Vegas Events Center, an outdoor music venue built on the site of the former Clark County Courthouse on Third Street.
Cue the sad trombone.
"We sold 300 tickets and there was a thunderstorm, there was lightning. It was an epic disaster," recalls Derek Stevens, owner of DLVEC, the D Las Vegas and the Golden Gate. "We didn't know how to sell tickets. We didn't know how to communicate to people where it was located. Nobody had ever been there."
Another force of nature would give DLVEC its first big break that October. Rocker Sammy Hagar moved his annual birthday bash to DLVEC after Hurricane Odile hit his Cabo Wabo Cantina in Mexico.
"When he came, he was able to bring all the people who booked for his event," says Stevens, a flamboyant presence known for donning a new, eye-popping suit for each show and often taking the stage to introduce bands.
"It got us into the business of trying to locate sand," he chuckles. "I think we brought in a 100 tons of sand."
Since the up-and-down start, DLVEC has developed into a busier and better venue. It hosts annual festivals such as Las Rageous and Punk Rock Bowling and has become a destination for bigger-name bands, bringing a different caliber of acts to downtown Vegas while also hosting sports viewing parties and other events.
It hasn't been easy, Stevens acknowledges, but he sat down recently to chronicle DLVEC's path.
Review-Journal: Prior to the launch of the Downtown Las Vegas Events Center, open-air venues didn't have the best track record in Vegas. What made you think something like this could work here?
Stevens: There was a great, great model, going way back, for an outdoor venue in Las Vegas (Caesars Palace's now-shuttered amphitheater). I actually attended a whole lot of events there. It's not there anymore, because that's where the pool is. In the old days, there were some of the most star-studded events in Vegas history there. You had (Riddick) Bowe vs. (Evander) Holyfield there. You had fights with (Thomas) Hearns, (Marvin) Hagler and Larry Holmes.
I always thought to myself, "Man, these outdoor venues are really something. The electricity in the air is a little bit different." And I think today, as much as ever, people love being outside a little bit.
When did you begin conceptualizing DLVEC?
I think it was the end of 2012/the beginning of 2013 when we built the Traverse City Patio (an outdoor space at the D that overlooks downtown) and were able to look down on the Clark County Courthouse and thought, "Man, if we could get rid of that thing, you could put anything there better than an abandoned courthouse." It didn't attract anything positive and it was kind of an eyesore. There was no energy there, so that's when we kind of pushed to see if we could purchase it. Once we were able to, that's when we got under the gun as far as figuring out what we were going to do with it.
When did you start to feel like, "OK, this is actually going to be successful"?
I always thought we would get there. The question was how long it would take. We started with a stage, a sound system, and I'm a big believer in great restrooms, so we had clean, ample, air-conditioned restrooms. That's what we started with. And I think those restrooms play a big deal in it as well. Everything outside is based upon port-a-potties.
Last year seemed like a turning point for the venue.
In 2016, I think we did a lot of learning. In 2017, we did the joint deal with Live Nation and Las Rageous; that was a big step. Bringing Punk Rock Bowling over there, that was a great step. That pushes you. The Vans Warped Tour we did this year was awesome.
What kind of learning curve was there for you launching this venture?
It was a struggle. … The first couple of years, a lot of the concerts that we tried to get, the entertainers weren't necessarily interested in playing in a new venue. They wanted to know what your resume was, they wanted to know who else had played there, because they don't want to be known as the group that played in a parking lot or something. It took a long time to be able to develop a credible reputation that the venue's a decent venue.
I get the benefit of talking to tour managers when we're going through meet-and-greet and stuff like that. Some of them work on one tour, then the next summer they're on another one, and the word of mouth kind of goes on where you can start building some credibility. It takes a little while to gain a reputation that we're putting on a fair, safe, clean, good venue.
Getting to know Derek Stevens
■ Favorite sport
"Baseball, and now Golden Knight hockey."
■ Place you always take visitors
"The world-famous Longbar (at the D Las Vegas)."
■ Unusual talent
"I used to play piano. And I like juggling. That's how we started the flair bar. I'm not good at it."
■ Alternate occupation
"I'd definitely be a finance guy somewhere.
Contact Jason Bracelin at jbracelin@reviewjournal.com or 702-383-0476. Follow @JasonBracelin on Twitter.