Jay Z gets emotional in Las Vegas concert
October 29, 2017 - 1:32 pm
Updated October 29, 2017 - 2:40 pm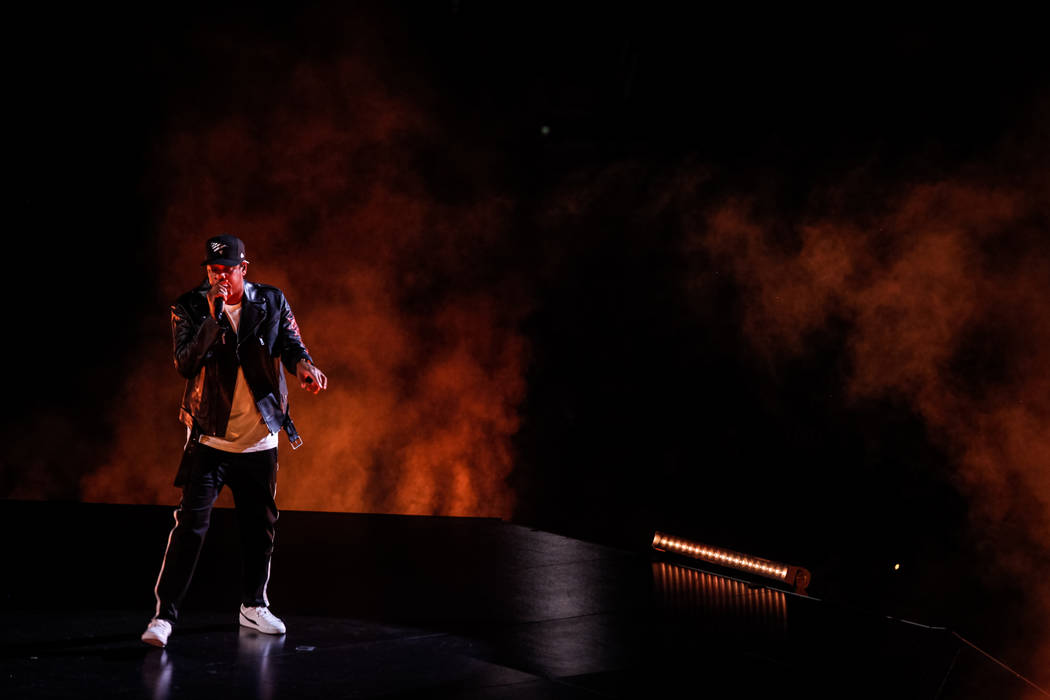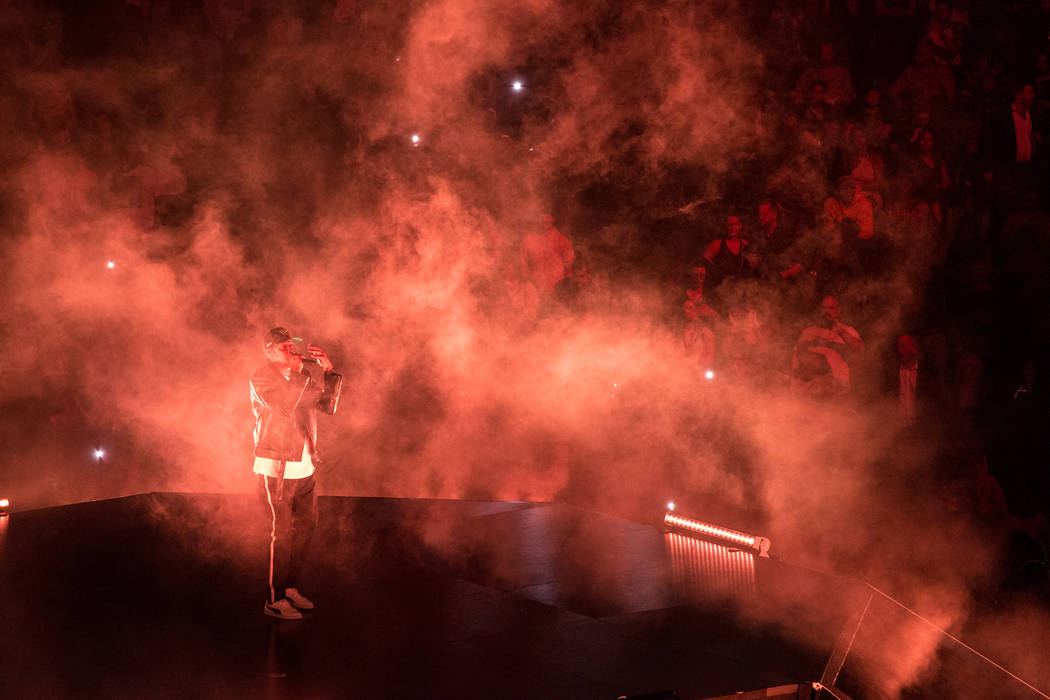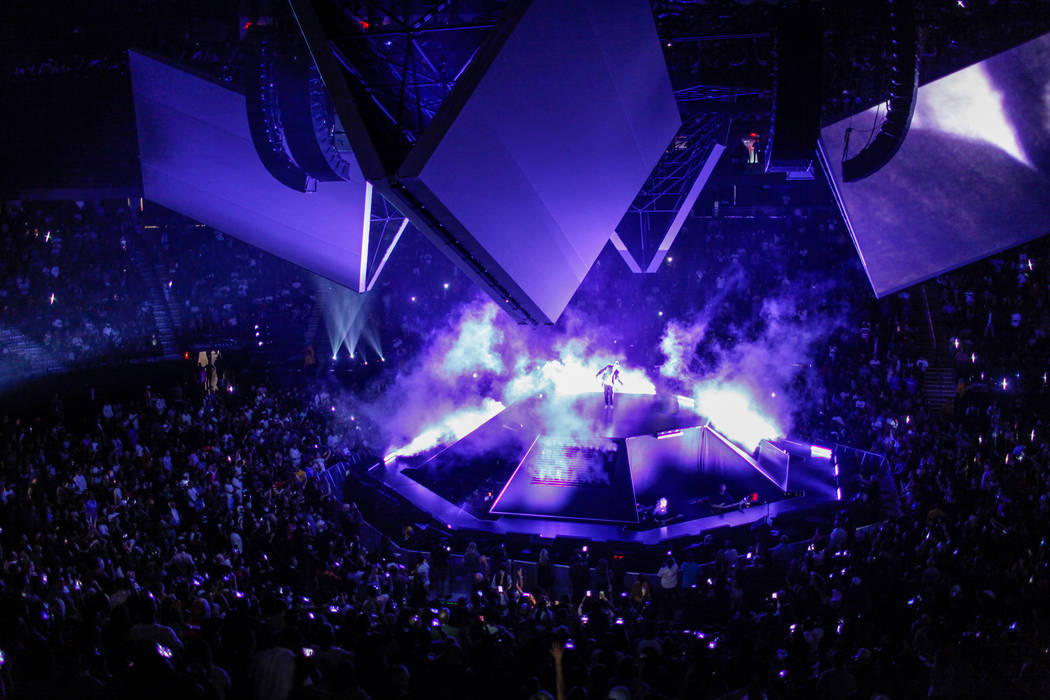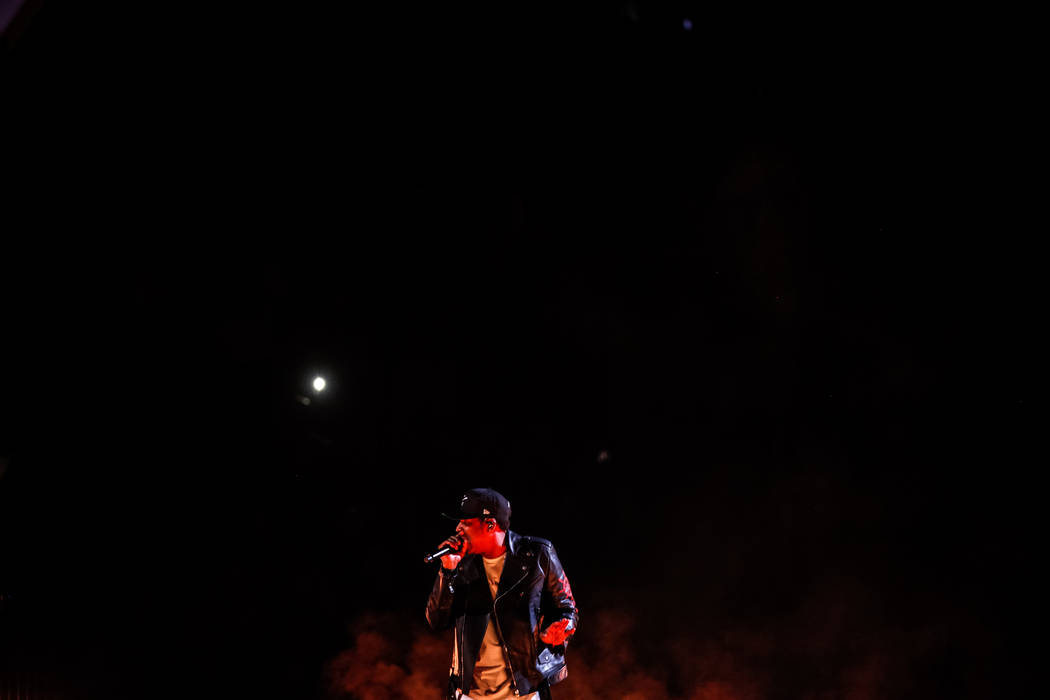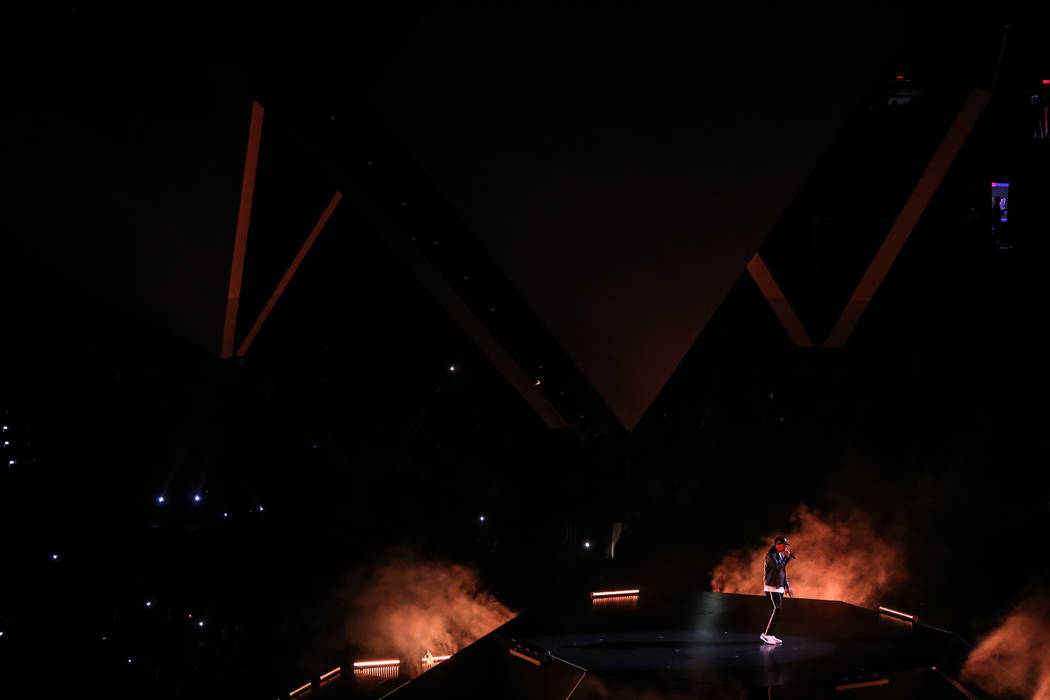 His words were so heavy, they seemed to anchor him in place.
For the first time all night, Jay Z's movements ceased.
He normally cuts the stage in lazy circles, ambling about with nonchalant ease. He's like a lion with his belly full, commanding yet relaxed.
But nine tunes into his performance at T-Mobile Arena on Saturday, he gripped his mic stand hard, leaning into the thing, as if bracing himself against the emotional headwinds about to gust through the venue.
"This is the hardest song I ever wrote," he professed by way of introducing the title track of his latest record, "4:44," a candid acknowledgment of past philandering and the future pain it might still inflict.
"If my children knew, I don't even know what I would do," he confessed. "If they ain't look at me the same / I would prob'ly die with all the shame."
"What good is a menage a trois when you have a soulmate?" he continued, referencing his wife and daughter. "You risked that for Blue?"
Fatherhood has sparked this 47-year-old hip-hop titan to reassess his core values, chief among them, how he must approach his masculinity differently in a genre often posited on showy displays of as much.
"You gotta do better, boy, you owe it to Blue," he rhymed during opening salvo "Kill Jay Z." "You had no father, you had the armor / But you got a daughter, gotta get softer."
That song was prefaced by portraits of Jay Z going up flames on massive V-shaped video screens suspended above the circular stage, rings of fire burning holes where his eyes should be, symbolically devouring the windows to his humbled soul.
Really, though, Jay Z needed no such visual cues to telegraph the meaning of "4:44."
It's an album about ownership: of his faults, foremost. But flipping to the bigger picture, the rap mogul simultaneously encourages African-Americans to take ownership of their community and the music they make, accumulating wealth not to fuel conscpicous consumption but to create a new class of successful black artists and entrepreneurs who can pass their affluence and influence on to their heirs.
He's long celebrated the allure of shiny things and fast cars in song — here, he did so with a tinge of regret.
"I bought every V12 engine / Wish I could take it back to the beginnin'," he sang in "The Story of OJ." "You wanna know what's more important than throwin' away money at a strip club?" he asked a few bars later. "Credit."
And so even when Jay Z's speaking of his riches nowadays, it's less a boast, as it often was in the past, than a means of being instructive.
"I bought some artwork for one million / Two years later, (it's) worth two million / Few years later, (it'll be) worth eight million," he boomed on "The Story of O.J." "I can't wait to give this (stuff) to my children."
This was the second night of the "4:44" tour, and there were technical hiccups: The show was scheduled to start at 8 p.m., but opener Vic Mensa didn't hit the stage until nearly 10:30 p.m. because of issues with the aforementioned video screens. Consequently, everyone who had a seat on the floor was kept waiting outside the room for hours.
The delay didn't dampen the mood much, though, especially when Jay Z delivered suites of hits in rat-a-tat-tat succession, alternating the more reflective "4:44" material with sprees of fan favorites, a buoyant "Izzo (H.O.VA.)" and a riotous "Public Service Announcement."
Later, Jay Z paid tribute to Linkin Park singer Chester Bennington, who took his own life in July, performing "Numb/Encore" from his 2004 collaboration with the band.
"You look at people, you think they have it all," he said before the song, speaking of Bennington, though his words could just as well be applied to himself in recent years. "You just never know what's going on in people's minds. You never know what people are going through."
Shortly thereafter, the show concluded with "Smile," a sunshine-peeking-through-the-clouds kind of number.
"Bad times turn to good memories," he rapped, the transformation complete on this night.
Contact Jason Bracelin at jbracelin@reviewjournal.com or 702-383-0476. Follow @JasonBracelin on Twitter.