Las Vegas musicians remember playing, attending Warped Tour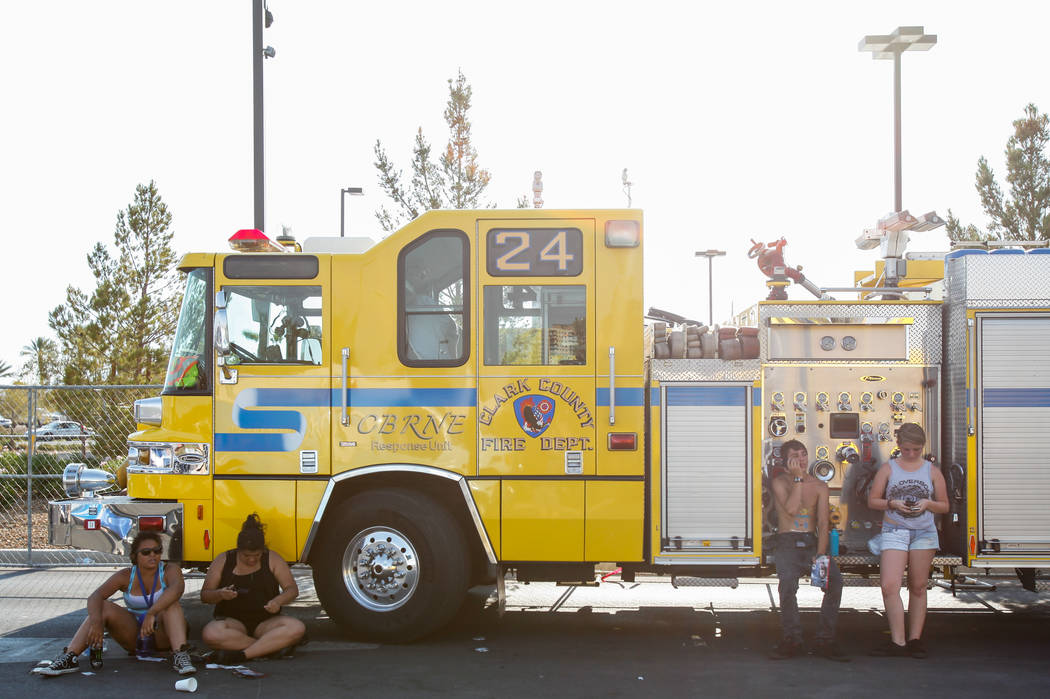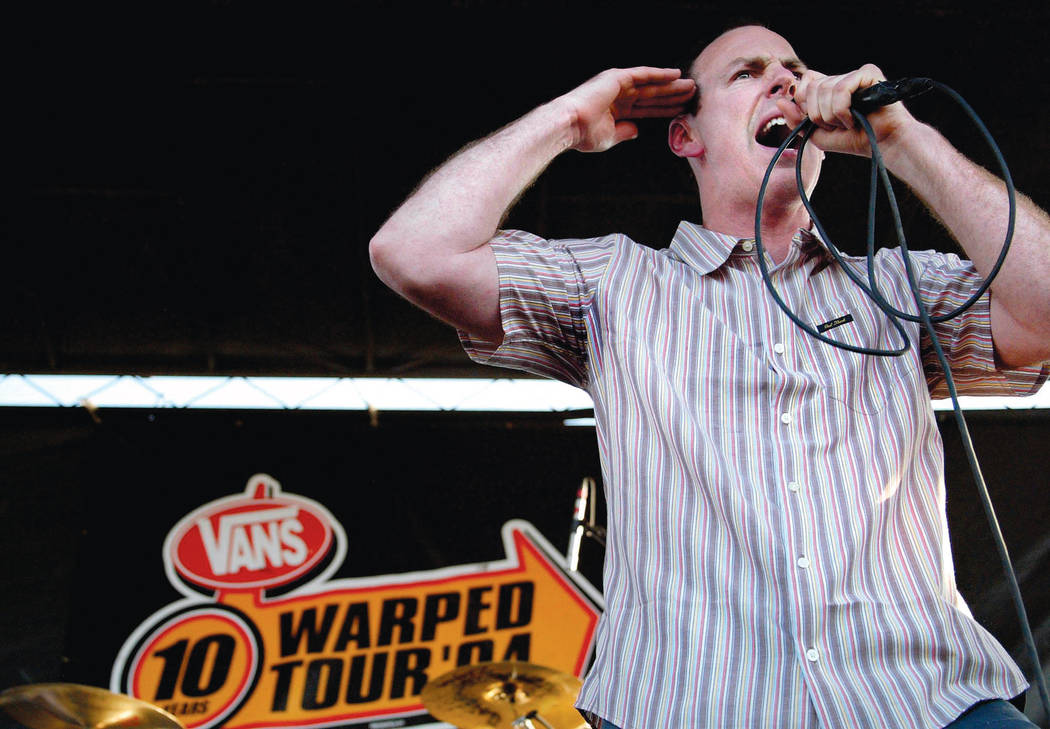 It's a heavenly kind of hell, the Warped Tour experience.
Standing atop concrete or asphalt all day beneath the punishing sun, turning oneself into a human raisin while taking in dozens of bands is a brutal, merciless, self-flagellating kind of fun.
We're going to miss it.
After 24 years, this will be Warped's last run.
There's never been another tour quite like it, from its guerrilla-style setup, often taking place outside traditional music venues with traveling stages set up in parking lots, to its punk-leaning lineups, to the egalitarian way each show's running order is arranged, with rotating headliners, meaning you might see just one of the biggest bands of the day at 4 in the afternoon.
Beginning in 1995, Warped played a key role in the mid-'90s punk boom, introducing tens of thousands of kids every summer to the likes of NOFX, Bad Religion, Pennywise, Dropkick Murphys and hundreds more.
Warped didn't always come here, but Vegas has been a regular stop in recent years. The tour returns Friday for one final outing at the Downtown Las Vegas Events Center with new and old favorites such as Black Veil Brides, The Used, Falling in Reverse, Simple Plan, Every Time I Die, Unearth and dozens more.
Before we bid it farewell, we reached out to some Vegas musicians for their favorite Warped memories:
Cash Colligan, solo artist, former bassist for The Cab
"I will never forget the first time I saw Underoath at Warped Tour in 2004 at Desert Breeze Park. I don't think I'm the only one who's had their life change after seeing that band. It opened my mind in music forever. That performance at that festival to this day has stuck with me.
"I unfortunately had left my band The Cab the summer before they got to perform at the festival, but I remember watching them. I remember being so proud of something I created hitting a monumental moment in the scene. It will be very weird not having this festival anymore. It was almost an affirmation for bands: If you made it onto Warped Tour, you made it in the scene."
KC Wells, The Day After bassist
"I don't know if it's my 'favorite' memory from Warped Tour, but it's definitely the one that stands out: The 2013 Warped was held in the Silverton parking lot. It was excruciatingly hot. It ended up setting the record for hottest Warped Tour date: 117 degrees. One-hundred-seventy-two people were treated for heatstroke and 34 were taken to the hospital.
"I just remember kid after kid being stretchered out and thinking there's not going to be anyone left at the show. They were all wearing black, which I thought was stupid and knew it was going to be a problem.
"Band-wise, The Story So Far put on the best show that day.
"I was able to go to a few Warped Tours. They didn't always come through Vegas, so it was definitely an event when they did. It was a bigger deal for me that they included Vegas on the tour than it was what bands they included on the tour."
Brendan Scholz, Mercy Music singer-guitarist
"Of the handful of Warps I've attended, I'd have to say my fondest memories stem from Warped Tour 2000 (in Phoenix).
"This also happened to be the first time I attended.
"The only reason initially was to see Green Day, because they hadn't toured in like two or three years, and 13-year-old Brendan was the biggest Green Day fan in the world.
"That being said, I didn't even pay attention to the rest of the lineup until I got there. Upon arrival, I was super stoked to see that so many of my favorite bands were also playing.
"That day I got to see Millencolin, One Man Army, Good Riddance, Snapcase, Lunachicks. It was a punk mecca for a 13-year-old, not to mention all the free stickers and promotional swag.
"Anyway, Green Day played, Billie Joe was wearing shorts, and I went home happy and dehydrated. Was it worth the 110-plus-degrees Phoenix temps? Probably."
Roxie Amoroso, managing member of Beauty Bar
"As a teenager growing up in the fertile and boring forests of Northern California, I would read Thrasher magazine and dream about how cool it would be to go to Warped Tour. But I was poor and the city was too far, and so I would read and look at pictures each month when my brother's subscription to the magazine would show up.
"Fast-forward to 2002.
"I'm 22 years old, still just as poor, but now living in Las Vegas with my boyfriend (now husband, Jesse Amoroso). We both played in punk rock bands and worked in different ends of the local music scene. I woke up one hot summer day and Jesse tells me to put my shoes on. He got a phone call from one of the dudes in Me First and the Gimme Gimmes.
"We were going to Warped Tour!
"That year was headlined by Rancid and held at the Thomas & Mack Center and Cox Pavilion.
"So we arrive, and we had all-access passes, which meant I could eat the foods and use the clean toilets backstage. I can probably trace my entire career back to that day and discovering how different your experience could be if you just had the right color wrist band. Every day of my life since has pretty much just been the thrill of making sure I have 'the right color wristband' in whatever situation life throws at you.
"Jesse tech'd for Me First and another local band, 2 Cents Worth, that were friends of ours that day. I sat way up in the bleachers watching the show with an eagle's-eye view.
"At the end of the day, we were standing around saying our goodbyes and I saw (Fear frontman) Lee Ving leaving!
"That's been my Warped Tour joke ever since."
Blair Dewayne, Rusty Maples singer-guitarist
"Warped Tour was a huge deal to me as a teenager. There wasn't much for kids to do in the valley in the early aughts. We had the Huntridge Theater and occasional shows at House of Blues and The Joint, but fests like Warped Tour and Our Big Concert were highlights of teenage life."
Mike Lavin, Digital Insight Recording Studios co-owner, The Pluralses drummer
"The best Warped Tour I had was at Desert Breeze Park (2004). I was looking for work and got hired by the load-in and load-out crew. I showed up at 7 a.m., unloaded a bunch of semi-trucks, and then they released us to come back at the end of the night.
"However, we had our wristbands that let us get in and out.
"I must have carried in five 18-packs of beer for my crazy friends and I.
"Got wasted.
"My friend Tito from Recess Records was the sound guy for Anti-Flag, so after I got drunk, I sobered up and beat the midday heat in the Anti-Flag bus.
"Left there, drank some more. Loaded all the semi-trucks at the end of the show."
Isaac Irvine, Happy Campers singer-guitarist
"The first time I went to Warped Tour was up in Lake Tahoe. Happy Campers was just getting started and played one of our first out-of-town shows in Reno. We went to Warped Tour the next day and it blew me away. It was like a giant summer camp for punk music. NOFX, Rancid, Bad Religion, Vandals: So many of our favorite bands all in one spot. I got to meet my idol, (Bad Religion singer) Greg Graffin, and he signed my ticket. (Still have it.)
"The next year or so we played Warped in Vegas. I think one of the great things Warped did was include local and regional bands. Everyone got to feel like they were a part of it, and get to say they played with Bad Religion or whoever (albeit from a much smaller stage on the opposite side of the festival).
"The next year we added a couple California dates. Warped was part of our biggest tour ever. It was actually quite exhausting being at a festival all day and driving through the night to the next destination. We sold our guest wristbands each day for food and gas. We had some great shows and met awesome people. Sad to see it go, but it was instrumental in bringing punk, ska and other underground styles to the masses."
Contact Jason Bracelin at jbracelin@reviewjournal.com or 702-383-0476. Follow @JasonBracelin on Twitter.