Las Vegas native's dream job in Yes a mix of 'utter sadness' and 'incredible joy'
August 25, 2016 - 2:56 pm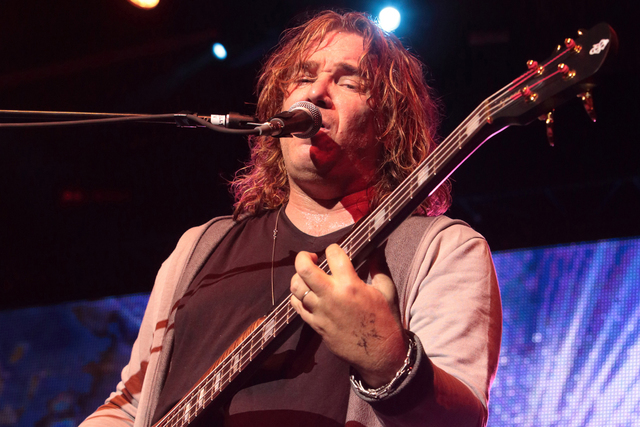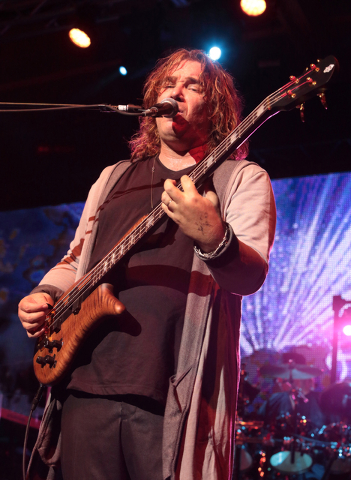 Billy Sherwood can't help seeing internet comments from people who "plant their negative flag into my garden."
"Without Chris (Squire) there's no Yes," they tell him.
"And I thought, 'Well, that's funny, because Chris himself thought the exact opposite.' So who do I listen to, you or Chris?"
Sherwood is a Las Vegas native son of '70s lounge performers, who stepped in as bassist for the progressive-rock institution after Squire died of leukemia in June 2015.
"Toward the end, I think he was a little more in touch with his mortality than I was willing to accept. He was kind of priming me: 'You promise me you're into this and you're going to do this with the guys,' " he recalls.
Sherwood, 51, already had been part of the revolving-door band's extended family. He was a utility sideman (in the shadows of the official lineup) at the Thomas &Mack Center in 1994, and an official member for tours that played Las Vegas in 1997 and 1999.
But more recent years found Sherwood helping from the sidelines, mixing or producing the band's albums and offshoot projects. He learned of Squire's leukemia battle in May of last year, about the same time as the rest of the world.
"It was six weeks from him telling me he was sick until he passed away, and in those six weeks we had many, many conversations," Sherwood recalls.
The band already had committed to summer tour dates with Toto. Forging on so soon after the revered British rocker's death extended the outrage that some felt when original singer Jon Anderson was replaced during a lengthy illness and never invited back.
"It took quite a bit to strengthen up and go out there and play this stuff on that first tour," Sherwood admits. "Because I had a range of emotions, from utter sadness to incredible joy in playing this music, and back to sadness and a little bit of feeling guilty because this should have been Chris standing there and not me.
"Lots and lots of emotions going through my head, which had me in a pretty strange space I'd never been in on a tour."
Eventually, he found solace in "thinking of the lighter side of Chris … we had so many laughs together and so many good times. When I'm up there playing, I just think about that stuff and it just inspires me to go for it. I feel a lot more at ease about it all."
The two had been friends since the late '80s, when Sherwood's first band, World Trade, caught Squire's ear during Yes' most tumultuous era: Squire anchored the official lineup, while Anderson organized a group of alumni as Anderson, Bruford, Wakeman &Howe.
Squire asked if Sherwood would be his group's lead singer — an offer that would have floored the William E. Orr middle schooler who saw the classic lineup at the Aladdin in 1977.
Even so, Sherwood declined.
"A man's gotta know his limitations, and that was mine. It was career suicide and I knew it," he says. Beyond comparisons to Anderson, Sherwood also sensed the band's 1991 reconciliation was "on the horizon," and "I didn't want to get caught up in that tornado and be the odd man out, no matter how many people told me it was the right thing to do. Including Chris, relentlessly."
Sherwood now finds himself on the road with Yes during an oddly parallel time. Saturday's outdoor show at the Downtown Las Vegas Events Center currently has only one member of the classic lineup, guitarist Steve Howe.
(While drummer Alan White is recovering from back surgery, he is being covered by Jay Schellen, who was part of the recently closed Las Vegas show "Raiding the Rock Vault." The other two members are singer Jon Davison and keyboardist Geoff Downes; the latter played on the 1980 album "Drama," which Saturday's show promises in its entirety.)
But in November, the Palms is set to host a new teaming of Anderson, keyboardist Rick Wakeman and guitarist Trevor Rabin, the architect of the band's popular '80s sound. Could another merger be on the horizon? Who even owns the Yes name?
"All that stuff is above my pay grade," Sherwood says with a laugh. "Let's be honest. Did anyone think Yes could survive Chris Squire not being there? I wasn't sure, and I was the one being asked to do it. But it seems to be surviving and thriving." The future is "a hard thing to even discuss, because you just don't know until you get there."
Sherwood says he tries not to draw "hard lines" about authenticity. "Life evolves and music evolves and bands change," he says. "We're losing guys. That's sad to say, but it's true. But the music lives on and it's a testament to the music."
His "music first and foremost" philosophy stems from "my history of being a musician for so long, and my father being a musician, and his father."
Sherwood's father, Bobby Sherwood, was a bandleader, trumpeter and actor known for the songs "Sherwood Forest" and "Elks' Parade," before settling in Las Vegas as a lounge act. Sherwood's mother is Phyllis Dorne, who sang with her husband in Las Vegas. The two divorced before his death in 1981, and Billy says his mother is enjoying retirement as an active golfer in Palmdale, California.
"So much a part of me is that town," Sherwood says. "Even though I left when I was 12 or 13, my formative years of understanding what music is and being around musicians (came from) hanging out at the musicians union on Tropicana. All those things were a big part of what made me want to do what I'm doing. I still consider it my hometown."
Read more from Mike Weatherford at reviewjournal.com. Contact him at mweatherford@reviewjournal.com and follow @Mikeweatherford on Twitter.
Preview
Who: Yes
When: 8 p.m. Saturday
Where: Downtown Las Vegas Events Center, 200 S. Third St.
Tickets: $44.50-$79.50 (800-745-3000)