Life is Beautiful festival in Las Vegas bought by Rolling Stone
Updated February 4, 2022 - 10:51 pm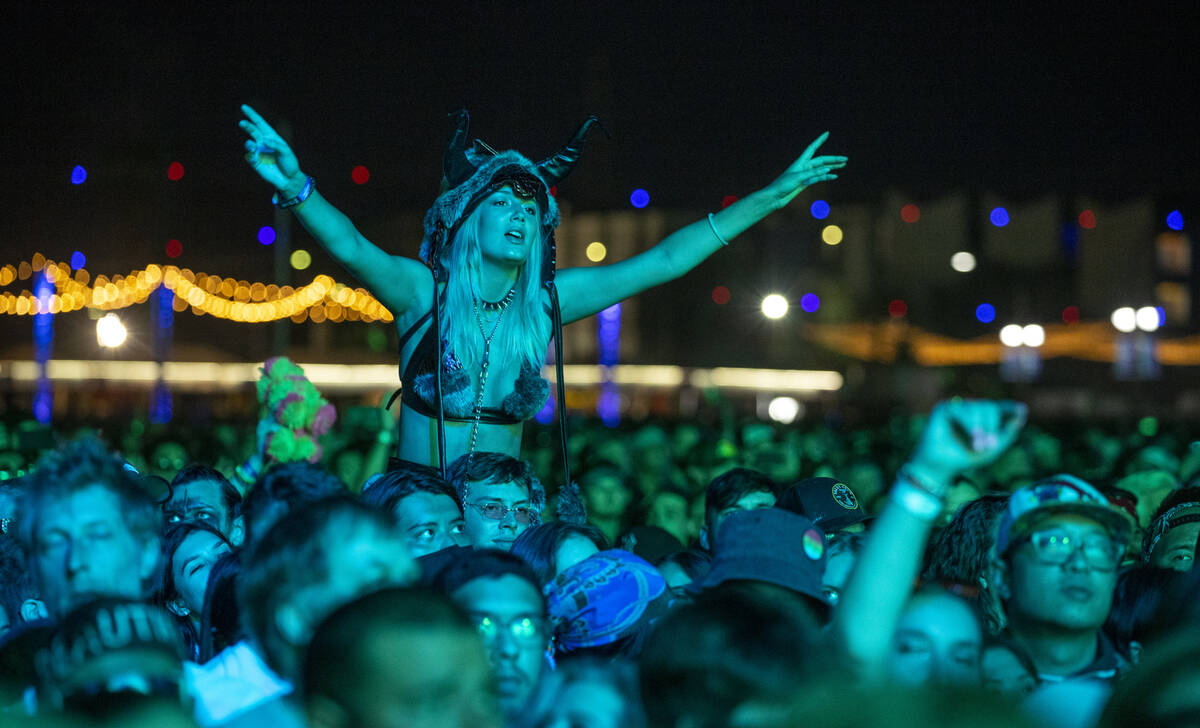 Life is Beautiful, the annual music festival held in downtown Las Vegas, has been sold to Rolling Stone, the magazine's parent company announced Friday.
Penske Media Corp. said Rolling Stone bought a majority interest in the festival, which was founded in 2013 by former Zappos CEO Tony Hsieh, who died Nov. 26, 2020, from injuries suffered in a Connecticut house fire.
"Live events are an integral part of Rolling Stone's future and Life is Beautiful is an incredible platform to realize this vision. Coupled with our significant digital scale and deep journalism, there are infinite possibilities to grow Life is Beautiful in unique and impactful ways," Rolling Stone CEO Gus Wenner said in a news release.
Rolling Stone plans to expand the festival to "new territories and broaden its digital footprint," the release said. "Life is Beautiful will continue to highlight the most important musicians and artists of today."
Terms of the deal were not disclosed.
"We are thrilled to realize the potential of Life is Beautiful in partnership with Rolling Stone," David Oehm, CEO of Life is Beautiful, said in the release. "As a landmark institution and touchstone of the music industry for over 50 years, the Rolling Stone team will help to deepen our connection to fans of music everywhere, while also championing the cultural initiatives that make Life is Beautiful so much more than a music festival."
Rolling Stone has acquired a majority stake in Las Vegas music festival Life Is Beautiful. While the fest will continue to take place each year in Vegas, Rolling Stone plans to bring it to new territories and expand the festival's digital footprint https://t.co/YPdKhvt4W4

— Rolling Stone (@RollingStone) February 5, 2022
The festival also released a statement late Friday: "Obviously, Life is Beautiful will be back this year, better than ever, and still held annually in Las Vegas. We'd like to reiterate that this does not change anything for the festival, Life is Beautiful as a company, or how the festival operates. It just gives us stronger support and backing in both sponsorship and marketing."
The 2021 festival included performances from Billie Eilish, Green Day and Tame Impala. More than 170,000 people attended the three-day festival. Since 2013, the event has led to more than $350 million in economic impact and cultural capital for downtown Las Vegas and the surrounding area, according to the release.
Last month, festival partner Justin Weniger withdrew his creditor's claim in Hsieh's probate case. Weniger had filed the claim in December "out of an abundance of caution," in case he was deemed a creditor of the tech mogul's estate, court records show.
Other creditor's claims in Hsieh's probate case include a $40,000 claim for a custom "ceiling brain prototype; a Florida man who said he is owed nearly $400,000 for helping to sell buses Hsieh had ordered; and a $12.5 million claim from a man who said he was to be paid $450,000 a year under a loosely defined job title that included working on "random projects like koi fish or tree houses."
Hsieh's Downtown Project redevelopment company was instrumental in launching the festival.
Penske Media could not be reached late Friday.
Contact David Wilson at dwilson@reviewjournal.com. Follow @davidwilson_RJ on Twitter.