NFR brings country acts Cole Swindell, Dustin Lynch to Las Vegas
December 7, 2017 - 12:00 pm
Updated December 7, 2017 - 1:39 pm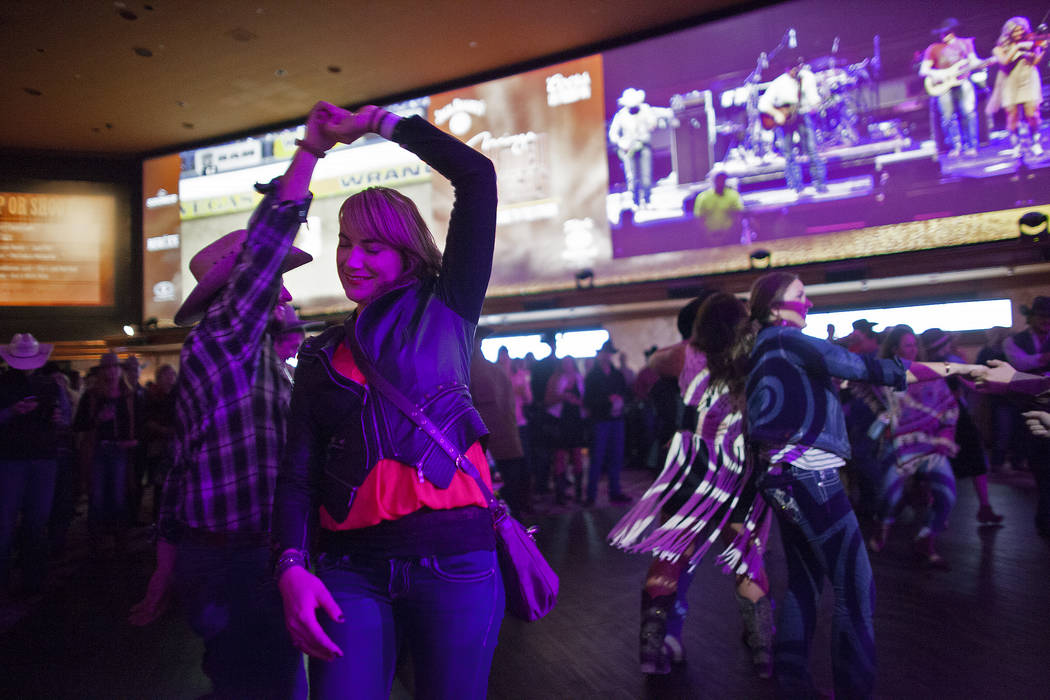 Don't be fooled by the circulation-imperiling Wranglers.
Dee Jay Silver knows.
"You walk in, and you totally prejudge that crowd," chuckles country music's go-to DJ, speaking of all the cowboys and cowgirls who flock to Vegas clubs during the National Finals Rodeo festivities, where Silver performs multiple gigs annually.
"That is the worst mistake that you can ever make, because those people come to get down," he continues. "You see them in the cowboy hats and the tight pants and you're like, 'Oh, lord, we're going to have to play two-step music tonight.' But they're there to celebrate with their friends. They want a slice of Las Vegas; they don't want a slice of St. Louis, Missouri. They're coming to town to experience Vegas, and you've got to give it to them."
A decade ago, not only were cowboy boots a rarity on high-end club dance floors, they weren't exactly welcomed.
Silver recalls performing at now-shuttered nightspots such as Studio 54 and Tabu and eliciting eye rolls from management regarding his playlist.
"They were like, 'All right, Silver, we know you're going to play country. Let's just do it quick,' " he says. "Now they're like, 'Turn it up. Let's go.' "
Since those days, Vegas has become a country music stronghold thanks to the Academy of Country Music Awards and the National Finals Rodeo, which lures in dozens of acts and residencies from superstars such as George Strait, Reba McEntire and Brooks & Dunn.
"Vegas has almost turned into the Nashville of the West Coast," notes Silver, who will perform nine consecutive days at the MGM Gold Buckle Zone beginning Friday.
The reason all this has occurred has a lot to do with how country music itself has evolved in recent years: Not only have certain acts embraced elements of pop, hip-hop and EDM into their sounds, broadening the genre's base, especially among younger music fans, but the vibe itself has gone from tear-in-my-beer to let's-have-another-beer (or five).
"It's not all just lonely dudes," Silver says. "It's a good time. It's young, good-lookin' people. It's relatable. People understand that we're not all out driving $250,000 cars. People that get up in the morning and go to work and want to have a good time on the weekends, that's what country music is about. That's what Vegas is about.
"Country is what people know as fun and good times, and there's no other place in the world that screams fun and good times like Las Vegas. I think it was just destined to happen."
Here are some other country acts coming to town during the 10-day NFR, which runs through Dec. 16:
■ Alabama, Wynn Las Vegas, Wednesday, Dec. 15 and 16
Forty years ago, they were shaggy-coiffed square pegs as foreign to the Music City status quo as modestly-sized belt buckles.
Nowadays, they stand as one of the top-selling country acts of all time.
So it's gone for Alabama over the past four decades.
"When we came along, we were putting the emphasis on the music instead of on the dress code," explains bassist-singer Teddy Gentry. "We wore T-shirts, blue jeans and tennis shoes and had long hair and beards. We were rock-and-roll-lookin', but we played country music loud and hard."
As such, it took time for them to earn their place within the industry.
"Nashville didn't accept us to start with," Gentry says. "We were outsiders. We came in through the back door. Once we started getting established and fans started coming out to the concerts and buying the records, we were accepted by the industry. But the people had to accept us to start with.
"The emphasis being the music, I think that's the reason the music survived," he continues. "It's something real."
■ Cam, T-Mobile Arena, Friday and Saturday (opening for George Strait)
The song's a warning shot.
Faux country starlets, duck!
"She may be singing 'bout the country / And putting out the hits / But those boots sure never stepped in horse… ," well, you get Cam's drift.
The song's "Country Ain't Never Been Pretty," a feisty jab of honky-tonk neo-traditionalism (yes, there is such a thing) from this California country chanteuse with dirt beneath her fingernails.
She makes a fitting pairing for George Strait, capable of resonating with old-schoolers and contemporary pop-country fans alike.
About the former, Cam has a go-to move for winning them over when opening for the King of Country.
"I like to put a Patsy Cline song early in the set for anyone who's like, 'This is new country' or 'I haven't heard her before,' just to kind of prove my salt," she says. "You've got to earn the respect from those kinds of fans. I sing Patsy, and that's when people are usually like, 'OK, fine. This girl has it. I'm in. Show me what ya got.' "
■ Brenda Lee, Golden Nugget, Friday
The rare performer to be inducted into the rock and roll, country and rockabilly halls of fame, "Little Miss Dynamite" returns to Vegas in time to get you "Rockin' Around the Christmas Tree."
■ Cole Swindell, The Cosmopolitan of Las Vegas, Friday and Saturday
There won't be a dry eye in the house if Cole Swindell plays "You Should Be Here," his hit ballad that Route 91 Harvest festival victim Brennan Stewart performed acoustically in a heart-rending video that went viral.
■ Gary Allan, Hard Rock Hotel, Friday and Saturday
Doing the opposite of mellowing with age, this country rocker is at his most raucous and trouble-hungry on his most recent studio set, "Set You Free," Allan's first record to hit No. 1 on the Billboard Top 200 album chart.
■ Dustin Lynch, The Cosmopolitan of Las Vegas, Sunday
This self-professed "Small Town Boy" recently topped the charts with said single from his third record, "Current Mood," meaning that mood is probably on the up and up.
■ Ronnie Milsap, Golden Nugget, Monday
The forecast calls for "Smoky Mountain Rain" when one of country's great balladeers lassos a few cowboy hearts.
■ Tanya Tucker, Golden Nugget, Tuesday
The former Henderson resident notched her first hit at the tender age of 13. Forty-six years later, she remains one of outlaw country's brassiest voices.
■ Dwight Yoakam, The Cosmopolitan of Las Vegas, Wednesday
Few urban cowboys could pull off a credible bluegrass version of Prince's "Purple Rain," but then again, few urban cowboys are quite like Dwight Yoakam.
Contact Jason Bracelin at jbracelin@reviewjournal.com or 702-383-0476. Follow @JasonBracelin on Twitter.