Pitbull attends charter school groundbreaking in Henderson — PHOTOS
October 2, 2015 - 4:31 pm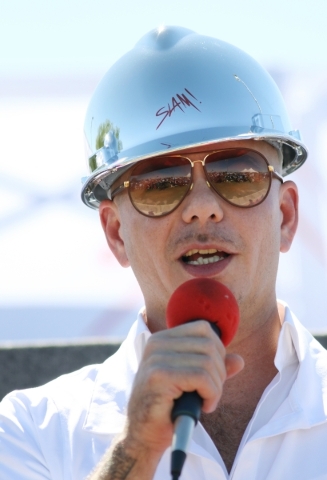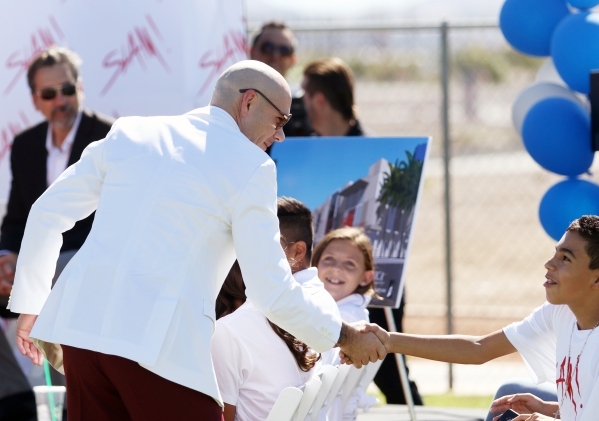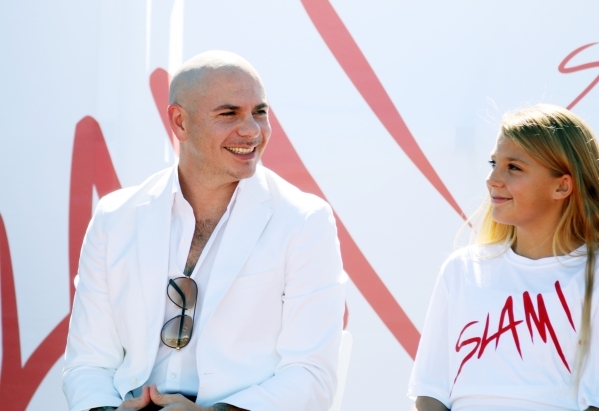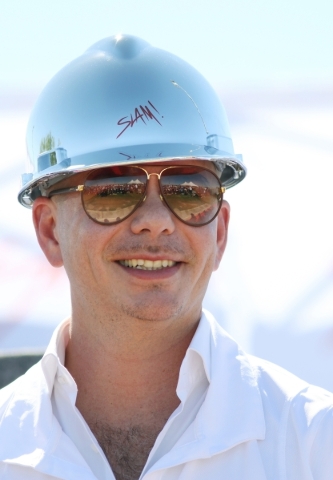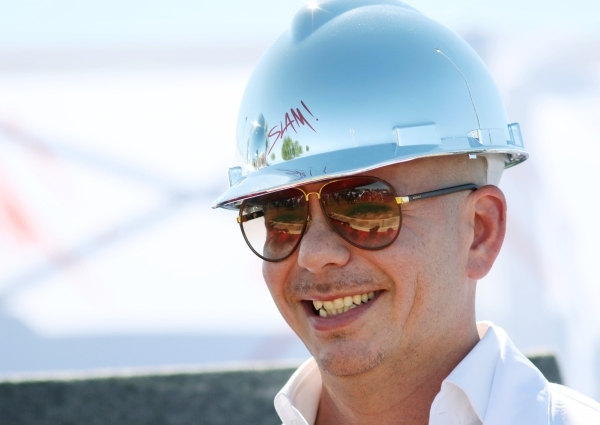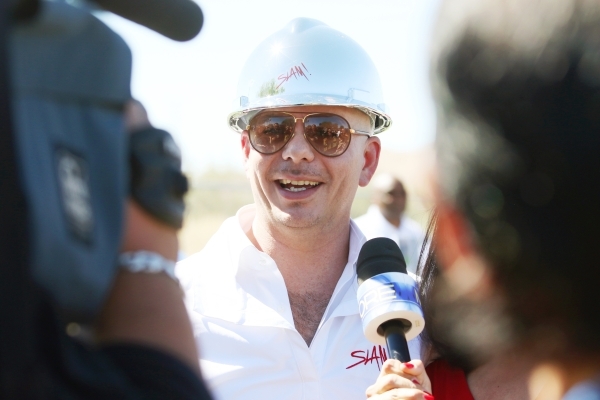 Just before a groundbreaking ceremony in Henderson Friday morning for SLAM! Academy, the local expansion of Sports Leadership & Management, the Miami-based charter school he helped launch, Armando Christian Perez, the pop star known globally as Pitbull, paused to greet a group of children seated in chairs near the stage.
After shaking hands with the students, he took a seat on the platform among invited guests such as Debra March, mayor pro tem of Henderson, and Marc Abelman from Nevada Public Charter Authority, who each spoke briefly about the arrival of the Miami-based charter school in Southern Nevada, before Perez, wrapping up a seven-show residency at The Axis at Planet Hollywood next week, delivered a few impassioned thoughts of his own as SLAM!'s ambassador.
The school, which is being built adjacent to the Russell Road Recreation Complex at 5901 E. Russell Road in Henderson, is expected to commence with classes in the fall of 2016, with instruction geared toward middle-school students grades sixth through nine at first, followed by a subsequent expansion offering courses to high school-age students. In addition to core studies, the curriculum will include classes on sports medicine, sports marketing and entertainment media and sports business and management.
Matthew Durham, who chairs SLAM! Nevada, started the ceremony by offering a few words about the significance of the school's opening. "Sports is a language spoken by children of all walks of life," he said. "It bridges cultural, racial and socio-economic divides. SLAM! Academy infuses sports themes into a college preparatory curriculum and offers internships with community mentors, enabling real-world application and fostering community involvement. For these and many other reasons, we are excited to be bringing SLAM! Academy to Nevada."
March followed Durham, and her enthusiasm for the project was evident. "The timing of SLAM's arrival in Henderson couldn't be better," she pointed out, "because our community continues to grow here in Southern Nevada at about a rate of 3 percent a year, and there are growing demands on our school system. So having a program like SLAM! is just outstanding."
March listed the reasons that charter schools are beneficial to the community. While parents are afforded more flexibility with charters and teachers can work in an environment that suits their particular ability and teaching methods, it's the young people who stand to gain the most.
"Students do best when they know that people believe in them," she declared. "And here they will find the benefit from parents, teacher support, national partnerships, mentors and athletes that inspire them to strive for excellence," later concluding, "Education is a priority, and charter schools give us a chance to get involved. We share a common objective: better educational choices and opportunities for all children."
Abelman was up next, and he seemed just as excited as March.
"You know, I live for days like this," he said. "This is what it's all about, the culmination of so much hard work from so many passionate people to create high performing schools is what it's all about, so that we have incredible youth, the leaders of the future." Ableman went on to share some reflections from the time he spent at the SLAM! Miami campus. "What I saw at that school was an engagement of children. It was unbelievable because when you create lifelong learners — which I think is what their name is — you create a passion for learning. It's really what our end goal is here."
"In about a year, right behind us, we're going to have an amazing school, a school that's going to unlock tremendous opportunities for children in this community, to really change the trajectory of their lives, as we've seen it in Miami, it's going to be so here," declared Rene Ruiz, president and chairman of the SLAM! foundation, who spoke next.
"All of us are honored at SLAM!'s journey as it goes from 305 to worldwide and brings us here to Henderson" Ruiz added, just before introducing the pop star himself — who chuckled at the reference and gleefully punched the air — noting how gracious Perez has been, in his experience, and how he's observed him using his status to create and extend opportunities for others, a sentiment reflected by Perez when he took his turn at the podium, shedding his jacket and pulling on a white polo shirt he'd been given.
"We can have endless number one records around the world — it means nothing," Perez declared. "To be able to perform in front of the world means nothing. It just gives us the avenue to be able to do these kind of things. This is priceless. To change their lives is priceless."
"I was a kid," he continued, recalling how "no one taught me to believe in myself, other than my mother," and then relating the story of how a teacher of his in high school named Hope Martinez recognized his talent and encouraged the young rapper, which inspired him to reach for bigger things in his life.
"There's a lot of presidential candidates, politicians that sit up here and tell you they can make change," Perez said. "Change is when you grab these young minds, you mold them and you teach them how to focus, you teach them how to believe in themselves, you motivate them, you inspire them and let them know from a prime example, 'Been there. Done that.' And that's why SLAM! is so important.
"To everybody that gave us the opportunity and pushed this through, we want to say we really appreciate it, because we're really changing lives," Perez continued. "This is real. This is tangible. This is … you can touch it, and you're going to see it 20-25 years from now when these kids are graduating from amazing schools and you see what they're going to do to change the world.
"That, to me, is what this is all about," he concluded, before capping things off with (naturally) his iconic catchphrase. "Dale!"
— Read more from Dave Herrera at reviewjournal.com. Contact him at dherrera@reviewjournal.com.
Like Neon Las Vegas on Facebook: