Shake and shred with Strange Mistress'Anatomy' of rock 'n' roll
October 22, 2014 - 9:02 pm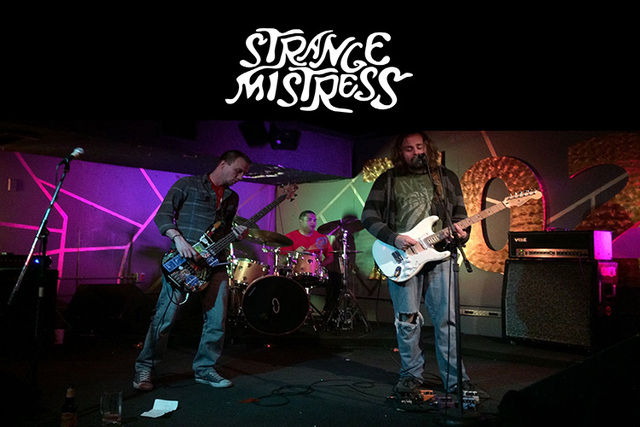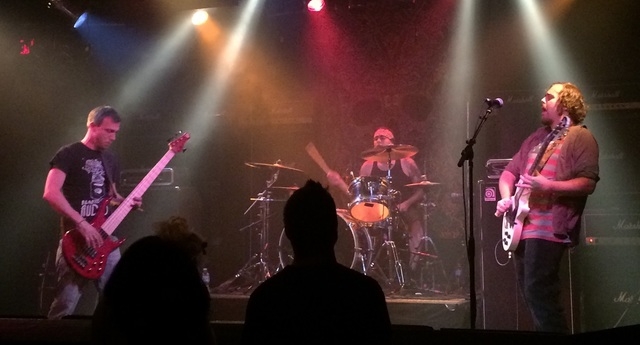 Mounted on the wall above him is a skateboard deck adorned with a deer head with an inverted cross on its forehead.
Maybe this has subconsciously inspired A.J. Gerst's analogy.
"To me, it's like riding a skateboard. Nobody seems to be trying to pull off any tricks," the sturdily built bassist says, sitting on the floor of Cerebros Studios on a recent Tuesday evening.
He's talking about rock 'n' roll, that thing, like skateboarding, that demands a measure of audacity — if you're going to do it right.
"At least try," Gerst says.
The two dudes sitting around him, singer-guitarist Kevin Kilfeather and drummer Jules Pedregon, nod in agreement.
Together, they're Strange Mistress.
They try. Hard.
Amidst faux cobwebs checkered with plastic spiders and brightly colored ghost paintings, the trio is discussing their new album, "Anatomy," a straight-up rock 'n' roll record that's straight-up great.
It begins with Kilfeather.
"Anatomy" is the Las Vegas air guitar record of the year, hands down, but not for any excessive shredding. Yeah, Kilfeather solos plenty, but most of his leads are kept between eight and 16 bars and aren't crazy flashy. What they are, though, are fluid and expressive: You feel what the guy is trying to convey.
And then there's Pedregon, a more metal-leaning dude who peppers songs with some double-bass playing but mostly just plows ahead with locomotive force, the rhythmic equivalent of a combine mowing down crops, while Gerst is an assertive, bullish presence.
"Anatomy," Strange Mistress' second album but first with Pedregon, is a big step forward for the group, less classic rock-leaning and more dynamic, bulldozing forth with steamroller blues ("Wrecking Ball Blues"), steel-belted funk ("Under The Sun") and, if there is such a thing, indie stadium rock ("Speak Easy").
The band recorded the album in two days at Naked City Audio, located just downstairs. It tracked everything live, usually in less than three takes.
As such, "Anatomy " has a visceral edge to it, a palpably physical side.
"You gotta be able to feel it," Pedregon says. "You can have the best sounding record in the world, but if nobody feels it, it doesn't matter."
Live, this bunch sends plenty of follicles to the wind.
"People won't have us play certain places because we're too loud," Kilfeather says, noting that the PA got turned off on them once at a Beauty Bar gig.
The band performs at such volumes that it doesn't need further amplification. Or perhaps it just broke the thing that night.
"When I hit my bass drum, people are supposed to be like, 'Wow,' feel it in their chest," Pedregon says.
Kilfeather let's this sink in.
"That's the point of music," he adds later. "To make people feel something."
Contact reporter Jason Bracelin at jbracelin@reviewjournal.com