The Killers did Las Vegas proud on T-Mobile Arena's opening night — REVIEW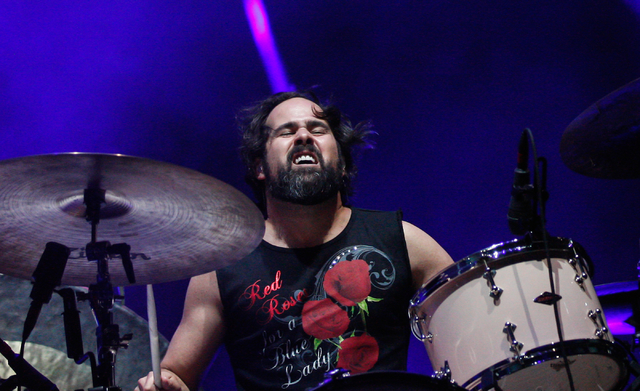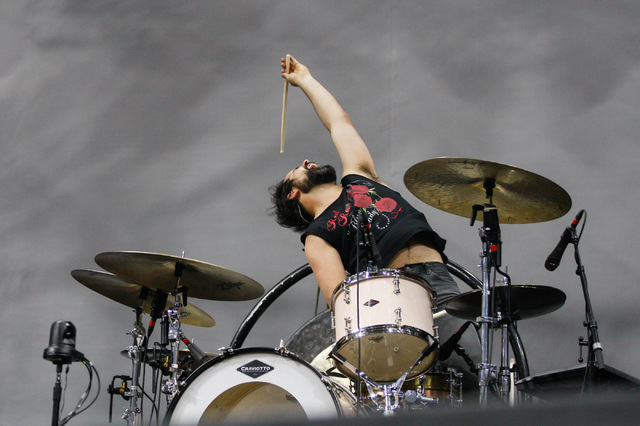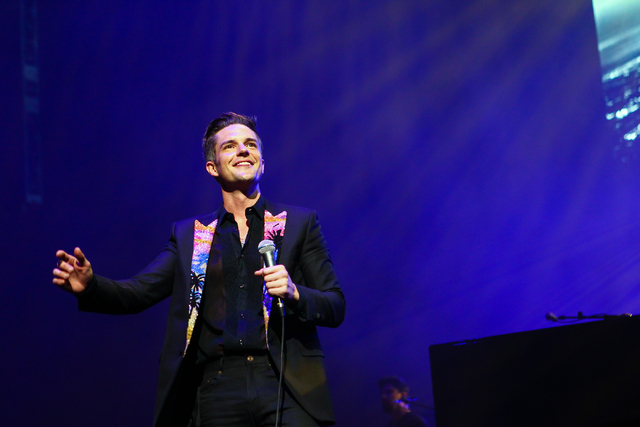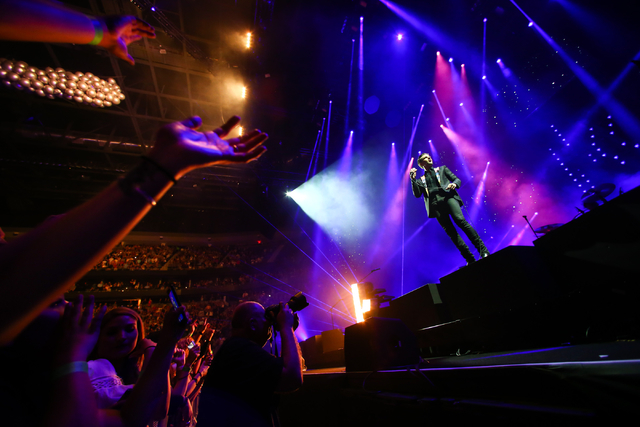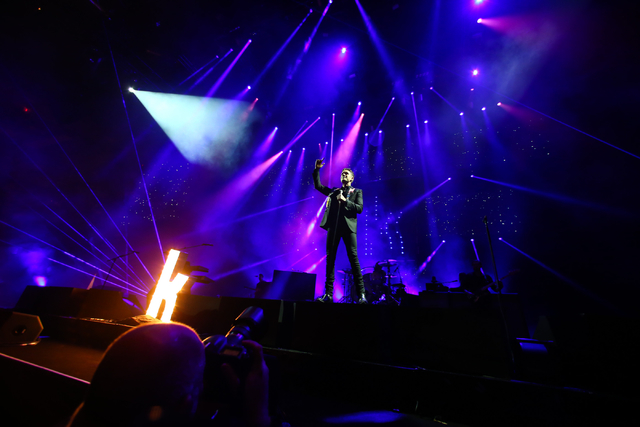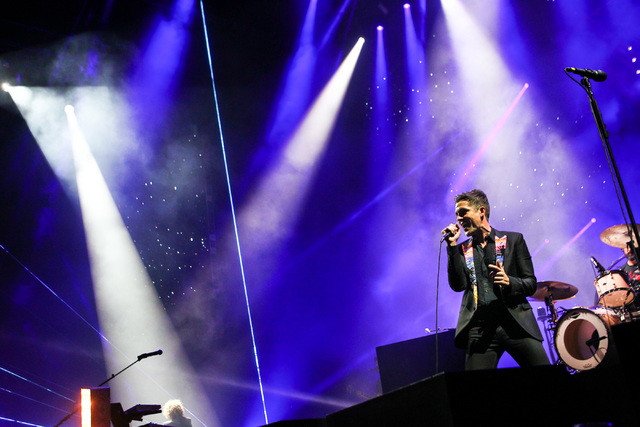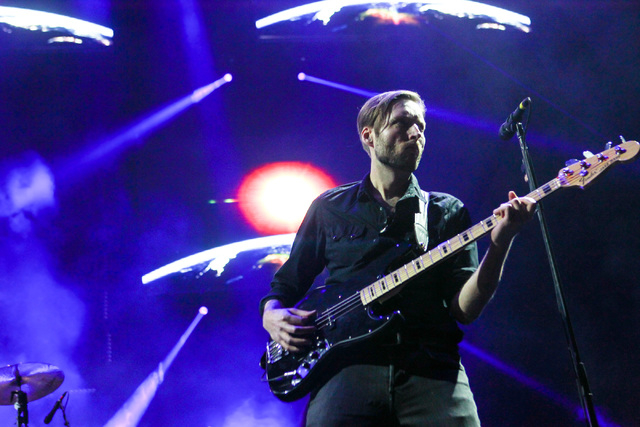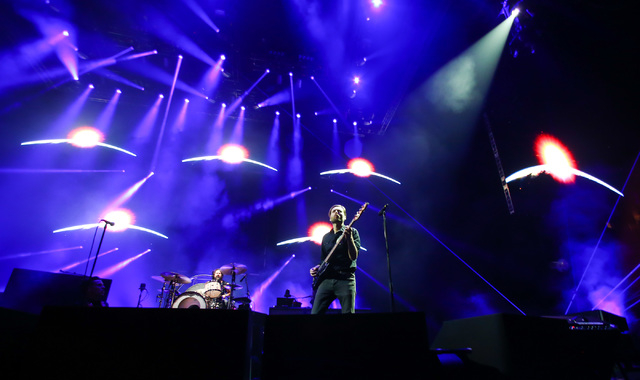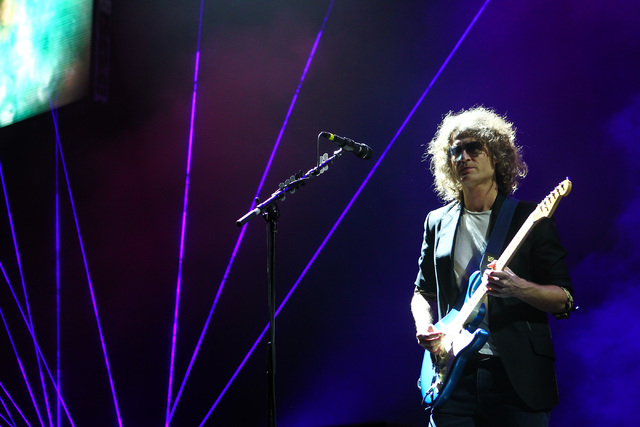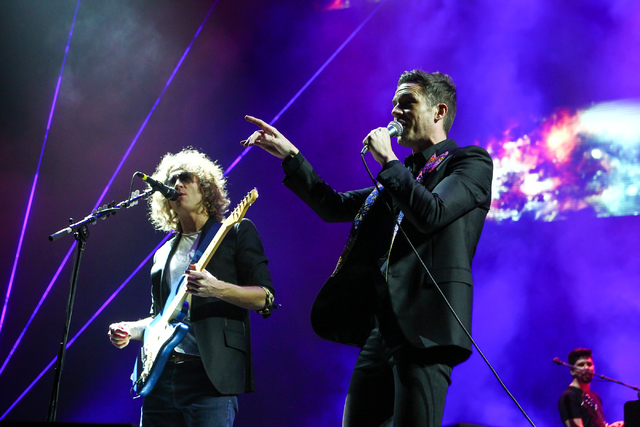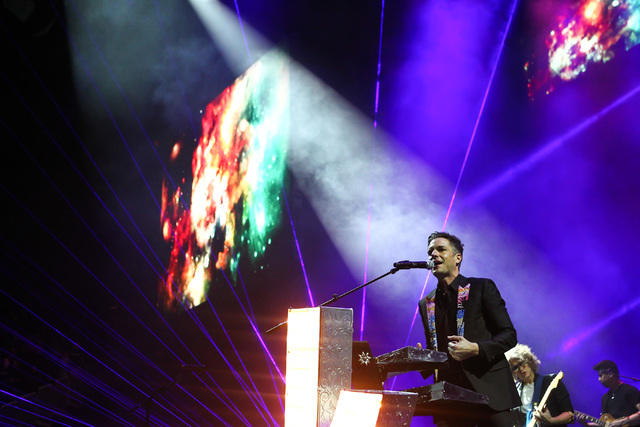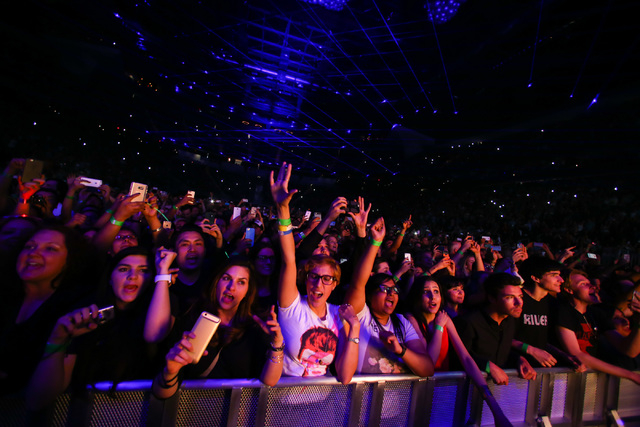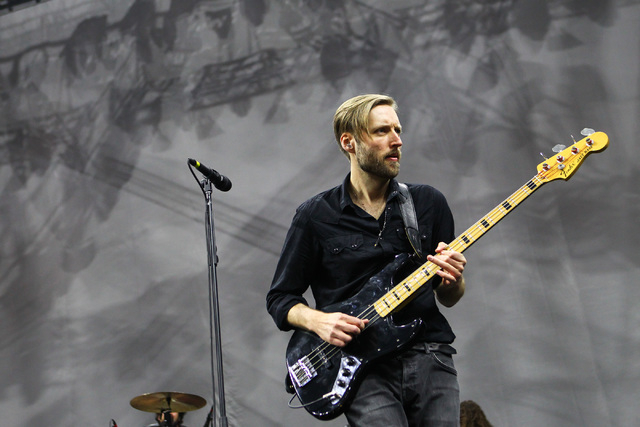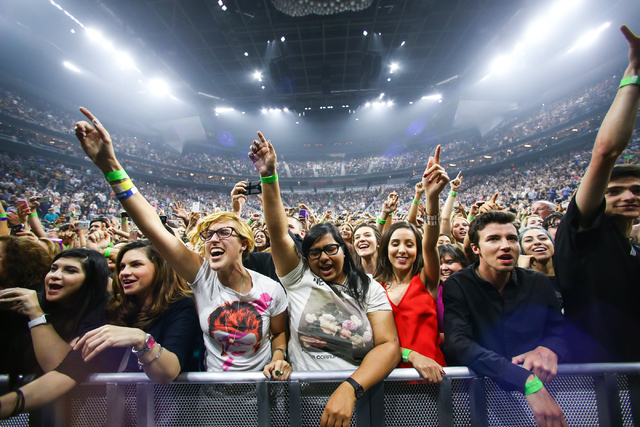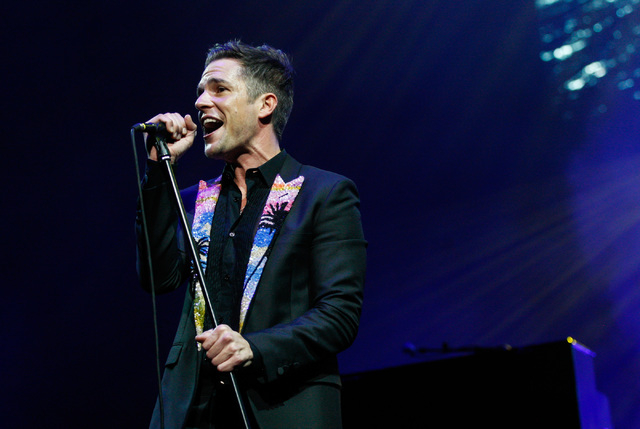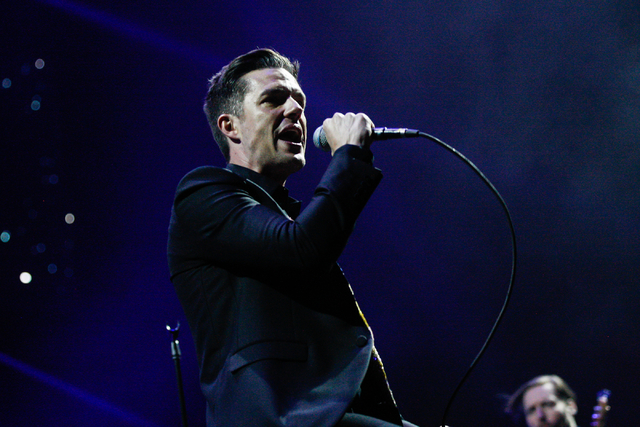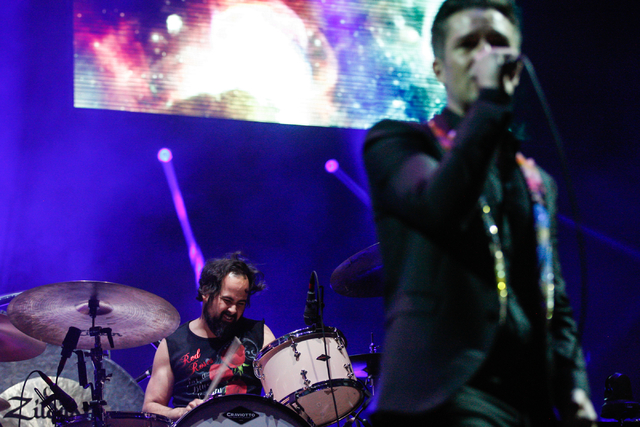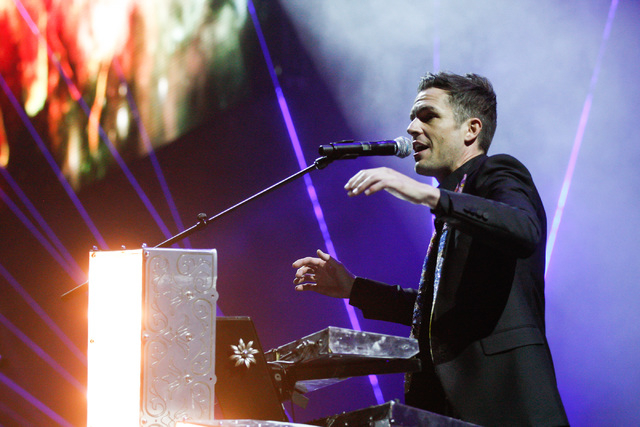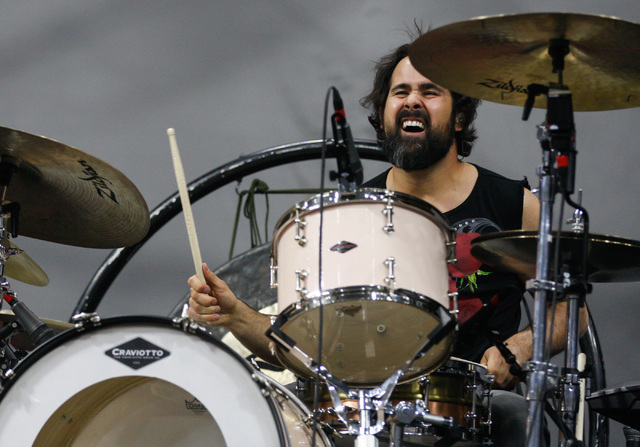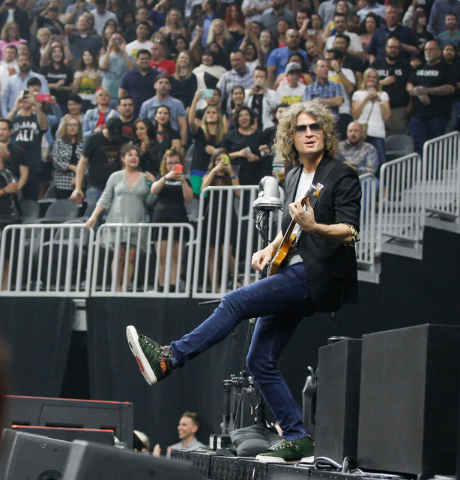 Editor's note: Check out the photo gallery above for our shots from The Killers' set at the T-Mobile Arena opening. Find more of our coverage here.
"There's nothing like that new arena smell, is there?" said Brandon Flowers, frontman of the Killers, three songs into his band's commemorative headlining set at T-Mobile Arena on Wednesday night. Standing center stage, beneath a larger than life replica of the Battle Born insignia from the Nevada state flag hanging high overhead in the rafters, he went on to explain how, exactly, his celebrated Las Vegas-bred band came to christen the prized new $375-million facility on this opening night.
"I heard they were opening this thing," he recalled in a measured tone. "The first thing I heard was that Floyd Mayweather was going to have a fight, and they were going to open it that way. And then I looked it up and they said the Dixie Chicks were going to open this place. Now I love boxing, and I love country music," he notes, "but something just didn't sit right with me. So I called up my manager, and I said, 'I have an idea. There's this band that I think should open the T-Mobile Arena, and I happen to be the singer of that band.
"When people play venues and talk about blowing the roof of a place…" he continued, tongue firmly in cheek, flashing an ever present Sinatra-worthy smile that remained plastered across his face for much of the band's set. "You know, we want to use … it's a brand new venue … we need to be cautious. But let's test the foundations. Let's test the foundations. You want to do some singing with me?"
Flowers then led the near capacity crowd through the a few bars of "The Way It Was," a more recent number most recognizable by the three-note keyboard riff at the beginning of the tune that resembles "Seven Wonders" by Fleetwood Mac. "If I…," he sang, pausing deliberately after delivering each line long enough to let fans feebly attempt to emulate en masse his finely tuned falsetto. "Go on with you/Can it be the way it was, baby."
A charismatic crooner, Flowers has become a quite a sensational showman and singer since he first stood awkwardly on stage next to guitarist and co-founder Dave Keuning, who, likewise looks like more of a rockstar now — in shaggy mane and sunglasses, resembling a young Warren Zevon, and playing his trademark Gibson Explorer — than he did some fourteen years ago with his significantly shorter bleached blonde hair.
Seeing the way the two command the stage now with their longtime bandmates, drummer Ronnie Vannucci and bassist Mark Stoermer, it's hard to believe this is the same band that performed at places like the Junkyard and Boston some fourteen years ago for infinitely more intimate crowds than the throng of excited fans in front of them at T-Mobile Arena for this momentous occasion.
Although throughout the course of evening, the band will pull out all of the stops, with Flowers making every nod to their Nevada roots imaginable — from shouting out the various high schools each of the guys attended to wheeling out a succession of special guests, including the Blue Man Group and Dan Reynolds from Imagine Dragons — this particular show started off more subdued, at least compared to the sizzling set the Killers played last fall at the iHeartRadio Music Festival at the MGM Grand Arena just down the road.
There, the Killers came storming out of the gate, singing "Viva Las Vegas," with showgirls, scrolling slot machine visuals and other life sized Las Vegas props. While that iconic Elvis tune also appeared in this set, here it was saved for the encore. This show, of course, was also significantly longer than that half hour set, so there was plenty more time for the Killers to stretch their legs. And that's exactly what they did, providing a parade of hits that kept everyone engaged throughout the show.
After a warm, welcoming introduction from friend and former Las Vegan Jimmy Kimmel, who moved here when he was nine and attended UNLV, the group strolled confidently on stage and banged out an enlivened version of "Mr. Brightside," kicking the whole thing off with the song that started it all, with all the house lights in the arena still blazing brightly.
From there, the house lights dimmed and the foursome, whose ranks were expanded by two additional players — scene stalwart Ted Sablay, Vannucci's friend and former bandmate in Attaboy Skip and Expert on October, and keyboardist Jake Blanton — worked their way through a ninety-minute, 22-song set. Traversed through much of the band's catalog, the setlist including a handful of "Hot Fuss" ringers like "Somebody Told Me," "All These Things That I've Done," and "Jenny Was a Friend of Mine," along with newer selections and a few choice covers, like "Shadowplay" by Joy Division, "Can't Help Falling In Love with You" and the aforementioned "Viva Las Vegas" by Elvis and "Johnny B. Goode."
That last tune served as one of the evening's several highlights. Nodding to "Back to the Future," saying, "This is a blues riff in 'D.' Watch Wayne for the changes and try to keep up," Flowers and company brought Wayne Newton, who performed just before the Killers and prompted a slew of harsh tweets, back up on stage for a festive rendition of the Chuck Berry tune.
That was the second of the night's three cameos. The Mr. Las Vegas appearance succeeded a segment featuring the Blue Man Group, which offered up their patented percussion during "Human" in wheeled, wraparound drum frames festooned with neon-illuminated peacock feather-shaped lights, before trading beats with Vannucci (who once reportedly earned an invite to audition with the ensemble during the week the Killers inked their deal with Island Records).
Not for nothing, the azure-colored creatures had their hands full playing alongside Vannucci, who proved more than capable of holding his own. While the rest of his bandmates sounded about as polished as you'd expect from players who've performed in arenas for as long as they have, Vannucci's performance was positively on point throughout the set, his unrelenting rhythms enhanced by a favorable mix that added even more power and punch to his propulsive playing style. He was easily the star of the show, sitting behind his kit pounding away in a t-shirt with sawed off sleeves.
While that cameo was certainly compelling, it wasn't the evening's most enjoyable entry; that came nearly a dozen songs later at the first part of the five-song encore when Dan Reynolds, frontman of Imagine Dragons, a fellow breakout band from the valley, sat in with the band for a robust rendition of "Jenny Was a Friend of Mine" and traded verses with Flowers.
"There's another band from Las Vegas that you might've heard of," said Flowers, introducing Reynolds, along with an unintended regretful notion that hadn't really occurred until then, considering the possibilities of what could have been with Reynolds and company sharing the Las Vegas-centric bill.
That's about the only thing that would've made T-Mobile's opening night a more blockbuster event. As it was, the Killers, who closed the show out with an absolute bang, breaking out "Viva Las Vegas" and bringing everybody back on stage, along with showgirls, stilt-walking Cirque-like performers, replete with Carrot Top firing a confetti cannon into the crowd and balloons dropping from the rafters like it was New Year's Eve, gave their hometown a hell of a show.
The folks at T-Mobile Arena followed that up with an encore of their own, presenting the perfect capper to what had already been entirely entertaining evening. As fans filed out, an explosion of fireworks lit up the Las Vegas sky as "Mr. Brightside" played, prompting a massive sing-a-long.
Read more from Dave Herrera at reviewjournal.com/music. Contact him directly at dherrera@reviewjournal.com, or follow @rjmusicdh on Twitter.
RELATED:
The Killers play surprise show at Bunkhouse after T-Mobile Arena concert