Vegas music scene produces a pair of Route 91 benefit albums
October 6, 2017 - 2:36 pm
Updated October 6, 2017 - 5:41 pm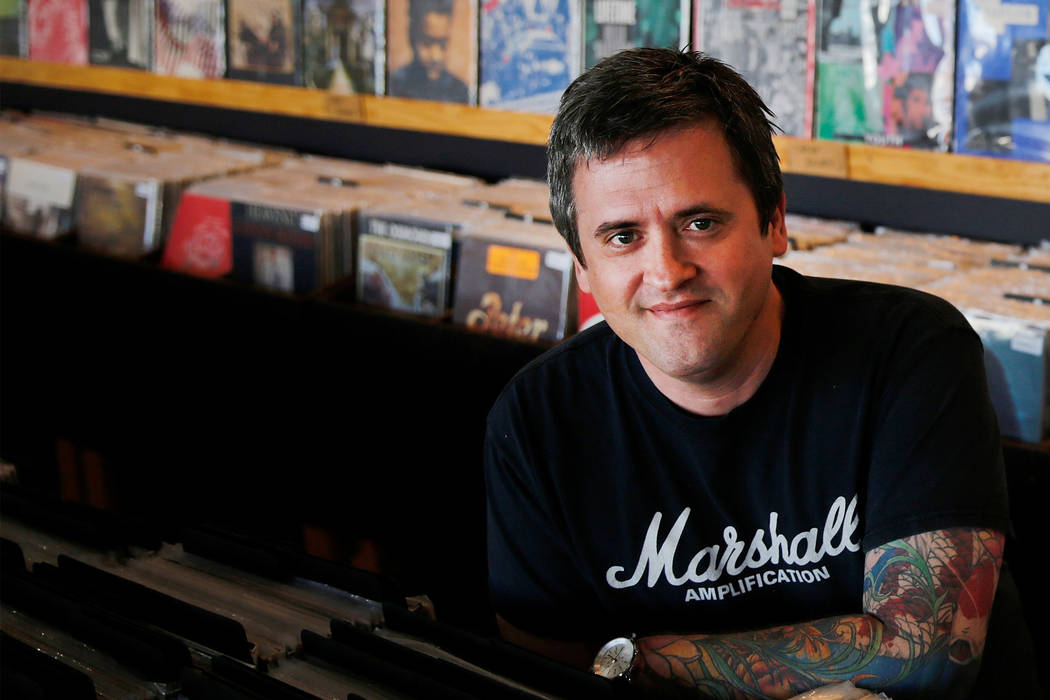 The George Jones tune did what George Jones tunes do: Turn something sad into something else.
It was a song by country's music preeminent tear-in-my-beer balladeer that spurred Ronald Corso's light bulb moment.
In the aftermath of the Route 91 Harvest tragedy, the owner of downtown Las Vegas' 11th Street Records and its National Southwestern Recording studio, where The Killers tracked some of their new album, sought to help out.
He donated items from his store to various charity raffles and made a monetary commitment, but he wanted to do something more lasting.
Then he found himself listening to a little George Jones, and it got him thinking, not just about how good country music songwriting can be but also about how separated the local country community is from the downtown indie music scene, where Corso's firmly ensconced.
"It just kind of occurred to me that there's a big divide there between them and the punk rock crowds, the indie rock crowds and the hip-hop crowds — and not just musically," Corso says, sitting in front of the console in his studio's control room. "It's probably fair to say that there's a good deal of cultural and political differences there."
A moment of unity
Here's the thing, though, in the aftermath of the Route 91 massacre, those divisions disappeared. Tons of artists and musicians from the downtown scene joined the cause in aiding the victims, from delivering pizzas to donating blood, right along with the rest of the city.
It was a moment of unity that Corso wanted to commemorate, maybe build upon, even.
And so he had an idea: Donate studio time and his engineering prowess to select artists to come in and record a country cover song that will be featured on a record, with any proceeds going to benefit the Route 91 shooting survivors.
"I thought it would really be interesting to have a bunch of downtown, hipster-ish type artists do a take on country music songs as a permanent reflection of what I saw as an impressive and moving moment, when nobody even considered these divisions in the days afterward," says Corso, dressed head to toe in black, Johnny Cash style. "I thought it would be something that would outlast the temporary thaw in relations between two very different communities that probably don't hang out too much."
Since Corso announced the project on the 11th Street Records Facebook page, he says he's been flooded with inquiries.
"All day today I've been fielding pitches and ideas," he says, noting that the response has been so strong, that's he had to recruit other engineers to help in the recording process.
He expects to spend the rest of the month compiling the album.
'Vegas Strong'
Corso won't be alone in his efforts.
Another Vegas scene fixture, Steven Matview, founder of the Punks in Vegas website, a popular portal for happenings in
local music circles and beyond, is also putting together a compilation album: "Vegas Strong: A Benefit from Punks in Vegas."
It'll be released digitally on the Punks in Vegas Bandcamp page Monday (punksinvegas.bandcamp.com).
Since first calling for song contributions Tuesday, Matview has received nearly 100 submissions from bands all across the country.
"It's been really crazy," he says. "I was just like, 'I'll have a few of my friends send over songs and hopefully we can raise a little bit of money.' And it just spread so fast. A lot of publicists I've worked with over the past six years doing the website started emailing their bands. We've had people outside of America even hit me up about contributing."
Despite being released under the Punks in Vegas banner, the bands aren't limited to that genre — or any other.
"So many people have been messaging me, 'Hey, I'm a country guy' or 'I do piano music' or folk, electronic, whatever," Matview says. "They're just like, 'We want to contribute, will you let us?' Yeah, I don't think any of that stuff matters. We all just want to help, reach as many people as possible and raise as much funds as possible."
Besides, the larger point with both records is to bring different people together, uncommon collaborators with a common goal.
"This is a horrible, horrible thing, is there anything good about it?" Corso wonders of the Route 91 aftermath. "Yeah, there is, man, because the last year has been toxic and this week has not been that. I don't know how long that will last, but if there are songs out there that are symbols of a time when people were being awesome in a tough circumstance, they'll be a permanent record of that."
Contact Jason Bracelin at jbracelin@reviewjournal.com or 702-383-0476. Follow @JasonBracelin on Twitter.