Naked Trump statue in downtown Las Vegas vandalized
September 23, 2016 - 3:29 pm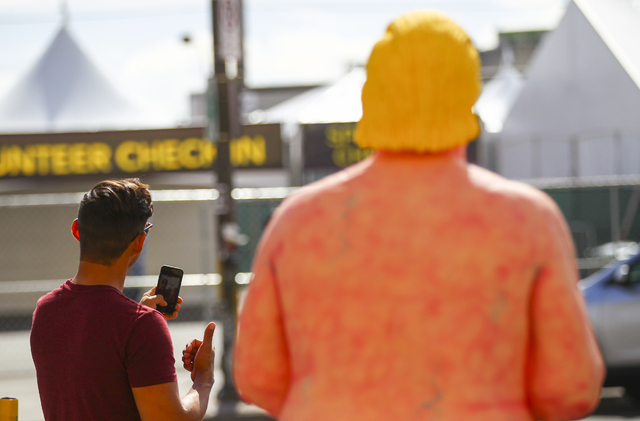 The statue resembling a naked Donald Trump that appeared in downtown Las Vegas earlier this week was vandalized overnight.
The statue, placed in the John E. Carson parking lot on South Sixth Street near Carson Avenue, was broken off of the platform it was mounted on. It was one of eight naked Trump statues displayed around the country.
The platform still has the feet attached, but the body resembling the Republican presidential nominee was on the ground covered in graffiti Friday morning, the first day of the Life Is Beautiful festival.
The statue was not part of the festival.
Its creator, Las Vegas artist Joshua Monroe, expected it to stay in place throughout the weekend's music festival, he said Wednesday.
Monroe woke up to a text message Friday morning telling him that his artwork had been destroyed.
"I'm heartbroken," he said Friday.
Monroe is not going to file charges since the vandalism wasn't caught on camera and there were no witnesses, he said.
"Vandals can destroy them all they want but they'll still be there," Monroe said. "The message is to stay strong."
Monroe is frustrated that the vandals, who he referred to as "scumbags," couldn't express their frustration intellectually instead.
Downtown resident Mike Flowers likes to walk around during the festival to take pictures of the art, which is what he was doing Thursday night when he saw people taunting the statue.
"I knew something was going to happen," Flowers said after seeing the vandalism Friday.
The vandalized statue drew a small crowd of about eight people Friday morning before Life Is Beautiful security took it away on a golf cart, Flowers said. Life Is Beautiful staff is using the parking lot throughout the weekend for bicycle parking, as agreed upon with the Downtown Project, who owns the lot.
"We don't have anything to do with what happens to the lot during that time," said Downtown Project spokeswoman Maria Phelan.
The statue was placed in the parking lot legally because of a loophole in the law, Monroe said.
"A magician never reveals his tricks," he said when asked what that loophole is.
Naked Trump, formally named "The Emperor Has No Balls" by anarchist artist collective INDECLINE, took the world by storm on Aug. 18, when five statues were placed in public areas of Seattle, San Francisco, Los Angeles, Cleveland and New York.
Statues also appeared in Miami and New Jersey. The Miami statue was stolen from the Wynwood arts district on Thursday and the one in New Jersey disappeared earlier this week, according to The Associated Press.
Naked trump is down. I repeat…. #NakedTrump is down. #TotesVegas #dtlv #LifeIsBeautiful pic.twitter.com/qYUUI7pTFU

— Totes McGotes (@TotesMcGotes) September 23, 2016
Review-Journal writer Rachel Crosby contributed to this report. Contact Lawren Linehan at llinehan@reviewjournal.com or at 702-383-0381. Follow @lawrenlinehan on Twitter.
RELATED
Las Vegas artist who created naked Trump statues might target Hillary next
Naked Trump statue attracts dozens of onlookers in New York park
Trump statue is going up for auction
Las Vegas artist has more Trump statues in the works