Olivia Newton-John, daughter working together in Vegas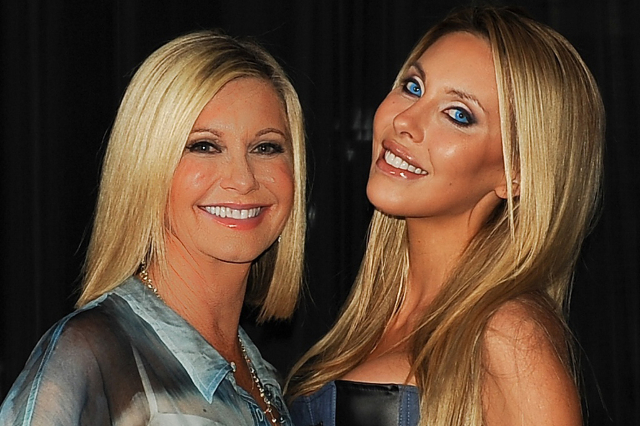 Update: Olivia Newton-John tells us the name of the new dance single of "Magic," which she cut with her daughter Chloe in Vegas, is "You Have To Believe," available on iTunes Aug. 11.
Wow. Looking at Olivia Newton-John and her daughter. It's like looking at some kind of cloning experiment gone way better than projected.
I promise I'm not trying to objectify them. I'm just, like, as a scientific observer of the universe, wow, such similar genetics.
Anyway, news: Mother and daughter have quietly done an unprecedented thing by collaborating on their first-time-together recording/video, which falls on the 35th anniversary of the release of ON-J's "Xanadu," and the anniversary of my favorite song of hers, "Magic," topping the radio charts for the fourth week in a row.
The Flamingo star's publicist tells us Newton-John and daughter Chloe remade "Magic" as a dancer.
The video features guest spots by local performers, Larry Edwards from "Divas Las Vegas," James Davis from "Chippendales," and entertainers from "Legends" and "Jubilee."
And on Saturday night, the duo will host a music video release party at the gay nightclub Share, 4636 Wynn Road.
Tell me what's not "wow" about any of this.
Contact Doug Elfman at delfman@reviewjournal.com. He blogs at reviewjournal.com/elfman. Find him on Twitter: @VegasAnonymous.