January 23, 2009 - 10:00 pm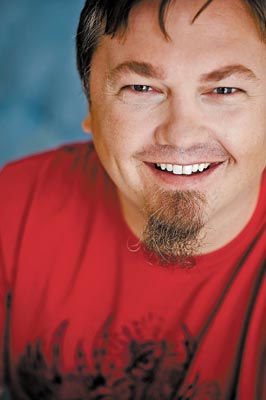 Back when Edwin McCain was promoting his song "I'll Be" — which is now a wedding standard — he did every crazy stunt his record label asked him to do.
"Oh God," he says, a decade later. "I played at the drive-through window at a Krispy Kreme at L.A. They had two windows. The first window had a priest. People would drive up and get married at one window. Then they would drive to my window and I would sing them a little bit of 'I'll Be.' And then they would drive on through."
There weren't even any Access Hollywood cameras there to get extra publicity out of it, according to his memory.
"I was like, 'If anyone at the record company doubts that I'm working hard, this is the moment where that doubt is totally removed,' " McCain says and laughs.
McCain, who left label land for independent recording, is fantastic to interview. He's funny and doesn't mind sharing insane stories from his career. When you're reading this, imagine him talking in a serious Carolina drawl.
'THE DIANE WARREN SONG — SELLOUT, ABSOLUTELY'
McCain performs at all kinds of places — public concerts, intimate shows at hospices and for developmentally challenged kids, and private gigs for rich people.
There was the time he sang a "high-end" private show where everyone in the crowd seemed worth more than $10 million:
"I was playing this private, corporate event at the PGA in Pebble Beach. And this woman came up to me about halfway into my set, and she goes, 'You sure do like to play a lot of Edwin McCain's music.' I was like, 'Yep. I sure do. It's too bad he's gay.'
"She got really upset and stormed off. I watched her tell somebody what I said, and then they said, 'No, that is him.' "
McCain owns up to doing things that some music purists (not me) could view as "selling out." He takes those gigs to keep himself and his band in the black.
"There have been segments in my career that were totally sellout moments. Like the Diane Warren song ("I Could Not Ask For More") — sellout, absolutely, I got paid to do that. And I've got band members to support, so whatever."
He jokes that he'd change the lyric in "I'll Be" — "the greatest fan of your life" — to the greatest "van," if Ford ever calls him.
McCain understands the now-archaic argument by people like Neil Young that selling songs is selling out. But he has a profound bottom line on the argument:
"It's when artists make enough money to not have to worry about money that all of a sudden it cannot matter," McCain says. "Neil Young has enough money to have principles."
But for McCain and his band?
"We gotta get paid to go to the next place."
BEING RELATED TO JOHN MCCAIN
I ask Edwin, "Do you wish in retrospect your name was Edwin Obama?"
He says his dad dug up records and found he's related somehow to John McCain, whom Barack Obama beat in a landslide.
"What was funny was just seeing 'McCain for President' everywhere," while touring America, McCain says, "and go, 'Yeah. That's my cuz.' "
McCain was impressed by both McCain and Obama.
"I really like that, now, there's no other country in the world that can criticize us for equality issues," he says. "We have proven yet again we are an open-minded, compassionate society. And this election proves it. … Either way it went, it was a good thing."
CHURCH CHOIR IS SOUTHERN DAY CARE
McCain learned to sing in church. He grew up Episcopalian and declares church choir is Southern day care.
He learned soul by going to a Pentecostal church with a friend. If you don't know Pentecostal, that's where in many parts of the world people speak in tongues, handle snakes and sing to drum and bass music. Sarah Palin used to be Pentecostal.
"There was a dude in (this) church — they called the Chickenman," McCain says. "When he would get the ghost, he would start clucking like a chicken. At that point, I was like, 'OK, all bets are off. Once something moves you, if you're allowed to cluck like a chicken, you can do almost anything in this world.' "
McCain doesn't like it when people say they belong to the one true religion.
"I always turn off when somebody says, 'My way is the only way.' Oh really? Because there are a lot of Hindus that are gonna be bummed that they are wrong."
What do you think about all this? Write your thoughts on my blog (reviewjournal.com/elfman) or e-mail me (delfman@reviewjournal.com), and I'll post them. My column runs Sundays, Mondays, Tuesdays and Fridays. See you then.
Preview Edwin McCain Trio with Shawn Eiferman 8:30 p.m. Saturday House of Blues at Mandalay Bay, 3950 Las Vegas Blvd. South $30-$35 (632-7600)