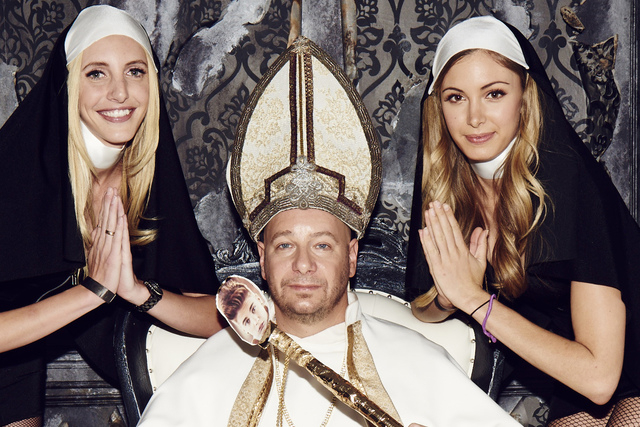 Jeff Ross is officially the bravest/most-out-of-his-mind man in comedy, because he just shot a Comedy Central special where he roasted criminals to their faces in a Texas county jail.
Ross, the proclaimed "Roastmaster General," didn't just stand on stage and ridicule prisoners.
He invited his captured audience to stand next to him on stage while he lampooned them.
Consider his chutzpah:
"I roasted some Nazis with swastika tattooes. I wished them a happy Hanukkah. That was fun," Ross, who is Jewish, said.
Ross is in Las Vegas this week to roast locals and tourists at the House of Blues on Friday. This double-billed show includes the incomparable comic Dave Attell, who Ross says has "the quickest mind in comedy."
Ross said that while shooting "Jeff Ross Roasts Criminals" (debuting June 13 on Comedy Central), he made a few shank jokes (shanks are makeshift knives), such as:
"Shank you very much."
"It was terrifying but gratifying. I really got a lot out of it," Ross said. "And most of them were pretty good sports about it."
Ross thinks viewers will be surprised that today's prisoner is "a lot like everybody else, more than you would think."
"One recent New York Times statistic says one in 100 Americans is behind bars right now. That's pretty alarming," Ross said.
"Most of them are there for weed, and drugs, and non-violent offenses," Ross said. "I made that point, and they went berzerk.
"I said, 'This guy is locked up in here right now for possession of less marijuana than I have in my lungs at this moment.'"
Ross has gone pro at smoking marijuana. He's done so publicly on "pot-topic" icon Doug Benson's podcast "Getting Doug With High," as well as toking with the weed Santa himself, Snoop Dogg, at Comedy Central's recent Justin Bieber roast.
Who's got better pot, Doug Benson or Snoop (who has a condo in Las Vegas)?
"That is a hard question," Ross said, then he ruminated and decreed Snoop's pot paralyzes him.
"Doug Benson has great weed for telling jokes. Snoop Dog has great weed for listening to jokes," Ross said.
"With Snoop, I lose the ability to make fun of people. I become the audience. His stuff is so mind-bending that I'm at his mercy."
"Hopefully, someone will bring us some to the show" in Vegas, he "joked."
On Friday, Ross will again invite the crowd on stage to be roasted, which is actually pretty sexy, he said.
"All Dave and I do on stage is talk to the crowd, talk to girls, talk to couples, make fun of dudes. And that all leads to people getting laid. If you come to this show, and you can't get some action afterwards, I'll personally hand you your money back," he joked.
Contact Doug Elfman at delfman@reviewjournal.com. He blogs at reviewjournal.com/elfman. Find him on Twitter: @VegasAnonymous