5 life lessons from the comedy of Hannibal Buress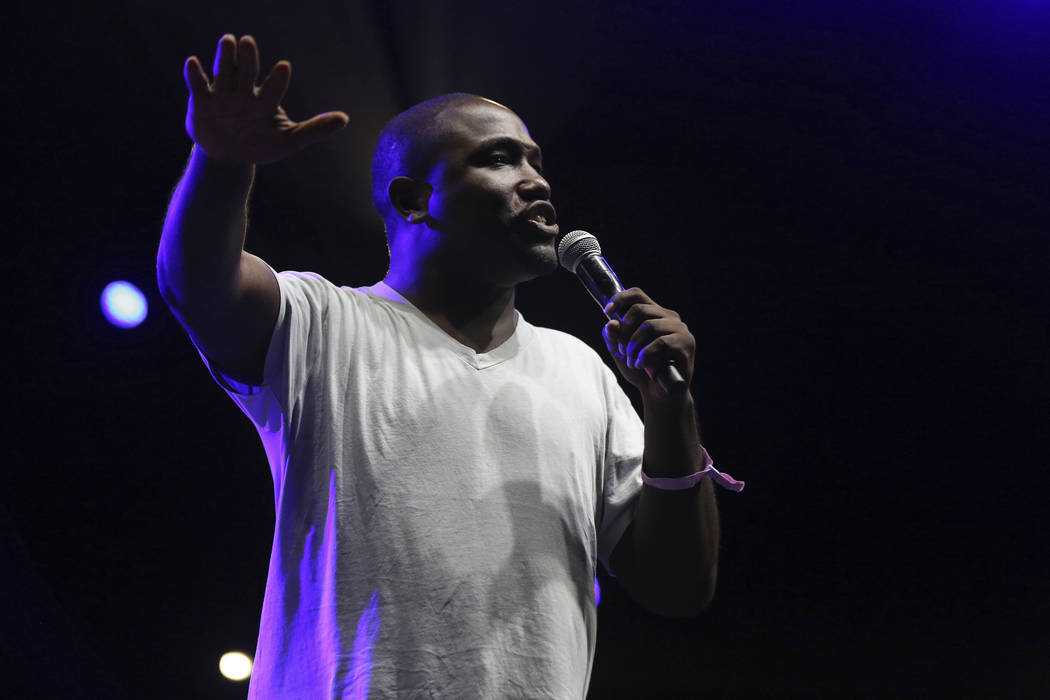 Telling jokes for a living is hard.
"People put pressure on comedians, 'You better be funny, man; I paid my money,' " Hannibal Buress notes on his debut comedy album, 2010's "My Name Is Hannibal." "Nobody puts pressure on poets. Nobody goes to a poet, like, 'Hey, man, you better be thought-provoking. You better rhyme a lot and use lots of similes, metaphors and onomatopoeia. I swear to God, if this poet don't use onomatopoeia in this poem, I'm never coming to this coffee shop again.' "
Yet Buress handles these pressures like a boss.
We'll go out on a limb and say that no comedian has ever done more with a punch line about flicking pickle juice on lizard sandwiches or the joys of pigeon kicking than the 35-year-old Chicago native, who also voices a mean dachshund (See: "The Secret Lives of Pets.")
Observational, surrealist and occasionally cutting — Buress is not above putting grandma on blast when commenting on his weight — he's the comedic equivalent of a five-tool baseball player: smart, funny, provocative, absurdist and topical, depending on the mood.
We could all learn plenty from the wisdom of Buress.
For a taste, here are five crucial life lessons gleaned from his comedy albums and specials:
Never be a fly on the wall
" 'Man, I wish I was a fly on the wall in that room when those people were talking … ' That saying is dumb. You wish you were a fly, why? So you could be annoying and not understand what's going on at all? 'Cause that's what flies do all day, when they're trying not to get killed. They frantically avoid death and they don't understand English. That saying should be, 'I wish I was someone that those people trusted.' " ("My Name Is Hannibal")
When dining out, keep the napkin on the table
"People say, 'Hannibal, why don't you put the napkin in your lap?' Because I believe in myself. I believe in my ability to not spill food on my pants because I'm an adult and I've mastered the art of getting food from my plate to my mouth without messing up my jeans. You need to believe in yourself, too, and get your life together. That's for babies. Have some confidence in your eating abilities and hand-eye coordination." ("Animal Furnace")
Find your Mexico
"A dollar bill isn't worth that much in England, but it's worth a lot in Mexico. We all mean different things to different people is what I'm trying to say. Finding true love is about finding your Mexico, where you go somewhere and say, 'I get how many tacos for three dollars? Holy (expletive)! I want to stay here forever.' And you just hope that feeling's mutual. And that's love." ("Comedy Camisado")
In times of tragedy, offer sandwiches, not thoughts
" 'We'll keep you in our thoughts.' With that (expletive) in your head? Naw. Keep me out of your thoughts, 'cause I hear some of the stuff you talk about, and if that's close to what you're thinking about, I don't want to be around that at all. So, keep me and my family out of your thoughts — unless you're thinking about making us sandwiches."
When the times get tough, avoid the bromides
"Whenever people goin' through a struggle in life, they get really cliche. They say stuff like, 'I'm taking it one day at a time.' You know who else is? Everybody, 'cause that's how time works. That's the only way you can take time. What, were you doing it a week at a time before? Who are you? Who taught you how to do that? Please teach me how to do that. I want to get through this quicker, too." ("Animal Furnace")
Contact Jason Bracelin at jbracelin@reviewjournal.com or 702-383-0476. Follow @JasonBracelin on Twitter.