Cirque's 'Avatar' prequel to visit T-Mobile Arena in January
October 24, 2016 - 5:27 pm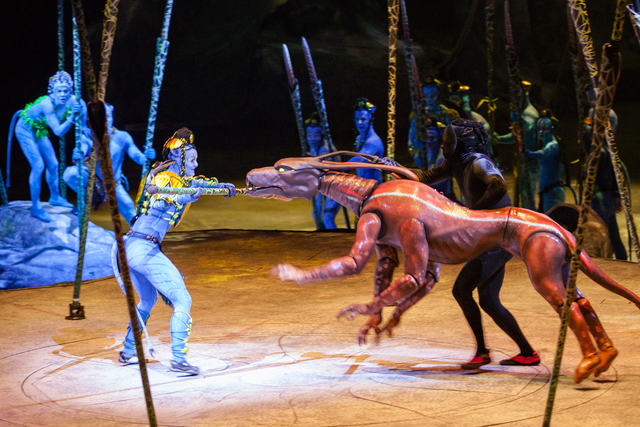 You can't have too much Cirque du Soleil on the Strip, at least if "Toruk — the First Flight" is based on the blockbuster movie "Avatar" and if it's only here for a week.
The touring show "inspired" by the James Cameron fantasy will visit T-Mobile Arena January 18-22. Tickets start at $39 (before taxes and fees) and go on sale at 10 a.m. Friday, after a pre-sale for Cirque Club members.
"Toruk" is a proven hit on the road, listed at No. 6 on Pollstar's midyear list of top 100 North American tours, with almost a $33 million gross.
Las Vegas isn't always guaranteed a stop on Cirque's tours, thanks to the company's six permanent shows on the Strip (plus a producing partnership with Criss Angel on "Mindfreak Live!").
But this visit falls when the likeminded epic "Ka" and "Mindfreak" will be on their annual January hiatus. "Mystere" will be dark for a portion of the "Toruk" run as well.
The touring version of Cirque's Michael Jackson tribute, "The Immortal," parked at Mandalay Bay in 2011. But that one had the dual purpose of promoting the permanent show that would follow.
Cirque's touring "Delirium" was an underperformer when it visited Las Vegas in 2006.
But the prequel connection to "Avatar," still the highest-grossing film of all time worldwide, should guarantee interest. Cameron also produced the 3-D Cirque film "World's Away," which was shot largely in Las Vegas.
Read more from Mike Weatherford at reviewjournal.com. Contact him at mweatherford@reviewjournal.com and follow @Mikeweatherford on Twitter.