J-Lo's elaborate 'All I Have' incorporates classic Vegas show traditions
January 27, 2016 - 5:12 pm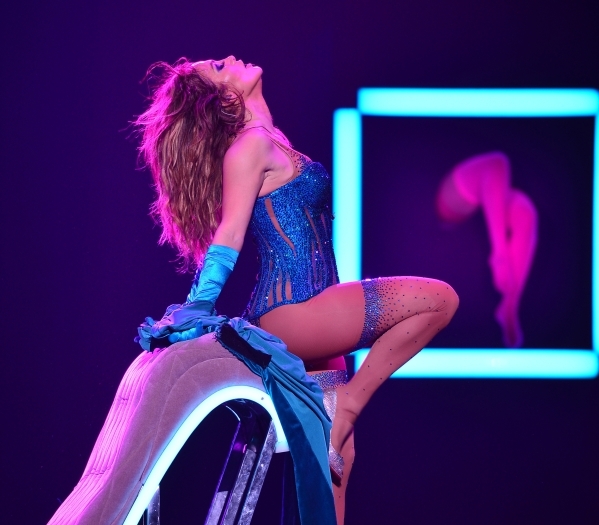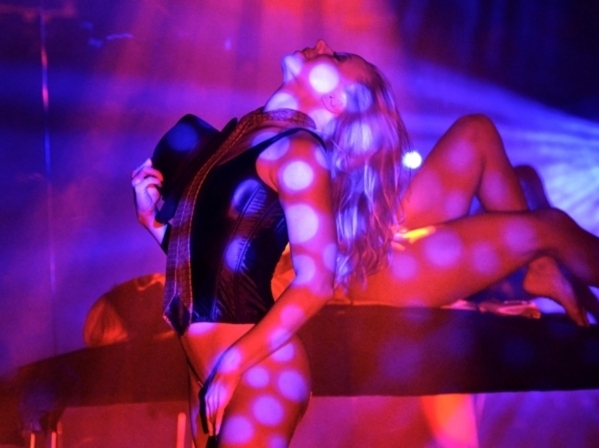 Las Vegas is losing "Jubilee," but Jennifer Lopez showed up just in time to keep a few classic Vegas traditions alive.
J-Lo's new Planet Hollywood spectacle, "All I Have," is full of nods and winks to the past, specifically the amalgamation of influences that became known as the Las Vegas production show, aka the "feather" or "floor" show.
"The idea was not to do a giant arena pop star kind of show. We wanted to have a combination of theater, along with the pop star thing," says Napoleon D'umo, who co-directs with spouse Tabitha what could be a three-year residency for Lopez.
"People may not realize all the sides to Jennifer, from her glamour to her roots in hip-hop," adds Tabitha D'umo, who saw plenty of Las Vegas entertainment while attending UNLV, where she met Napoleon in the early '90s. Beyond their high-profile presence on the Fox competition show "So You Think You Can Dance," the two have worked for Cirque du Soleil and Jabbawockeez on the Strip.
"There are so many sides to Jennifer that we try to tap into all of them," she says.
Some throwbacks are obvious, such as the "Bye Bye Birdie" cover "A Lot of Livin' to Do." "She definitely wanted to cover that song, as the title is a sort of theme for this show and her life. Plus, we all adore the movie," Napoleon says.
And that beginning, with a "conductor" throwing out sparkles of video color? Leopold Stokowski in "Fantasia" (Or later, Tinkerbell opening Disney's Sunday night TV)? "For us the conductor represented the dreams of Jennifer, in essence, and how her life has been conducted really by a higher power. But in the back of our minds? Yes, it probably was a little bit of 'Fantasia,' " Napoleon says with a laugh.
But some of the visuals are so rooted in burlesque and variety-show history, it's hard to source them back to their origins. "It's probably ingrained in all our souls subconsciously," he says.
With "Jubilee" closing the last authentic tie to historic Las Vegas on Feb. 11, Lopez's showcase arrives at a fine time to keep some of the classic show tropes alive:
The staircase
Where would a Las Vegas showgirl be without reflective steps to perch on?
Lopez also opened her previous "Dance Again" tour with "a scene out of an old Hollywood musical," as she described it in her book "True Love." "I didn't want it to feel real; I wanted it to feel like a movie, like people were watching the Ziegfeld Follies."
Florenz Ziegfeld was in turn inspired by the original "Folies Bergere" in Paris. He and director-choreographer Busby Berkeley were obvious influences on Las Vegas' original showgirl revues, "Lido de Paris" and the Tropicana's imported edition of "Folies." Soundstage production numbers with grand staircase numbers date back to the early talkies, including "Dance Until the Dawn" in 1931 and "Gold Diggers of 1933."
"We did find some references in those old movie musicals when we were looking for the right staircase," Tabitha D'umo says. "There's something about the infinity of the endless staircase that appealed to us because it just felt so grand. She loved that."
The crystals
Swarovski put out a press release that says 260,000 of its crystals embellished Versace-designed costumes in "All I Have," and another 75,000 sparkled up the set design. It took 1,400 man-hours to apply more than $1 million worth of beadwork.
Handmade costumes were a calling card of the French revues that became a Las Vegas symbol. As late as 1973, the Stardust's "Lido" was spending $300,000 to update its costumes (about $1.6 million in today's economy). Swarovski also provided the crystals for "Jubilee," where $3.5 million was originally budgeted for 1,000 costumes.
Burlesque
If Las Vegas is about lavish costumes, it's also about taking them off. "There's definitely an element of sexy in this city," Tabitha says.
Hence, the burlesque segment, where "I'm Into You" offers the four female dancers doing a Bob Fosse-style routine with chairs, setting up Lopez doing corset-and-stockings chaise lounge contortions to "Girls."
Las Vegas was a last haven to burlesque in the 1950s, as the early boom of television put more and more circuit theaters out of business. The relationship became mutually beneficial when "Minksy's Follies" at the Dunes took the Strip topless in early 1957. Chaise lounges were often featured in publicity photos of burlesque stars such as Tempest Storm and Lili St. Cyr.
The D'umos were inspired not just by cult icon Betty Page but by Dita Von Teese, who spearheaded a burlesque revival in the '90s. But the goal here was to "make it more modern," Napoleon says. "Make it less about velvet curtains and make it more pop."
"Nowadays there are so many art installations using lights," Tabitha says, inspiring them to ask, "How do we make a live art installation?" Hence, "that back wall with all the legs sticking out of tubular neon lights."
Supportive male dancers
Life must be in balance, and many gents would argue that J-Lo plus six female dancers equals 10 shirtless and ripped male dancers.
"Jennifer always prefers dancing next to men," Napoleon says. "The strength of movement motivates her to go harder." The big change from past tours is the six women, he adds, because so many of the segments required more female presence.
Tuxedoed dancers (referenced in the opening number of "All I Have") surrounded Las Vegas headliners such as Mitzi Gaynor and Juliet Prowse, while Ann-Margret edged them away from formal wear — and onto motorcycles — with her rock-flavored Riviera show in 1967.
Fans and drums
"All I Have" includes a sung-in-Spanish segment paying homage to 1950s Havana, the parallel Las Vegas of the pre-revolution 1950s Cuba. A giant drum revolves to reveal Lopez, who emerges to front a conga line and then pulls off a quick change — "from dressed scantily to hardly dressed at all," Napoleon says — inside a cocoon of feathered fans.
One of the rare color photos from golden-age Vegas depicts Frank Sinatra nearly enveloped in similar feathered fans by the Copa Girls, the house dancers who framed headliners at the Sands. Before Capitol Records completely reinvented him, Sinatra's 1954 run at the Sands made him the special guest star of "Ziegfeld Follies."
"We didn't want to take it too literally into the Havana nightclub scene, but it was our inspiration for the driving beat of that entire act," Napoleon explains.
"I feel like in our lifetimes we've seen so many things, we're kind of inspired by all of those," Tabitha adds. "It triggers an emotion; it triggers an idea. What visually can represent the way the music feels for that scene?"
The hardest-working men in show business
That early Sinatra/Ziegfeld hybrid at the Sands quickly split into two separate choices on the Strip: star headliners and the year-round showgirl spectacles. The D'umos pay tribute to down-front headliners by turning "Hold It Don't Drop It" into a nod to James Brown.
"It's showing you where her inspiration came from in a really literal way," Napoleon says. "She loves to throw it back to the people that inspired her."
The five-piece band glides to the front of the stage on a motorized riser, and the rest of the segment offers "the least amount of production value. It's almost unplugged," Napoleon says. "We turn most of the video off and let her have her way."
"She commands it and owns it all by herself," Tabitha adds.
Read more from Mike Weatherford at reviewjournal.com. Contact him at mweatherford@reviewjournal.com and follow @Mikeweatherford on Twitter.