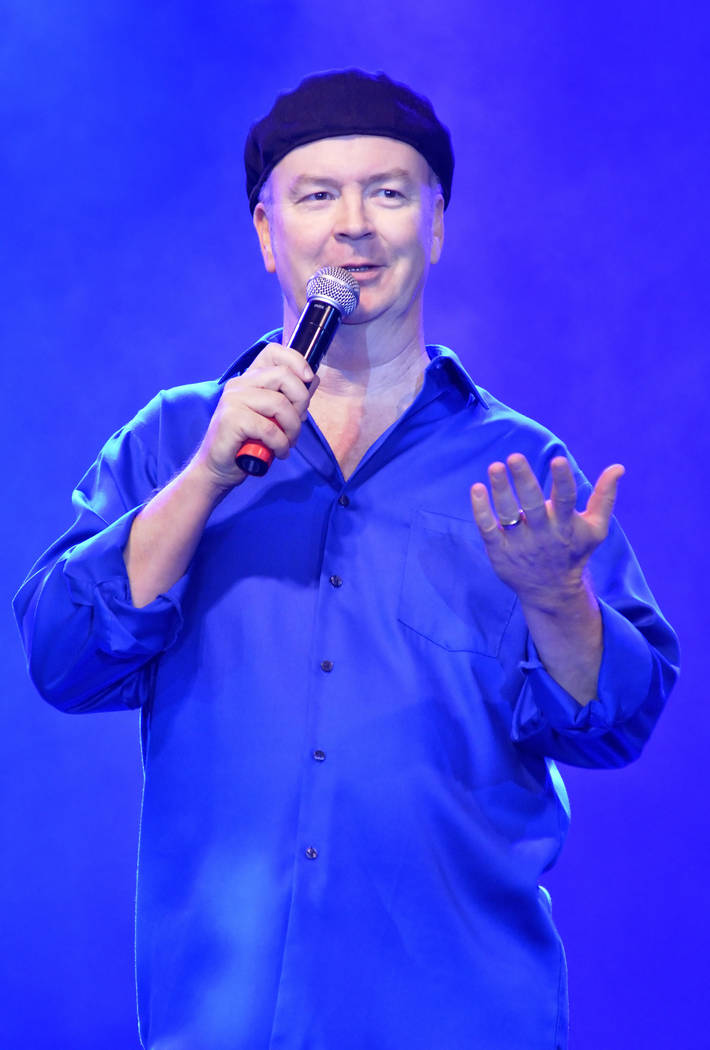 "I never thought we'd grow old … I thought we could dance like that forever," says the female half of the old couple on the park bench.
Flashback to the day they met. He bounces into dance class while she's stretching on the floor. "Ever taken this class before?" he asks with maximum innuendo.
"Yaah," she answers, with matching sparkle.
If this plays like an old MGM musical, that's the idea. Melinda Jackson and Michael Kessler have been married since 1988, and they are telling their story at the South Point on May 21 with "Contact," their latest singing, dancing venture as the M&M American Dance Theatre.
A wedding scene busting out the top hats and canes somehow feels right in Steve & Eydie's town. Las Vegas does the legacy of Lawrence and Gorme proud in giving show-business couples a chance to stay together in one place.
"Very early on, when we first got together, we decided we would not take any work that took us away from one another for six months or anything like that," Kessler says. "I would say in 30 years, we haven't spent more than five nights apart."
Life off the road also keeps the home fires burning for married stand-up comedians Nancy Ryan and John Bizarre. They drive to the Strip together each night, before he splits off to be the comic host of the topless dance show "X Country" at Harrah's Las Vegas, and she does the same for "X Burlesque" at the Flamingo.
Neither lived in Las Vegas when they first met in 1997. "I was crazy for him, but nothing happened," Ryan says. "Ten years went by, never saw him again. Never heard about him again, until I did a one-nighter in Mesquite and he came walking in the door (as the headliner)."
Bizarre was going to move to either Thailand to teach English or Alaska to do a radio show. Either way he needed to save money, so he moved in with Ryan as a platonic roommate.
"I lived like a nun for three years," she says.
"I wasn't going to be a bad guy and take advantage of the fact that she liked me," he says.
Finally, he told her, "I don't think I'm afraid anymore, and I love you.
"Really?" she replied. "The show's in 30 minutes. Stay here. Don't move."
Tough decision
But is there something missing from these love stories? On Mother's Day no less? Yes, both couples are childless.
It's not necessarily the norm for Las Vegas show-business couples. (During the six years of "Phantom" at The Venetian, 30 children were born to cast, crew and orchestra members.)
But these two couples arrived a little late in life for that, after the tough choice of not trying to balance children with life on the road.
"We probably would have had children," Jackson explains, "but unfortunately my mother-in-law died at a very early age, just when we had gotten married."
"We were on tour constantly, and she would have had to have taken care of them," Kessler adds.
"She was a wonderful person. It would have been perfect," Jackson says. But in 1991, we "kind of let that go. We just decided we better stay on the road and keep working, because we're probably not going to have children now."
Ryan and Bizarre just found each other too late. She turned to comedy after her first career as a figure skater. Her first brief marriage came when she had just turned pro, and the second "was just a mess," she says.
"I'm fortunate (children) didn't happen, because I don't think that child would have gotten anything good in life. I was on the road. It wouldn't have been a good parental situation for a child."
A bigger family
But Ryan and Jackson have found ways to fill motherly roles. For Ryan, it's teaching ice skaters. For Jackson, it's mentoring young dance students.
Ryan says she hadn't been near ice skates for 18 years when she was lured back in via the Las Vegas Figure Skating Club. Now you can find her several mornings a week at Fiesta Rancho's Sobe Ice Arena, sharing her knowledge of ice dancing with teen and adult students.
You can understand Ryan being modest about this if you've seen her raunchy comic crowd work. So her husband volunteers this: "They really do treat her Mom-like," he says. "She does have a motherly relationship with a lot of them. She gets cards and messages on Mother's Day from her students."
Kessler and Jackson moved to Las Vegas in 2006 and in 2014 established the nonprofit M&M American Dance Theatre Works. Through that, they will offer "The Young People's Guide to Broadway" on June 25 at the West Las Vegas Library. And they incorporate young dance students into their shows, including four in "Contact."
Growing up "a professional child dancer" in New York City, Jackson remembers a class with choreographer Jerome Robbins when she was 11.
"I knew then, I was cognizant then, this was probably one of the most extraordinary experiences I'm gonna have," she says. "As an older person looking back, I was right. And so I realized that's an effective way to make a difference.
"There's children of the mind and children of the body."
"We've done it with children of the mind," her husband adds, "and now more and more through mentoring."
Contact Mike Weatherford at mweatherford@reviewjournal.com or 702-383-0288. Follow @Mikeweatherford on Twitter.