'Piece of Me' celebrates Britney Spears' songs, not her singing
September 7, 2016 - 4:27 pm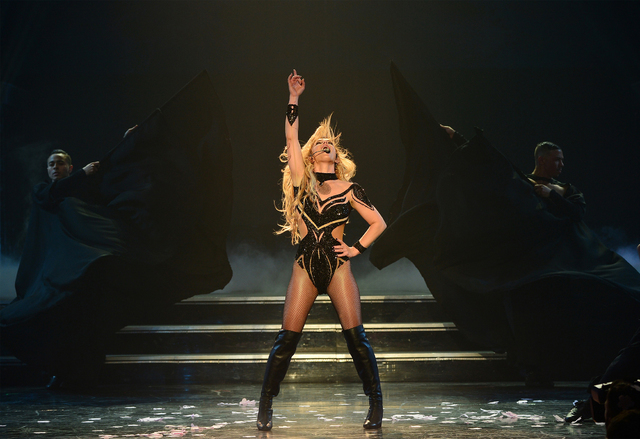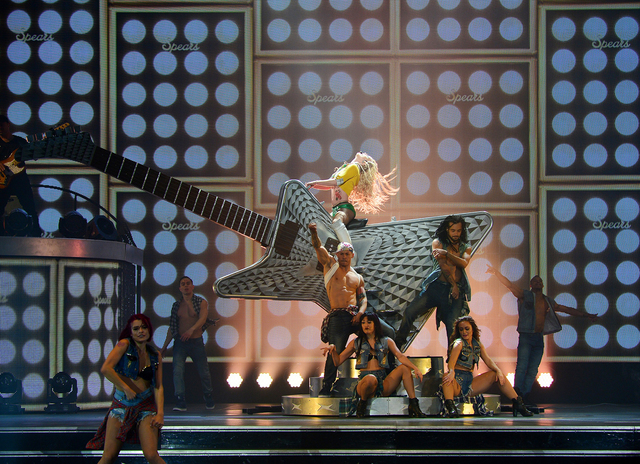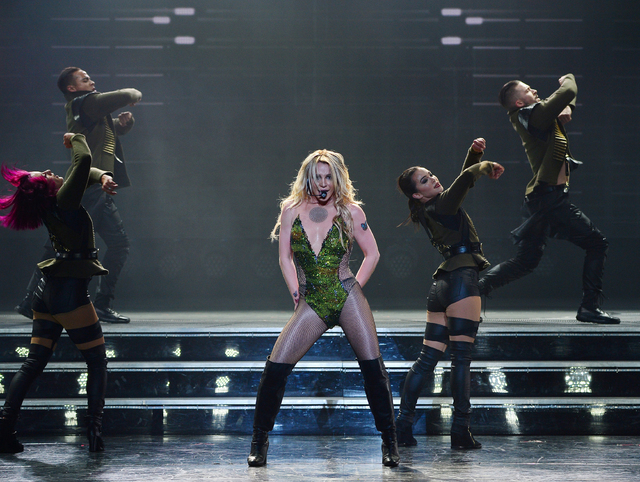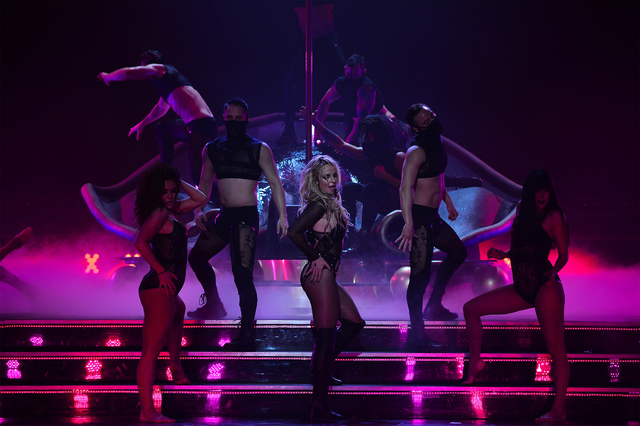 Who knows if the bride had too much VIP bottle service to appreciate all the detail that went into the background of her selfie. She didn't have to.
When it came time for Britney Spears and her dance crew to work their way out to the audience on the stage's ramp extension, the bride — her midriff as bare as the star's — squeezed in between her bachelorette crew during the double whammy of "… Baby One More Time" and "Oops! … I Did It Again."
Just a little patience … hold that pose … and snap, it's going to look like Britney strutted right into the frame, expressly to photobomb the bridal party.
It's a shot that sums up why this Planet Hollywood residency is working so well. "Piece of Me" is not so much something you watch as something you share.
Two and a half years into this run, some people — not the ones who buy tickets — still ask how this show can be so popular when Spears doesn't hold focus with live singing. Or even that intangible magnetism of Planet Hollywood roommates Jennifer Lopez and Pitbull.
Between the lip-syncing and the scarcity of live video close-ups, only those in the best seats can tell the heavily bronzed Britters wasn't replaced by a drag impersonator. The video Oz face of will.i.am on "Scream & Shout" seemed just as real.
But even if the performer doesn't resonate, the songs do. At 34, Spears has been around for the entire music-listening life of fans her age and younger. Las Vegas is always fretting about what comes after the baby boomers, and these promoters figured it out; especially when it comes to the lucrative gay male demographic in need of a new Cher.
And the show's detached quality is oddly a plus. The audience is encouraged to get up and dance from the get-go, and no one dances much harder than Britney herself.
If this were a more engaging performer, you might worry if it's rude to just freestyle. But here it's more like a celebration of the songs, with Britney as head cheerleader. Sometimes she even breaks away from the rigid choreography to Britney Gallop across the stage in her knee boots — always boots under the Barbarella outfits — and motion us into action.
Two songs that came closest to live singing when the show opened — "Perfume" and "Lucky" — have both been axed in this year's makeover, giving more time for Spears to straddle a giant guitar during "I Love Rock 'n' Roll."
If the visuals sometimes become as passive as a muted TV at a house party, at least they are gorgeous visuals.
As the bridal party will see reviewing the footage, the "Oops!" segment is meticulously color-coordinated. Swirling red and black video images, punctuated by video clouds and lightning strikes, foreshadow the shirtless men in black skirts wrapping the star in red fabric, with Britney in white for dramatic contrast.
That comes after she floats on angel wings amid pink video blossoms and real confetti snow for "Everytime." And before the luscious green jungle projections frame a physical tree prop, one that lets Spears step out to the edge of a branch and do a bungee Tarzan glide down to the stage for "Toxic."
Director Baz Halpin keeps the massive space filled with 14 sexy dancers, who take the spotlight for an athletic workout of Missy Elliott hits. But size doesn't sacrifice detail. For that "Breathe on Me" moment when Britney borrows Lauren Bacall's line "Just put your lips together and blow," she cups her hands and blows a cloud of glitter sparkle into the air.
Spears hasn't given up on your sense of hearing entirely. Two weeks ago she released a new album, "Glory." Her record label will be happy to know two of the new songs are wedged into existing set pieces: "Do You Wanna Come Over?" and "Make Me."
But the latter is a midtempo ballad that seems flat without live singing, in a way that producer tour de forces "Toxic" or "I'm a Slave 4 U" don't. (In a song or two you hear Spears breathe, raising questions of whether she's lip-syncing or being live Auto-Tuned into that robotic dance-club voice. The distinction is moot, because the detached effect is the same.)
But think of her more as a dancer who sings (at least in the studio). During "Touch of My Hand," the shirtless buff guys spot her for a cartwheel and hoist her above their heads, horizontal as a plank. She cozies up with two of them, caressing the area between her black bra and her red undies.
Maybe this is her version of audience intimacy. You don't ask why a ballerina doesn't sing, now do you?
Read more from Mike Weatherford at reviewjournal.com. Contact him at mweatherford@reviewjournal.com and follow @Mikeweatherford on Twitter.
Review
What: Britney: "Piece of Me"
When: 9 p.m. Friday-Saturday (returns Oct. 19)
Where: Axis at Planet Hollywood, 3667 Las Vegas Blvd. South
Tickets: $59-229 (800-745-3000)
Grade: B-