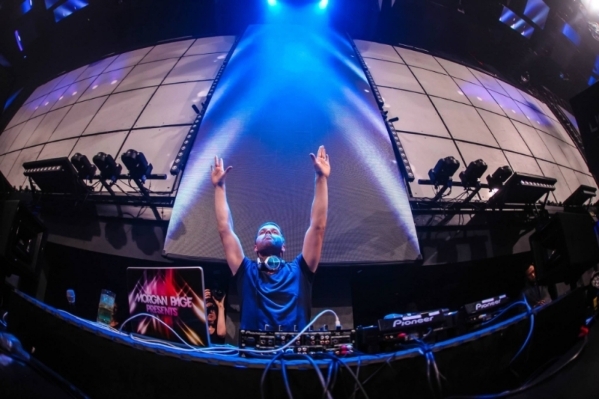 And then there was the time Barbara Bush told Olivia Newton-John she was "ugly" — but calm down, political animals, it was a joke.
Newton-John told me this story after I asked her to name the most famous fan she ever met.
She went back in time to the day she was in the company of then-President George H.W. Bush and first lady Barbara Bush.
"President Bush said to me, 'Oh, it's so lovely to see you again, we had dinner.'"
Newton-John thought, "I don't remember that," which may have seemed odd, of course, except it turned out they had met when Bush was merely vice president, a more forgettable position, perhaps, to an Australian singer.
"So I go to his wife, and I said to Barbara, 'I can't believe that your husband remembered me from a dinner,'" Newton-John said.
Barbara Bush told Newton-John, "It's because you're so ugly, dear,'" Newton-John recalled and laughed.
"I've loved her from that moment on. She was gorgeous," Newton-John said.
The Flamingo headliner and nephew Emerson Newton-John are promoting Pink and Blue wine bottles sold at Center Cut Steakhouse and in the hotel gift shop because a portion of proceeds goes to her Australian hospital, the Olivia Newton-John Cancer & Wellness Centre.
She is a cancer survivor, so her main concern is persuading women to get breast checks and men to get prostate exams.
Her nephew suggests love partners schedule exams together.
"When you hit 40, and you know it's time to do the prostate exam, if you can get out of going, you probably will," he said. "But if your significant other is saying, 'Hey, it's time, you need to do this,' you will probably get him in there and have it done."
By the way, Olivia, mother of a German shepherd and a kitten, is enjoying Las Vegas and nearby hiking spots very much.
"It's been great," she said. "We take our dog out there to hike all the time."
CLUBS AREN'T ALL ALIKE
There are big differences in the demographics of revelers who party at nightclubs around the Strip.
I could write 5,000 words about that. But for now, I asked Morgan Page — who DJs Saturday at the Light nightclub in Mandalay Bay — to give us his take.
For three years, Page headlined at Wynn-Encore clubs, which can enforce aggressive door policies to keep certain people on the other side of the rope. Now Morgan is a resident at Light, which is owned by Hakkasan, the massive corporation that owns most major clubs on the Strip.
"The Wynn — you get a really good crowd, but it's a little more off-limits. It's not like everyone's welcome. It's more upper crust. They're very selective about who gets in," Page said.
Page (Morgan-Page.com) enjoys playing to crowds that are a little more diverse.
At Light, he said, "you get more of the diehard music fans versus just the straight bottle crowd."
The bottle crowd comprises rich people, corporate credit-carders and others who pony up hundreds or thousands of dollars for a few bottles of alcohol at a VIP table.
Morgan said he likes the Wynn clubs and all the other clubs in town for their own signature styles.
And people shouldn't get too upset about bottle tables.
"You need the whales to be in there to help fund the night. It's part of the economics of a nightclub. You need big spenders," he said.
The real issue, he said, is clubs must innovate even when they're flush with business.
"Each club needs to keep innovating, and they need to keep adding production value," Page said.
QUOTING LAS VEGAS
Rapper 2 Chainz on Instagram (@hairweavekiller): "Everytime I try to go out to a club in VEGAS they say that I'm banned. … I never get a reason, I never have a understanding, jus NO he ain't allowed. This my 1st time ever putting my business in streets via social media. But this way may receive an explanation. I don't owe no casino. I don't need a marker … I don't know what the (expletive) goin on …"
Contact Doug Elfman at delfman@reviewjournal.com. He blogs at reviewjournal.com/elfman. Find him on Twitter: @VegasAnonymous