Thousands turned away at EDC over bogus wristbands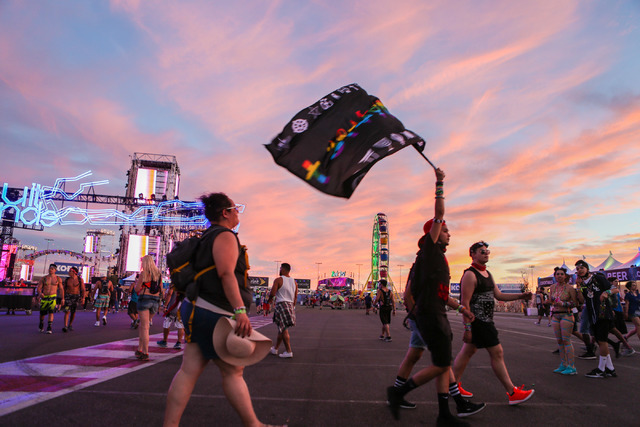 For most festival-goers at Electric Daisy Carnival, a simple tap of their wristband and the RFID chip attached to it at the festival gates granted access to a world of music, lights and dancing.
But for some who bought their ticket from a scalper or other private seller, the night ended with a beep and red flash on the machine. After visiting a help tent, they learned their wristband was invalid. Many were from previous EDCs, or were wristbands that falsely reported as lost or stolen and later resold. However, the electronic chip inside the "lost" bracelet is instantaneously deactivated, rendering it invalid.
A supervisor at the Gate A ticket help tent on Sunday, who declined to give his name, estimated security teams confiscated thousands of invalid wristbands over the course of the three-day festival at that gate alone. They confiscate the bracelet to prevent them from being resold and perpetuating a cycle of disppointment.
Nick, a 21-year-old from Las Vegas who declined to give his last name, bought a wristband from someone he met through a friend of friend for $120 to attend the final night of EDC. The seller told him that they had attended the first two days of the festival, and wanted to sell their wristband since they would not be attending the third night. They met in person in Henderson and Nick exchanged cash for the wristband.
"I handed him $120 cash and they said all I had to do was register it through the app," Nick said.
But when he got to the gate that night, a ticketing help staff member broke the bad news: the wristband was invalid he would not be able to enter.
"That's the risk that you took when you bought the wristband," she told him.
Insomniac, the production company that puts on EDC and other events such as Nocturnal Wonderland, states on the EDC Las Vegas website that festival-goers arriving at the venue with illegitimate tickets will be turned away and not refunded. It advises ticket buyers to only buy through Front Gate, the official ticket provider, or PrimeSport, the official ticket exchange service.
The gates had opened just an hour earlier, and many people outside the gate were looking to buy a wristband for the last night, the supervisor at the ticketing help tent said.
As for what Nick will do? "I have no idea," he said. "Definitely wasn't expecting this."
RELATED
EDC comes to a close with drug arrests, misdemeanor citations
Scenes from the final night of the Electric Daisy Carnival
More medical calls, a fire and no fatalities at EDC's Day 2
EDC's appeal lies in the escape