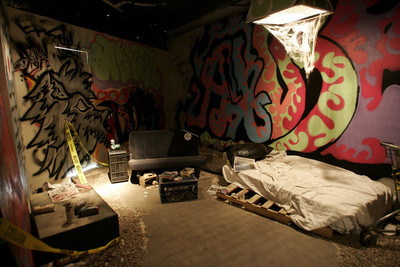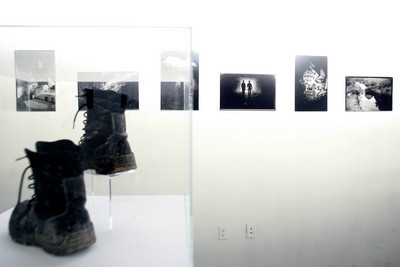 Home, dark-dank-dangerous-depressing-and-far-from-sweet home.
Yet amid the oppression, there is expression.
"The idea is to re-create the tunnels, the grittiness by bringing in gravel and straw and debris and water, but more importantly, you can't have the tunnel without art," says artist Brian Paco Alvarez. "At the same time, you have people who live there. When I went down there, I was awestruck."
The duality of the bold and the bleak — exuberantly alive graffiti leaping off gray faux-walls of a Las Vegas storm drain reimagined in a gallery setting — nettles the senses in the monthlong "Beneath the Neon: The Exhibition" at the Contemporary Arts Collective in the Arts Factory.
"I don't know what kind of reaction I want people to have," Alvarez says. "I remember my reaction when Matt took me down in February and it would be great to get that reaction in an art gallery. We'll see."
That's Matthew O'Brien, author of "Beneath the Neon: Life and Death in the Tunnels of Las Vegas," published last year by Huntington Press. In the book (with photos by Danny Mollohan), O'Brien, intrigued by a brief newspaper mention of a murder suspect who eluded a police dragnet by escaping into the city's storm drains, went on an odyssey of discovery. He uncovered an underground world teeming with all manner of inspired artwork, discarded artifacts and a subterranean populace just as carelessly abandoned by above-ground society, from the down-on-their-luck and drug-addicted to the psychotic and plain sad.
As the book jacket observes of O'Brien's novel journey, he "braces against a flood, he parties with naked crackheads, he learns how to make meth (and) that art is most beautiful where it's least expected," all chronicled during numerous trips below over several years.
"I thought the book would be good for a documentary or a docudrama, but I didn't think an art exhibit really worked in that way," says O'Brien, who will be at the Contemporary Arts Collective on July 17 to sign copies of his book and participate in a panel discussion that will include ex-drain dweller William Wieland.
"But when he mentioned it, and having known Paco for several years, I wanted to encourage him to go for it, and not do the vision I did in the book, but his own interpretation. It's cool, and it stands on its own merits."
Blacking out windows to bar street light, "Beneath the Neon: The Exhibition" initially assaults the senses in swirls of color, the vivid graffiti lending startling life to the strife of tunnel dwelling.
"These are guys we ran into in the tunnels who do art down there," O'Brien says of the young taggers who duplicated their efforts for the exhibit, also noting the philosophical musings that pop out from the feverish scrawls.
Reads one: "Take only pictures, leave only footprints, kill only time."
"There's some poetry and really profound things," O'Brien says.
Strewn about Alvarez's mock storm drain is the detritus of an existence in a dank netherworld, trash sharing space with a pipe poking out of the wall, water dripping off into a small pool.
"Underneath the storm drain is a huge amount of runoff, and I can't create that kind of water flow without flooding out the entire Arts Factory," Alvarez says. "Not that I wouldn't want to — it would be a pretty cool effect."
Complementing the re-created tunnels are Mollohan's on-site photographs with their stark, powerful black-and-white imagery:
A balding man in jeans and a T-shirt plopped on a ratty couch-slash-bed that sinks and squishes to the floor; another in shorts and a ballcap casually smoking, contemplating the darkness in front of him; a tangled morass of cobwebs dotted with dead leaves; a man gazing up at sunlight pouring down from an overhead opening, as if looking longingly at a brighter life from his home in the dark; and the chilling, ragged scrawl reading "REDRUM" — "murder" spelled backward.
The exhibit also includes glassed-in objects from O'Brien's treks, including the boots, flashlight, tape recorder and backpack he used.
Inspired both by O'Brien's book and his trip alongside the author to the city's murky underbelly, Alvarez was affected not only by the squalor, but by how some of the homeless driven downward for shelter rise above their reality.
"I met a gentleman named Steve," he recalls. "He had white sheets on a queen-size bed and a desk and a chair and a dresser and even a makeshift shower. I wonder if you could even call him homeless because he had a home. But the most disturbing thing was going back down and seeing that his home had been burned out. That really waked me up to a reality I wish all Americans could see."
O'Brien's book attracted one particularly notable reader whose reaction led … nowhere. "The mayor told me he read it and liked it, and I was hoping he would do some outreach," O'Brien says. "I suggested getting Metro and some social workers and going into the inlets and outlets and offer help to these people, but I never got much response."
Leaping from the printed page to a staged exhibit is likely to elicit a visceral response from gallery-goers.
"This shows Las Vegas is a true city now," Alvarez says. "As Matt says in the book, like the sewers of Paris and the catacombs of Rome, all cities have to have that underground."
With this exhibit, "Beneath the Neon" emerges above ground.
Contact reporter Steve Bornfeld at sbornfeld@reviewjournal.com or 702-383-0256.
what: "Beneath the Neon: The Exhibition"
when: Noon-5 p.m. Tuesdays-Saturdays (through July 24)
where: Contemporary Arts Collective at the Arts Factory, 101 E. Charleston Blvd.
cost: Free (382-3886)