'Sister Wives' star and Las Vegas local launches online fitness program
March 26, 2017 - 12:27 pm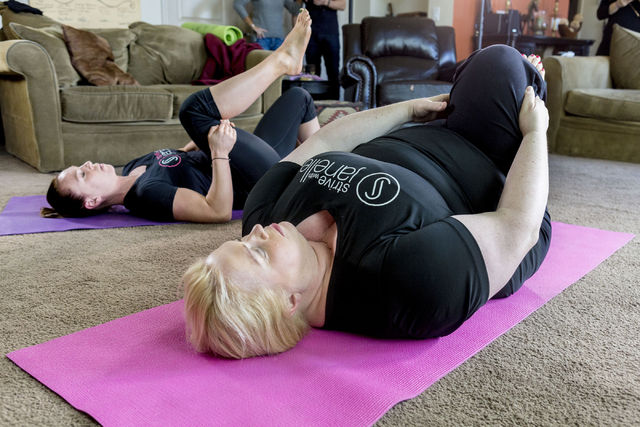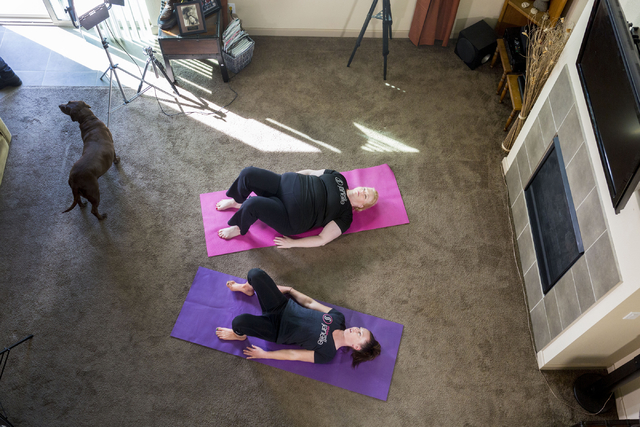 Janelle Brown, a star of TLC's "Sister Wives," is ready to change lives with her new interactive online community dedicated to helping people along their path to long-term healthy living.
STRIVE (Strength, Tenacity, Resilience, Integrity, Vision, Endurance) with Janelle was officially launched in September but has grown to more than 3,600 active subscribers since then. Brown, a Las Vegan, was inspired by her own fitness journey to make something available for people who might not have the same resources.
"It's pretty intimidating to walk into a gym when you haven't worked out in a very long time and you're a plus-size kind of person," she said. "And a lot of the beginner videos are really challenging for beginners."
While Brown was fortunate enough to have access to multiple personal trainers and nutrition experts that helped her acheive the fitness goals she set for herself, she understands that not everyone can follow in her footsteps.
"Not everybody has access to a gym or access to a trainer," Brown said. "I wanted to create a resource for a very nominal fee — like the cost of a cup of coffee at Starbucks or something — where they would get access to resources that would help them get moving."
Brown, the second of Kody Brown's four wives on the long-running reality show, enlisted a team of five coaches dedicated to the type of fitness journey she envisioned for herself.
"They all have the fitness level I wanted to teach to," she said. "They all have the person I'm trying to talk to."
The subscription-based online community features workout videos, recipes and blog entries written by Brown and her team. The workout videos, which can also be purchased individually through Vimeo, are often filmed in Brown's home and feature a friend or family member in addition to Brown and a coach.
"It's not choreographed in the least," she said. "In fact we look kind of silly, but I don't care because I just want people to get up off the couch and move."
Her community focuses on achievement-based success rather than numbers on a scale. Being able to play with your children in the park or climb the stairs easily is more important than losing a certain number of pounds, she said.
"My goals for this program are pretty much to enhance or change someone's way of thinking even if it's just saying, 'I can actually do three' or 'I can do four' or 'I can just move,'" said Markie Henderson, a Strive with Janelle coach. "Just to get the people out of the mind-set of they can't."
By filming additional workout videos using the Facebook Live platform, Brown has been able to interact with Strive community members in order to modify workouts or answer questions.
"I remember we were doing some squats and somebody on the Facebook Live said, 'I have knee problems,'" she said. "The coach explained some things you could do to circumvent the knee problem."
For Brown, who maintains a busy schedule as a wife, mother, reality television star and real estate agent, the passion for Strive comes from a good place, she said. Her goal is to develop more opportunities for the website soon.
"There's a lot of videos, there's a lot of articles and there will be a community that helps to keep each other accountable," she said. "That's all coming."
Read more from Anna Williams at reviewjournal.com. Contact her at awilliams@reviewjournal.com. Follow @AnnaWilliamsRJ on Twitter.
What: STRIVE with Janelle, an online community
Cost: $9.99 per month
Where: strivewithjanelle.com
JANELLE BROWN'S PANKO CHICKEN WITH ARUGULA SALAD
1 shallot, finely chopped
1/4 cup extra-virgin olive oil
1/2 teaspoon Dijon mustard
Juice of 1/2 lemon
2 teaspoons red wine vinegar
1/2 teaspoon honey
Salt and pepper to taste
4 boneless chicken breasts
2 eggs, beaten
Italian-seasoned or plain panko bread crumbs
6 cups arugula, washed and drained
Shaved Parmesan cheese
About one to two hours before serving, mix shallot, olive oil, mustard, lemon juice, vinegar, honey and salt and pepper.
Cover chicken breasts with plastic wrap and pound until thin.
Dredge chicken in egg, then panko. Heat olive oil in skillet over medium heat. Cook until golden brown on one side, then repeat for other side.
Place arugula in bowl; sprinkle lightly with dressing and toss.
Place each chicken breast on a plate and place one-fourth of salad on top of chicken.
Garnish with Parmesan.
NOTE: For a lighter version, substitute light mayonnaise for egg. Roast chicken on a baking sheet in a 350-degree oven until cooked through. Remove from oven and follow the rest of the recipe.