Two artist friends explore a bond 'Thicker Than Blood'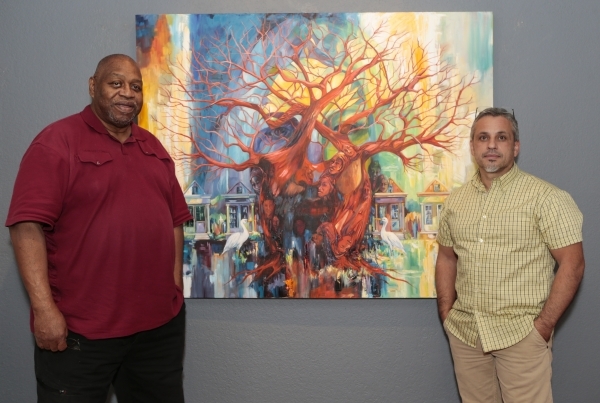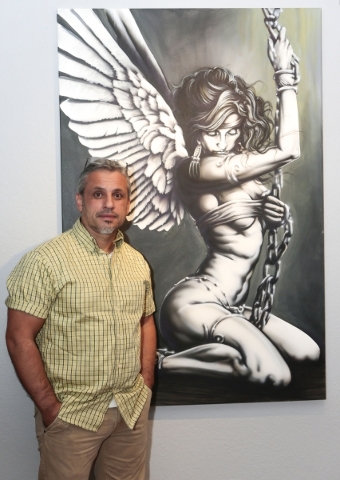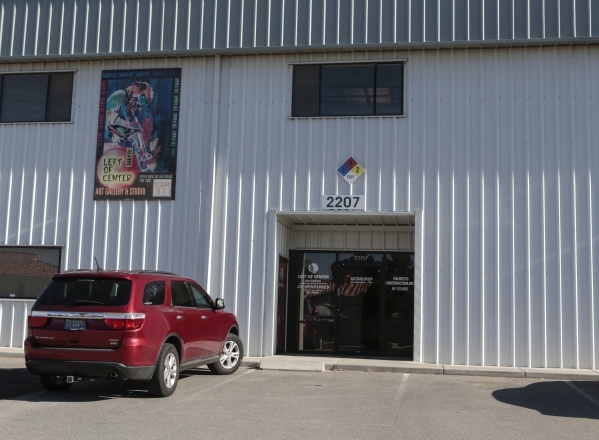 Blood may be thicker than water.
But two local artists share a bond that's "Thicker Than Blood" —€" a connection that informs their joint exhibit at Left of Center Gallery in North Las Vegas.
Harold Bradford and Adolfo Gonzalez come from different cities and different backgrounds.
Yet "Thicker Than Blood" shows the common ground between them —€" sometimes in theme, sometimes in execution, sometimes in the colorful energy radiating from the paintings.
The vivid colors sometimes suggest neon and the signs both artists have designed for Young Electric Sign Co., where they worked as colleagues for years.
You've seen Gonzalez's work from Aria to Palazzo; Bradford's designs include the giant Buffalo Bill's marquee in Primm. (Both artists also are represented at McCarran International Airport's Terminal 3; Gonzalez also designed the Southern Nevada Law Enforcement Memorial.)
Working together, "as time went on, we were always like glue," Gonzalez, 50, says of their friendship.
Bradford, now 65, retired from YESCO about five years ago, after 28 years.
But retirement hasn't affected his friendship with Gonzalez, who still works at YESCO.
Sometimes they get together at Left of Center's studio, where both are resident artists. At other times, they'll visit each other's home studios and critique each other's work.
"We feed off each other constantly," Bradford says. "We say things to each other no one else could get away with. It has to do with bonds."
One factor in those bonds: a lifelong interest in art.
Bradford, a New Orleans native, has "been doing art as long as I can remember," he says. "In kindergarten, I was the one the teacher relied on to do the bulletin board."
And at home, his father —€" who "doesn't consider himself an artist" —€" was "always drawing around the house," prompting the son to "try to reproduce" his father's sketches.
When Bradford went to Washington State University on a football scholarship, he had hopes of playing in NFL, but injuries put an end to that dream.
Instead, Bradford coached for three years, earning a master's degree in fine arts, while "trying to decide between art or being a football coach." (He combines both in one of his "Thicker Than Blood" paintings, which depicts football players wearing the uniform of his hometown team, the New Orleans Saints.)
He worked for a sign company in Spokane, Wash., before coming to Las Vegas to work for YESCO.
Gonzalez, the son of Puerto Rican immigrants, grew up in Chicago and began "doing graffiti," he recalls, adding that, "as you grow up, if you love art, instead of doing it illegally, you get paid for doing it."
In Chicago, Gonzalez learned to hand-paint signs and create airbrush designs on cars. (His interest in cars is reflected in a painting titled "Las Vegas Sunset," which depicts a hot rod in glowing desert colors.)
"I always drew," Gonzalez says, describing his artistic talent as "a gift" that eventually led to a job as a sign painter painting signs '€" until his boss "saw my gift" and told Gonzalez, "'You have to go and design.'"
Although unfamiliar with computer design, Gonzalez "figured I could learn it quick," he notes. He did, and wound up working for YESCO in Salt Lake City, winning first place in a design contest.
"I was flown here" to Las Vegas, he remembers. "And I fell in love with the town and the lights."
Las Vegas' vivid neon lights turn up in the striking color schemes both artists employ in several paintings, from Gonzalez's acrylic "Bridge of Seduction" (with a geometric backdrop inspired by a smartphone screen pattern) to Bradford's symbolic oil painting "Tree of Life."
The latter features faces peering from the red trunk of the title subject, reminiscent of a human heart, while another face —€" Jesus Christ's —" hovers in the background.
Striking color plays a major role in the work of both artists.
Bradford remembers, years ago, when he did a painting and "it depressed me. I loved the subject matter, but I figured out the colors I was using were depressing" and decided that, in the future, "everything was going to be bright and cheerful."
When Gonzalez arrived at Left of Center, he was working in gouache and pencil, but once "I saw the oil world, I thought, 'Man, I've got to try that.'"
Gonzalez's latest works, on display in "Thicker Than Blood," include giant portraits '€" of everyone from his cousin to President Obama '€" created with broad palette-knife strokes of color.
"It's different from (working with) a small brush," he explains. "Looser."
Which pleases Left of Center owner Vicki Richardson, who notes that "it's not his normal way of working. … It's just freer."
As for Bradford, Richardson points out the difference between the vivid precision of his New Orleans street scene "On My Way to the Vieux Carre" and "Tree of Life's" symbolic, emotional impact.
"This is technically good," she says of the former, but the other "is so much more creatively expressive," Richardson notes. "For them to reach out of their comfort zones, I think, is just fantastic."
For more stories from Carol Cling go to bestoflasvegas.com. Contact her at ccling@reviewjournal.com and follow @CarolSCling on Twitter.
What: "Thicker Than Blood," featuring the artwork of Harold Bradford and Adolfo Gonzalez When: noon to 5 p.m. Tuesdays through Fridays, 10 a.m. to 3 p.m. Saturdays, through Oct. 3 Where: Left of Center Gallery, 2207 W. Gowan Road, North Las Vegas Admission: Free (702-647-7378, www.leftofcenterart.org)