Acrobats spring into high-rise life
October 2, 2017 - 8:22 am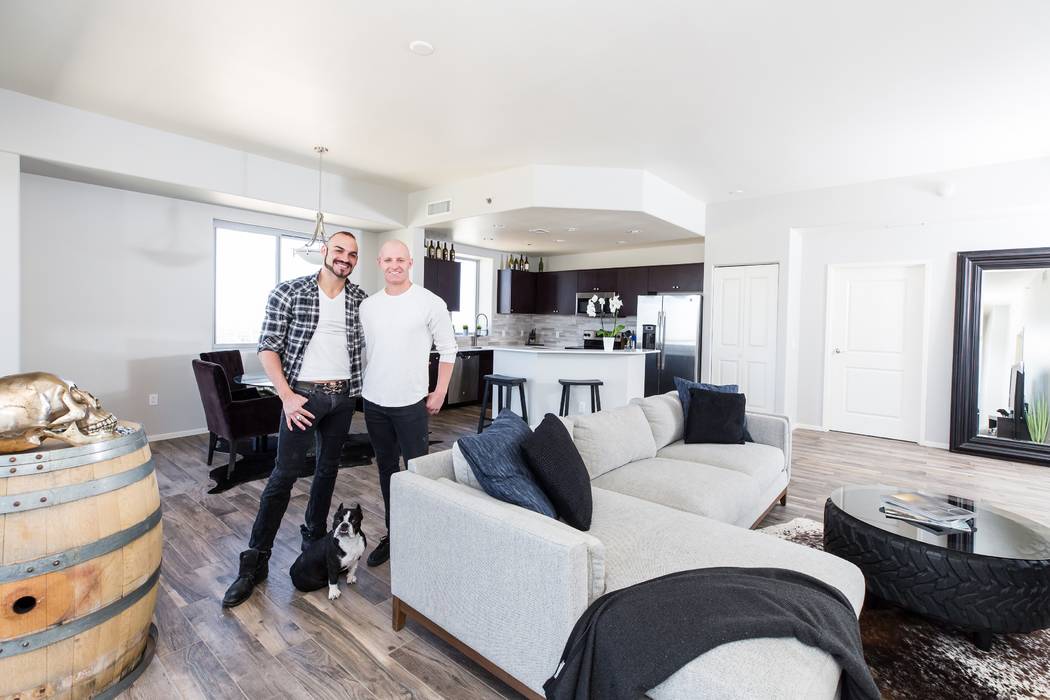 Brandon Pereyda and Wyatt Hopkins have always dreamed of performing in the Entertainment Capital of the World, and for the last several years, the couple has enjoyed the good fortune and opportunity to wow guests nightly with their acrobatic talent in popular Las Vegas Strip shows. This past summer, they put down roots here by purchasing their dream home in the sky at One Las Vegas, the twin 20-story condominium towers located on the south end of Las Vegas Boulevard.
"A few months ago, we decided to invest in a home, but high-rise living was not top of mind for me until Brandon suggested we explore the option. We looked at a few high-rise communities, but nothing compared to One Las Vegas, which boasts the best Strip views we've ever seen, and coming from us, that's saying something," Hopkins said.
"I have actually rented in One Las Vegas in the past, so I was already aware of the community's offerings. When I visited One Las Vegas with Wyatt this summer, I was reminded of everything I fell in love with when I lived here. I traveled for a year for work, spending many nights in five-star hotels, and One Las Vegas' amenities easily rival and even outdo the same luxury found in many of those resorts. So far, the concierge team has provided the best service I've had," Pereyda said.
The couple fell in love with a two-bedroom corner residence, which features a wraparound balcony and stunning panoramic Strip views. Their buying experience was seamless, thanks to a genuine and knowledgeable sales team that walked them through the process, including assistance selecting upgrades such as flooring and backsplash.
"We live and work on the Las Vegas Strip, which is a dream come true for us. One of the best things about One Las Vegas is that we have a Las Vegas Boulevard address, but we are still far enough from the city when we want to get away. And thanks to the proximity of One Las Vegas to Interstate 15, our commute to work is but a few minutes. We spend very little time getting to and from work, and we love being so close to all the Las Vegas Strip offers," Hopkins said.
The duo appreciates that One Las Vegas didn't cut corners when it comes to resident amenities.
"Everything is so well-designed, from the lobby to the music and even the art displayed throughout the towers. The community features two dog parks and an agility course, so our dog, Achilles, loves it here, too. And because our careers demand that we keep up our strength and our physique, we highly value the two-story, state-of-the-art fitness center located in our building," Pereyda said.
Pereyda and Hopkins also share their enthusiasm for the future development of the surrounding area, including the new NFL stadium.
"Last month, we attended the Raiders watch party here at One Las Vegas, and it built everyone's excitement for the arrival of professional football to our city," Hopkins said. "We look forward to more Raiders fun with our neighbors."
One Las Vegas homes range from 831 to 2,857 square feet and are priced from the high $200,000s, with many floor plans offering spectacular views of both the mountains and the Strip. The penthouse, offering 3,000 square feet of sweeping views, is priced at $1.1 million.
One Las Vegas is close to I-15 and the 215 Beltway and just minutes from McCarran International Airport. Town Square, just a few blocks north of the property, provides one-stop shopping and scores of dining and entertainment options right in the neighborhood.
For more information, visit the One Las Vegas on-site sales center at 8255 S. Las Vegas Blvd. or online at info@theonelv.com. The sales center is open Monday through Friday from 10 a.m. to 6 p.m., Saturday from 10 a.m. to 5 p.m. and Sunday from noon to 5 p.m.