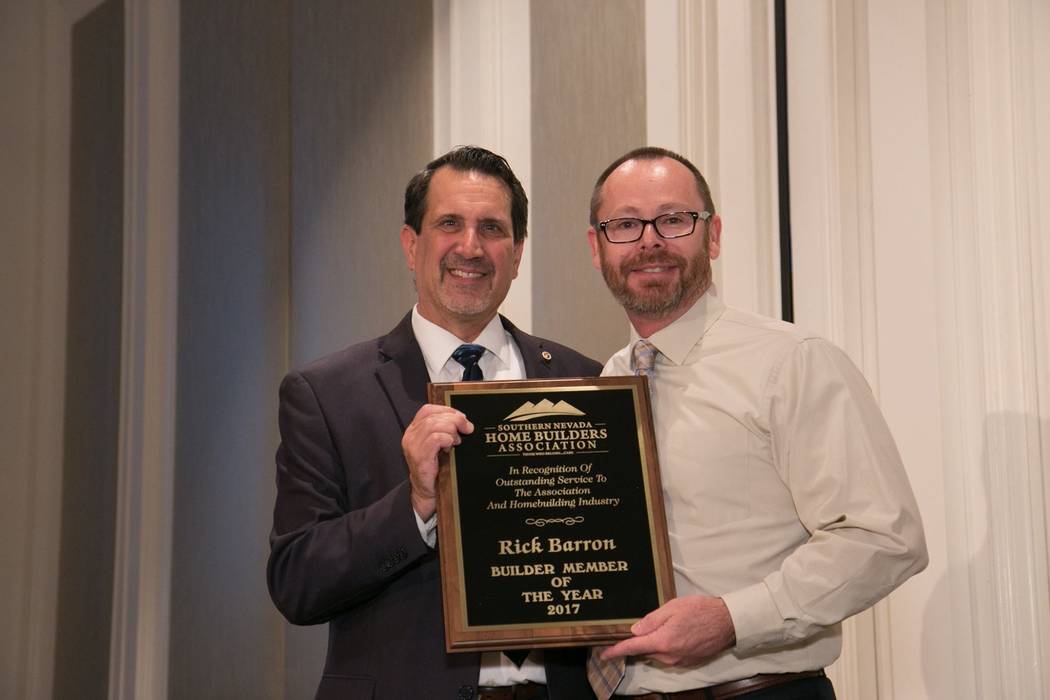 Century Communities, a publicly traded homebuilder with operations in Nevada is proud to announce that its vice president of land, Rick Barron, has been named Southern Nevada Home Builders Association Builder Member of the Year for 2017.
With more than 10 years of involvement in SNHBA, Barron serves on the executive committee, a group of members selected to help oversee the board's activities, including budgeting, resource allocation and legislative involvement. He also serves on the golf committee, community planning and infrastructure committee and the land-use committee. This year marks the second time in his career that Barron has been named Builder Member of the Year for his dedication and involvement with the SNHBA. He was also re-elected to the board of directors for 2018.
Barron brings more than 20 years of experience in the residential real estate industry. Serving as vice president of land in Century Communities' Nevada division, he manages the land acquisition,community design and community development for all the division's communities within Las Vegas, Henderson and North Las Vegas.
"It's an honor to be named Builder Member of the Year by this esteemed industry association and I am grateful to Century Communities for their continued support of my involvement with and commitment to the SNHBA," Barron said. "As a leader in the homebuilding industry, it's important that Century Communities remains connected to the local community and industry peers. We're proud to help steward advancements in Southern Nevada's residential real estate industry."
In addition to involvement in SNHBA, Century Communities Nevada is also a proud supporter of HomeAid Southern Nevada, the official outreach partner of the SNHBA that builds and renovates multi-unit shelters for local homeless families and individuals. Century Communities was honored to be recognized as a 2017 Build Captain. Led by Jon Wojtowitz, Nevada vice president of construction, his team and trade partners renovated an apartment building for the Neighborhood Housing Services of Southern Nevada as transitional housing for the homeless.
Century Communities Inc. is one of the nation's largest U.S. homebuilders, engaged in all aspects of homebuilding, including the acquisition, entitlement and development of land and the construction, marketing and sale of quality homes designed to appeal to a wide range of homebuyers.
The Colorado-based company operates in 10 states across the West, Mountain, Texas and Southeast regions and offers title and lending services in select markets through its Parkway Title and Inspire Home Loan subsidiaries. To learn more, visit centurycommunities.com.