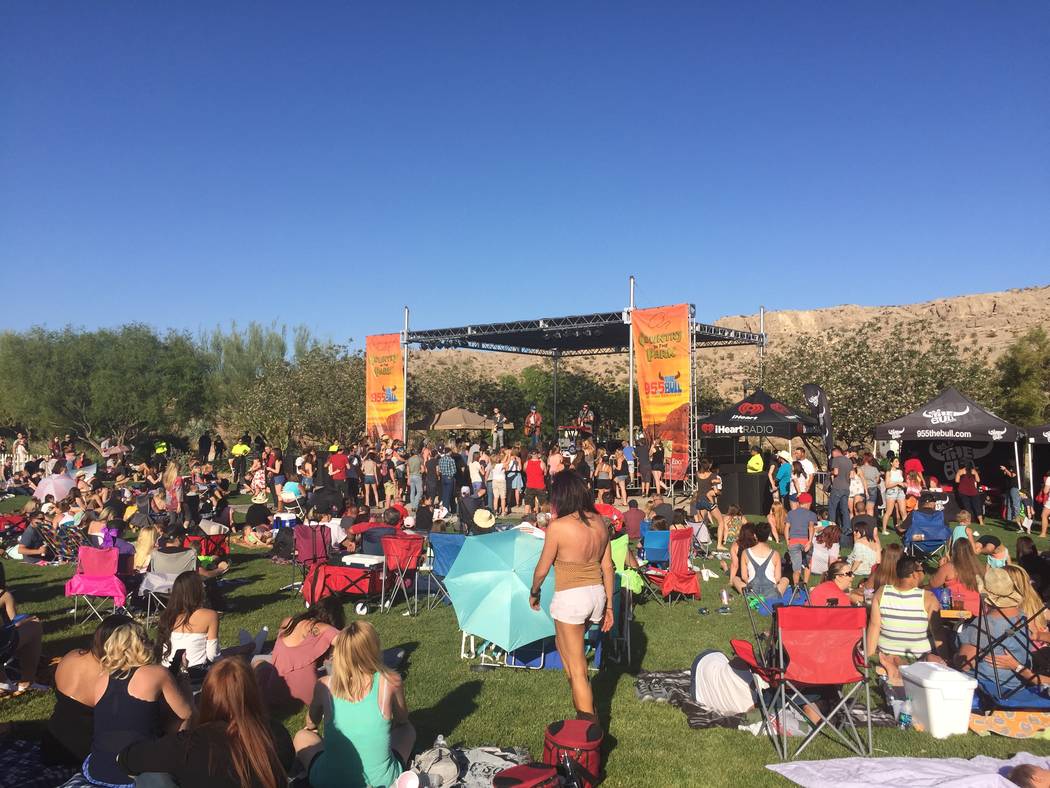 The man behind the wedding song of the summer a few years ago is making his Las Vegas debut today at Country in the Park in Mountain's Edge. In 2014, Ben Rue's debut single "I Can't Wait (Be My Wife)" was hailed with the wedding recognition by Billboard, and he just released his new single "Let Em Loose."
"I'm really excited to perform in Las Vegas for the first time and at Country in the Park with my friends Trent Harmon and Jerrod Niemann here," Rue said. "I feel so fortunate to be able to travel the country doing what I love and meeting so many people through the music that brings us all together."
Niemann headlines the 12th annual free outdoor concert and festival from 2 to 8 p.m. in the 80-acre Exploration Park's amphitheater. "American Idol" winner Harmon and local favorite Thrillbilly Deluxe also are performing Saturday.
Rue's passion for music started early, writing, composing and singing while working on his family's Oregon farm. During college he pursued his other passion — baseball — but realized the major leagues weren't in his future. He subsequently learned to play guitar and formed a band after graduation. A successful audition for TV's "The X-Factor" led him to Nashville in 2012 in pursuit of a music career.
Rue's success hasn't come without challenge, as he was diagnosed with Type 1 (T1) diabetes at age 14. However, the struggle adjusting to life with a chronic illness led him to help others with the same issue stay motivated and positive. Rue has partnered with Roche Diabetes Care, the maker of Accu-Chek Guide, on the #BuckOffDiabetes program. Those with diabetes can save money on test strips, and Roche Diabetes Care will donate a dollar to diabetes-related organizations when people turn their hands into bull horns and share a photo on social media with #BuckOffDiabetes.
Country in the Park is presented by Mountain's Edge and Las Vegas' New Country Leader, 95.5-FM radio "The Bull." Other festivities include a beer garden, food vendors, booths and exhibits. Picnic baskets, chairs, blankets and well-behaved, leashed pets are welcome. No alcohol, coolers, glass, backpacks or pop-up tents are allowed in the park, and this policy will be strictly enforced.
Attendees also can enjoy Exploration Park's Western-theme village, water play area, picnic areas, playgrounds and the 2,846-foot-tall Exploration Peak with hiking and biking trails.
Though Mountain's Edge is nearing closeout after beginning to sell homes in 2004, there are still opportunities to buy a new home in this mature community that has consistently ranked among the country's best-selling master plans.
Developed by Focus Property Group, Mountain's Edge is recognized for proximity to Red Rock National Conservation Area, major employment and Las Vegas Strip entertainment offerings; well-designed floor plans by top builders; public facilities and schools; and parks, trails and open spaces that include Paiute Park, Nathaniel Jones Park and the adjacent Mountain's Edge Regional Park.
Exploration Park is at 9700 S. Buffalo Drive, just south of Blue Diamond Road. For more information, visit the Mountain's Edge tent at the event or www.mountainsedge.com or call 702-898-5777.