Couple discovers art, culture and good eats at The Ogden in downtown Las Vegas
October 23, 2015 - 6:50 pm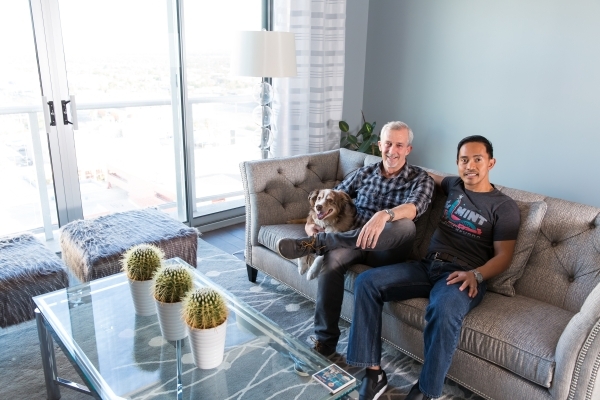 When Jeff Belcher and his husband, Bong, came across an advertisement for model home showings at The Ogden, they never imagined they would find their dream home at the high-rise community in the heart of downtown Las Vegas.
The couple moved to Las Vegas from San Diego in 2011 and lived in a suburban neighborhood in the northwest part of the valley for nearly four years. They previewed The Ogden in June and after just a few hours, they signed papers for a 1,500-square-foot, two-bedroom home. Six weeks later, they packed up their belongings, including their Australian shepherd, Boomer, and are now officially downtown Las Vegas residents.
"We weren't even looking to move out of our home, but when we visited The Ogden and met the amazing staff, we took a leap of faith because it felt right," Jeff said. "Bong and I were always downtown for the restaurants, bars and its unique art galleries, so moving closer to our stomping grounds seemed like the natural next step for our family. Our quality of life and the friends that we've made has truly been amazing."
Both full-time nurses in Las Vegas, Jeff and Bong were blown away by their particular floor plan, high ceilings and luxury upgrades. And with a strong appreciation for art, Jeff said the "El Cortez" neon sign right outside of their living room window was a bright spot amongst many other selling points for him.
"I volunteer regularly at The Neon Museum and have always admired the glittering lights of Las Vegas' vintage neon signs," Jeff said. "Some people would shy away from choosing a home so close to the El Cortez's bright and animated display, but we absolutely love it. We have a fully functioning sign we enjoy every night."
Since the couple's four-legged companion requires frequent walks, Jeff and Bong have made many friends with their neighbors in the three months that they've lived at The Ogden — something that was a rarity when they lived in their previous home. And when the couple needs a workout of their own, they visit Real Results Gym.
"It's definitely a one-of-a-kind gym and the owners' lifestyle and fitness philosophies really inspire us," Bong said. "It's just another reason why we appreciate living downtown and why we're thrilled to call The Ogden our home."
Homes at The Ogden range from a one-bedroom, 815-square-foot residence for $229,000 to a three-bedroom plus den 2,044-square-foot home for $629,000. Residences feature a modern design aesthetic in keeping with the architecture and the lifestyle vibe, private balconies and expansive views of downtown Las Vegas, The Strip and the mountains that frame the valley.
The Ogden's single-story, open floor plans offer flex spaces that can serve as a home office, den or yoga room, extra bedrooms for accommodating multigenerational family and guests, and spacious windows that fill interiors with natural light.
For more information, visit The Ogden's onsite sales center at 150 Las Vegas Blvd. North or online at Ogdenlv.com.