Couple plants roots and chooses high-rise luxury living at One Las Vegas
October 17, 2016 - 2:56 am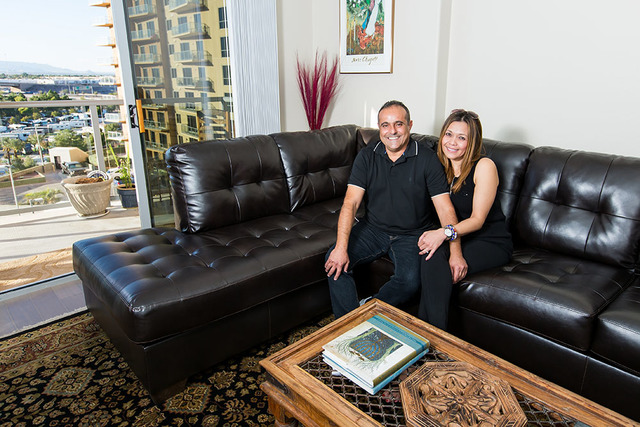 In 20 short months, Yossi Lev and Jevy Welsh met, fell in love and got engaged. This month, their fairy tale continues as they recently purchased and moved into their dream home at One Las Vegas. The twin-tower, high-rise condominium community is on the south end of Las Vegas Boulevard.
"There's no better time than the present to start a new life, and that includes our first home together," Welsh said. "While looking at rental condominium properties across the valley, we drove by One Las Vegas and were instantly attracted to its location and its aesthetic. And today, here we are, overlooking the beautiful mountains and Las Vegas Strip and sipping wine from our very own balcony!"
Lev commented that when they started doing the math and looking at the numbers, purchasing a residence at One Las Vegas was a better deal all around compared to paying rent each month.
"We were blown away by what the community has to offer, so once we compared the benefits of living here versus renting or owning elsewhere, it was no contest," he said. "From the affordability, the spacious floor plans, location and resident amenities and lifestyle, it's definitely a package deal that's hard to beat. Plus, the sales team at One Las Vegas made everything so easy." The couple selected a one-bedroom residence and chose new flooring, custom backsplash for the kitchen and even selected a new washer and dryer.
"The entire process was effortless and all of our questions were met with immediate and satisfactory answers," Welsh said. "I still can't believe that we are homeowners in this beautiful luxury, high-rise community."
Welsh and Lev also love the sense of comfort that comes with 24-hour, guard-gated security. Plus, they enjoy the community's amenities including Splash, a 24-hour pool featuring daybeds and cabanas; Transform, a two-story fitness center; and convenient freeway access and proximity to great shopping and dining. The couple also appreciates access to Network, the community's multifunctional business center.
"It took us two hours to decide on buying our home at One Las Vegas, and now that we are finally moved in, I'm surprised it even took us that long!" Welsh said.
Homes at One Las Vegas range from 831 to 2,857 square feet with many floor plans offering views of both the mountains and the Strip. One-bedroom homes are priced from the low $200,000s; two-bedroom homes from the high $200,000s; and three-bedroom homes from the low $400,000s. The penthouse, offering 3,000 square feet of sweeping views, is priced at $1.1 million. One Las Vegas is also VA home loan-approved and offers mortgages with as little as 10 percent down. One Las Vegas is close to Interstate 15 and the 215 Beltway and is just minutes from McCarran International Airport. Town Square, just a few blocks north of the property, provides one-stop shopping and scores of dining and entertainment options right in the neighborhood.
For more information, visit the One Las Vegas onsite sales center at 8255 S. Las Vegas Blvd. or online at www.theonelv.com or call 702-405-9020. The sales center is open 10 a.m. to 6 p.m. Monday through Friday, 10 a.m. to 5 p.m. Saturday and noon to 5 p.m. Sunday.