Family, Fur & Fun Festival at Mountain's Edge
October 17, 2016 - 2:56 am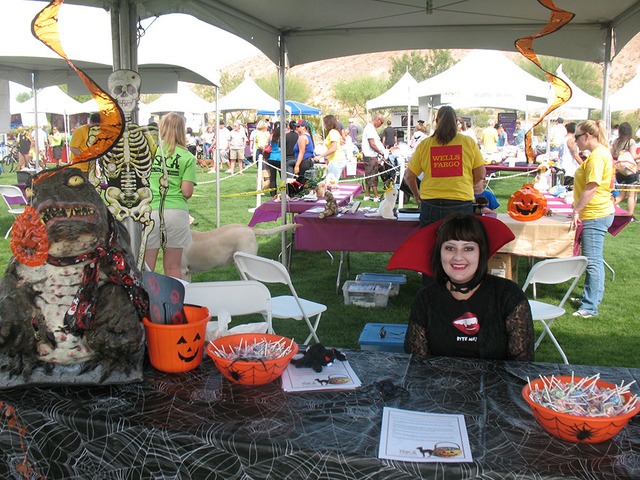 Keeping four-legged furry family members safe and healthy during Halloween is easy to do. The Aloha Animal Hospital and Saturday's free Family, Fur & Fun Festival at Mountain's Edge provides seven tricks to treat your pet to a safe holiday, and the event's popular Halloween pet costume contest.
Keep Halloween candy out of your pet's reach. Candy containing chocolate or xylitol, which commonly is found in sugar-free candies and gum, are especially dangerous.
Keep your pet indoors in a separate room or behind a safety gate away from the door to make Halloween less stressful.
Make sure your pet is properly identified with a microchip in case it escapes through the open door while you're distracted with trick-or-treaters.
Keep lit candles and jack-o-lanterns away from pets, or opt for battery-operated lights in your pumpkin this year.
Keep glow sticks and glow jewelry away from your pets. Although the liquid in these products likely isn't toxic, it tastes really bad, and makes pets salivate excessively and act strangely.
If you plan on having your pet wear a costume, make sure it fits properly and comfortably, doesn't have any pieces that can easily be chewed off, and doesn't interfere with your pet's sight, hearing, breathing, opening of its mouth or movement.
Take time to get your pet accustomed to the costume before Halloween, and never leave your pet unsupervised while it is wearing a costume.
For more information about Halloween pet safety or questions about pet care, stop by the Aloha Animal Hospital booth during the event, which is 10 a.m. to 3 p.m. Additionally the Family, Fur & Fun Festival includes hands-on activities for children to experience pets, pet adoption, arts and crafts, kissing booth, doggy photography, a magician, face painting, raffle with great prizes, and food and refreshments.
The Halloween pet costume contest begins at 1:30 p.m. with prizes awarded for Best in Show, Best Family (can include humans and multiple pets), Funniest Costume and Cutest Costume. Registration is at the event with entry at $3 per category.
The Family, Fur & Fun Festival promotes helping, fostering, and adopting abandoned and neglected animals. While adoption may not be the best option for everyone, there are opportunities to foster a pet for a period of time or volunteer at local shelters.
Event proceeds will benefit animal shelters and rescues in Southern Nevada. Sponsors are Aloha Animal Hospital, At Your Service Pet Supplies, Brandon Shar with Allstate, Gaudin Ford, Law Office of Donna Stidham LLC, Mountain's Edge Master Planned Community, Maupin · Naylor · Braster Attorneys at Law, Pictographics, Robert Martinez with Liberty Mutual Insurance and Summit Partners.
The festival is at the master plan's 80-acre Exploration Park, located at 9700 S. Buffalo Drive, just south of Blue Diamond Road near the Mountain's Edge main entrance. Well-behaved, leashed pets are welcome.
For information, visit familyfurandfun.com, call 702-595-0644 or email info@familyfurandfun.com.