High-rise undergoes $2 million improvement project
October 11, 2015 - 9:59 am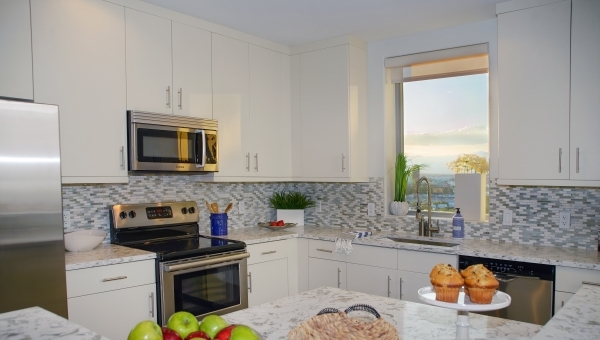 Like its name suggests, One Las Vegas is a one-of-a-kind high-rise condominium development offering a lifestyle evocative of the city's famed resorts created by an oasis of luxury and convenience under one roof.
That, according to Uri Vaknin, a partner at KRE Capital LLC, whose company, in partnership with Dune Real Estate Partners, purchased in 2013 as DK Las Vegas the twin towers at 8255 Las Vegas Blvd. So. Vaknin's plan is to elevate the building in every way from both a physical and lifestyle perspective.
"Once the property enhancements are complete, One Las Vegas will not only look different, it will feel different via a number of amenities and programs designed to enhance the quality of life for residents."
Yet despite its robust offering of amenities, One Las Vegas is priced within reach of young professionals just launching their careers, families desiring a maintenance-free lifestyle and retirees looking to downsize, according to Vaknin.
"Likewise, One Las Vegas is ideal for empty-nesters seeking a secondary residence in the Entertainment Capital of the World. It's the perfect blend of comfort, luxury and convenience to create an active lifestyle that appeals to a wide range of residents."
Originally built in 2008, One Las Vegas is today being reimagined by Vaknin and his best-in-class team of interior designers, landscape architects and artists via a $2 million investment to enhance the property's common areas. Vaknin, known for his successful track record of repositioning properties across the country, assembled an all-star team that includes well-known Las Vegas landscape architect Jack Zunino; award-winning Atlanta, Ga.-based interior designer Lee Bryan; and renowned photographer Marilyn Suriani whose work will eventually grace the lobby and elevator lobbies of One Las Vegas once redevelopment is complete.
"We've even hired our own 'cruise director,' a lifestyle director who is restyling the property's social infrastructure to create a full calendar of mixers and cocktail parties, fitness classes, city outings and learning opportunities," Vaknin said. "Buyers at One Las Vegas don't just buy a condo, they buy a resort-like lifestyle that includes membership in Elevate — our resident-only club that offers access to all these fun and engaging activities. It's not enough to just reimagine the physical details of a building. To really make a difference, it requires building social connections for the true well-being of our residents."
Of the twin 20-story towers, DK Las purchased 295 of the project's 359 residences. Homes range from 831 to 2,857 square feet with many units offering views of the mountains and the Strip. One-bedroom homes are priced from the low $200,000s; two-bedroom homes from the high $200,000s; and three-bedroom homes from the low $400,000s. The penthouse, offering 3,000 square feet of sweeping views, is priced at $1.1 million — a "virtual steal" relative to other Las Vegas penthouses of similar size, Vaknin said.
Vaknin said these "below replacement" prices are not expected to last, especially once property enhancements are complete. An extra incentive to purchase now is the addition of a storage unit with each residence. Similar in size to units offered at commercial storage facilities, these are a strong market differentiator, particularly for empty-nesters who have acquired a lifetime of "stuff."
One Las Vegas is close to Interstate 15, the 215 Beltway and just minutes from McCarran International Airport. Town Square, just a few blocks north of the property, provides one-stop shopping and scores of dining and entertainment options right in the neighborhood.
In addition to upgrades within individual residences, One Las Vegas enhancements include all common areas such as the lobby, pool, and fitness center, as well as a planned 30-foot contemporary sculpture to mark entrance to the property. Other planned enhancements include a newly furnished Sports Lounge with a pool and ping pong tables and old school video games; new private cabanas in the pool area; and the addition of a conference room with AV equipment in the business center.
For more information, visit the One Las Vegas onsite sales center at 8255 Las Vegas Blvd. South or online at info@theonelv.com. The sales center is open 10 a.m. to 6 p.m. Monday through Friday, 10 a.m. to 5 p.m. Saturday; and noon to 5 p.m. Sunday.