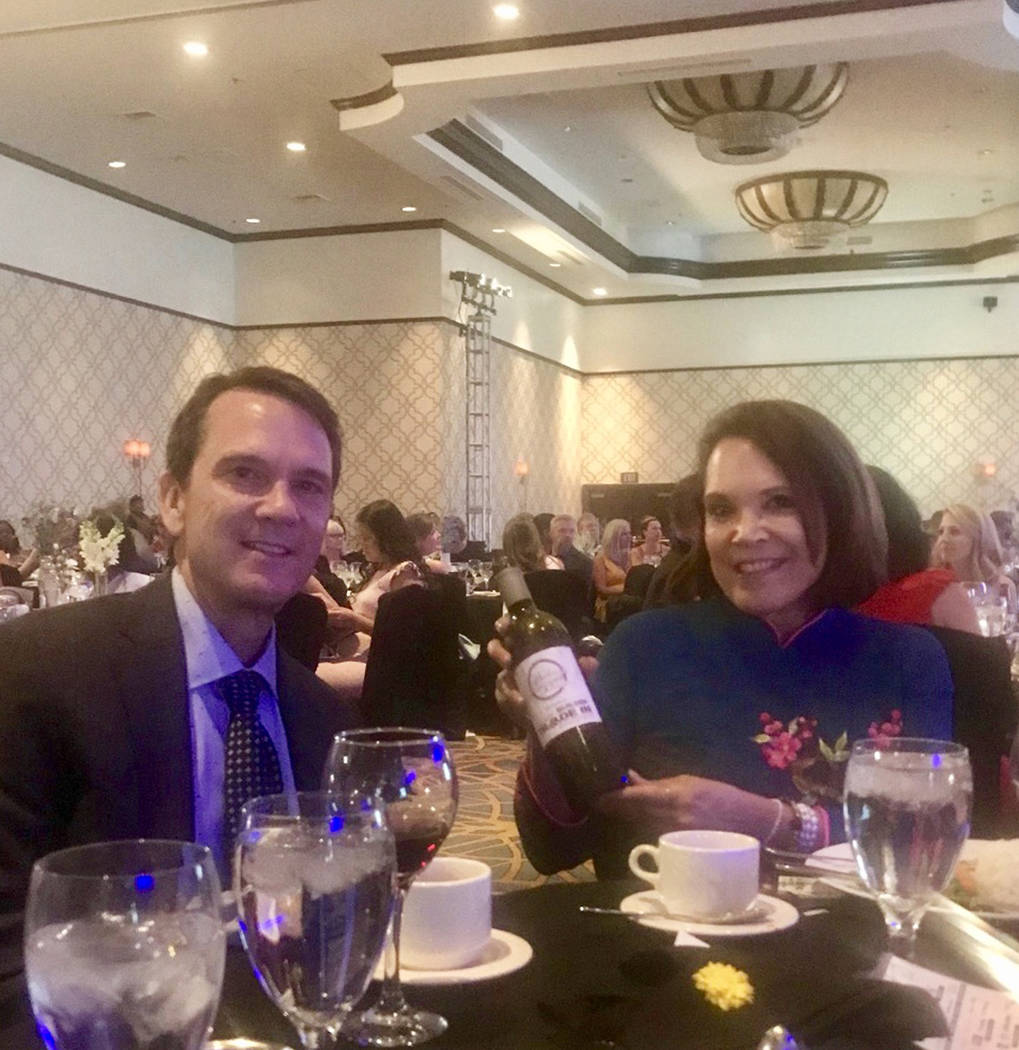 Southern Nevada homebuilders are key to the Nevada Builder Trade In Program's success as their home designs and quality customer service influence homeowners' decisions to buy a brand new home while selling their existing home through this contingency program.
Robin and Robert Smith, who operate the Nevada Builder Trade In Program as well as Smith Team at Keller Williams Las Vegas, cheered on their builder-partners as they received 2018 Silver Nugget Awards for excellence during last month's awards ceremony at the JW Marriott Resort.
"Watching our colleagues and friends be recognized for their hard work and dedication to offering quality construction and beautiful home designs in Southern Nevada is exciting, especially when Nevada Builder Trade In Program clients are among those who live in these award-winning homes and neighborhoods," Robin Smith said.
"Because we work so closely with our builder-partners during our clients' home purchase, contingency sale and final walk-throughs, we've come to know the award-winning homes and neighborhoods, as well as the real estate professionals who help our clients," she said.
"It was exciting when our partner Pulte Homes was recognized with Community of the Year (Award for) Reverence; a Salesperson of the Year award; and multiple home design awards. And when Woodside Homes earned accolades for beautiful home designs; and Matthew Schultz of Beazer Homes received a Salesperson of the Year award for his customer service during this year's Silver Nugget Awards," Robin Smith said.
Communities netting a Silver Nugget Award where builder-partners are constructing homes and Nevada Builder Trade In Program clients are selling their existing homes and/or purchasing new ones included Inspirada, Skye Canyon and Summerlin.
The Smith Team's knowledge of these neighborhoods and communities is because of Nevada Builder Trade In Program's approach of helping homeowners throughout the process of finding and purchasing newly constructed homes while helping them sell their current homes at a reduced commission, while offering the buyer's agent the standard 3 percent commission.
Because of the program's design, the Smith Team is with clients every step during the homebuying and selling process and handles all of the details of the contingency purchase.
"Some of the hundreds of people who purchase a home through the Nevada Builder Trade In Program have already begun their home search and found the home they'd like to buy, while others come to us before their search begins. In both instances, our first step is to visit the home that they need to sell in order to buy a new one and offer an idea of how much they may be able to sell it for based on its condition, nearby sales, today's market and buyer preferences," Robin Smith said, adding that this comparative market analysis is offered at no cost to potential clients.
"With this information and an understanding of how much you may be able to sell your home and if there are cost-effective improvements that you can make to up that price, you can then make an educated decision on how much you can afford on a new-home purchase."
For those who choose the Nevada Builder Trade In Program, the Smith Team works with the client and homebuilder to negotiate the purchase of a brand-new home contingent on their current home's sale and serves as a liaison with the homebuilder regarding the status of the home sale, construction progress and projected closing dates. After the sale, they help arrange moving services or help locate a temporary rental, if needed, between the sale of the current home and the completion of the new home.
Nevada Builder Trade In Program's builder-partners construct more than 50 neighborhoods throughout Southern Nevada and include Beazer Homes, Century Communities, Pulte Homes, Woodside Homes and Sun City Mesquite by Del Webb. Depending upon the builder, contingency purchases may be agreed upon for standing inventory homes as well as those under construction and empty homesites.
For additional information, contact the Smith Team at 702-460-5080, visit
ISellLasVegas.com or inquire at a builder-partner neighborhood.
Homeowners interested in purchasing a home on contingency at a non-builder-partner neighborhood and receive benefits similar to the Nevada Builder Trade In Program should contact the Smith Team before beginning their home search.