Las Vegas native purchases dream home at One Las Vegas
Updated May 15, 2017 - 9:33 am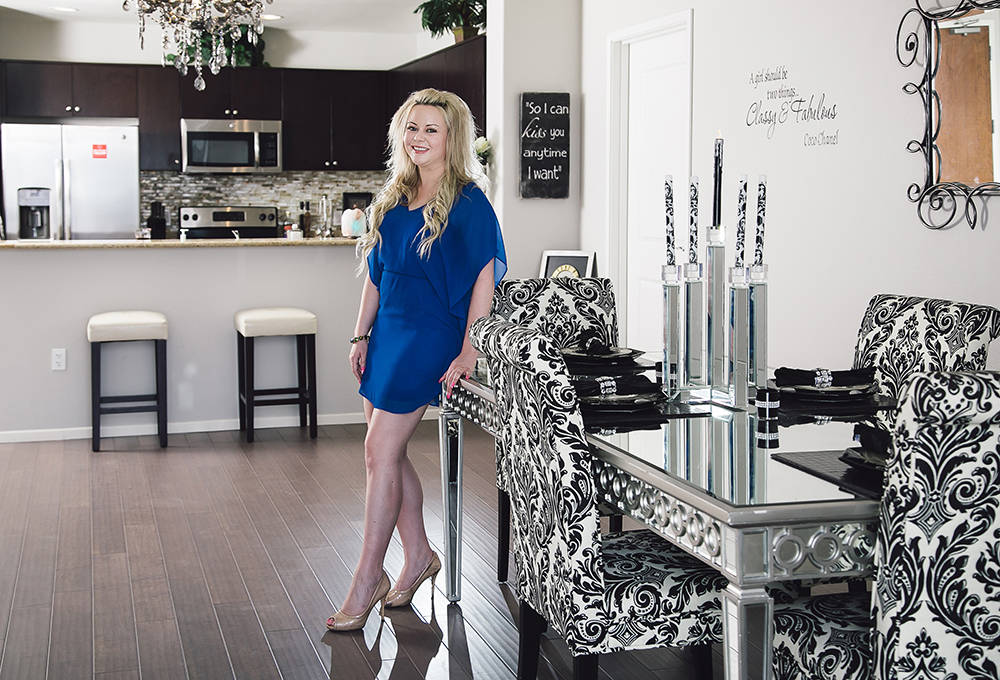 Las Vegas native Jannah Peterson recently discovered her dream home at One Las Vegas, which seems appropriate given that she has a love affair with her hometown. The twin 20-story condominium towers are on the south end of Las Vegas Boulevard.
"I grew up in Green Valley, graduated from Silverado High School and attended two years at College of Southern Nevada, so I can confidently say I know the ins and outs of this city.
"I initially rented a condominium in the south part of the valley, so I knew I loved the location, making my decision to buy at One Las Vegas easy and ideal. I've always dreamt of living in a high-rise community, and after exploring several around town, nothing compared to the floor plans, luxury lifestyle and affordable price points of One Las Vegas," Peterson said.
Peterson's homebuying journey included a meeting with One Las Vegas sales specialist Traci Martin, who presented six unique floor plans, including the model Peterson fell in love with — a two-bedroom residence overlooking the majestic mountains south of the valley.
Peterson said she also appreciates One Las Vegas' location just minutes from the heart of the Strip, where she attends concerts and meets up with friends. Plus, it's minutes from Red Rock Canyon and Mount Charleston, thanks to One Las Vegas' accessibility to the 215 Beltway and Interstate 15. And, her go-to shopping center, Town Square, is just a few miles down the road.
Peterson also values One Las Vegas' 24-hour security and many of the resident-exclusive amenities, including the two-story state-of-the-art fitness center, Transform, the full-service concierge and the events hosted by Evelyn Connors, One Las Vegas' lifestyle director.
"Recently, One Las Vegas organized a Champagne toast for residents to celebrate the forthcoming arrival of the Raiders to Las Vegas, and it was a blast!
"The stadium (site) is just a few miles from One Las Vegas, which is another huge perk of living here. The impromptu party enabled residents to meet neighbors in a fun and celebratory setting," she said.
Homes at One Las Vegas range from 831 to 2,857 square feet, with many floor plans offering spectacular views of both the mountains and the Strip. One-bedroom homes are priced from the mid-$200,000s; two-bedroom homes from the high $200,000s; and three-bedroom homes from the low $400,000s.
The penthouse, which offers 3,000 square feet of sweeping views, is priced at $1.1 million. One Las Vegas is also Veterans Affairs home loan approved and offers 15- and 30-year fixed mortgages, as well as 10 percent down mortgages.
One Las Vegas is located conveniently close to I-15, the 215 Beltway and is just minutes from McCarran International Airport. Town Square, just a few blocks north of the property, provides one-stop shopping, as well as scores of dining and entertainment options right in the neighborhood.
For more information, visit the One Las Vegas on-site sales center at 8255 Las Vegas Blvd. South, log on to theonelv.com or call 702.405.9020. The sales center is open Monday through Friday, 10 a.m.-6 p.m.; Saturday, from 10 a.m.-5 p.m.; and Sunday from noon-5 p.m.