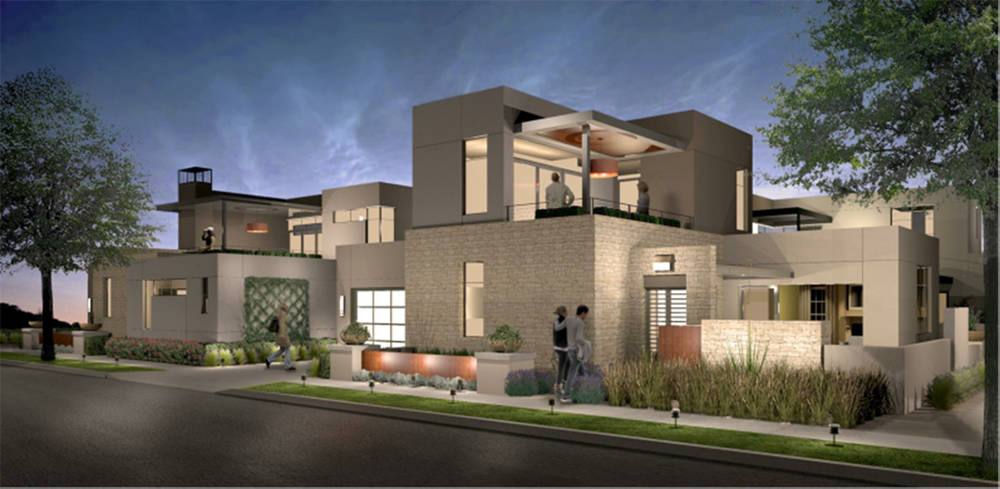 Nestled in the foothills and ridges on the western rim of the Las Vegas Valley is Summerlin, a 22,500-acre master-planned community that offers a flawless blend of outdoor recreation and city life. Located next to the 200,000-acre internationally renowned Red Rock Canyon National Conservation Area, Summerlin is close to the vibrant Las Vegas Strip but offers natural scenery all around — a rare combination in the area.
Here, you'll discover Trilogy, a gated community within Summerlin for those age 55 and over that offers an exclusive neighborhood feel and the signature lifestyle for which Trilogy is known. With just 354 homes, Trilogy in Summerlin is where you'll live and play, creating lifelong memories with neighbors who become friends. Whether you're a year-round resident or a snowbird who spends summers elsewhere, this is the perfect setting and location to begin your life's next chapter.
Kyle Tibbitts, general manager at Trilogy in Summerlin, says that homebuyers seeking an energetic, fun community will love Trilogy.
"Anyone familiar with Shea Homes knows that we are steadfastly committed to creating exceptional customer experiences and building homes that are thoughtful in design and of high quality," he said. "But the Trilogy lifestyle is the ultimate draw and must be seen to be believed. Trilogy communities around the country offer a best-in-class resort lifestyle. We're very excited to bring the Trilogy lifestyle to Summerlin."
There's no place quite like Trilogy.
Trilogy active lifestyle communities blend resort living and amazing locations. With communities across the U.S., Trilogy by Shea Homes is about so much more than the homes — Trilogy brings people together. Trilogy in Summerlin offers a fun, vibrant lifestyle, with a social calendar brimming with events, activities, concerts and classes, and it provides a stunning resort club with restaurants, social spaces, a fitness facility and much more.
"Life at Trilogy is full of adventure and offers homeowners the opportunity to discover new passions and make meaningful connections," Tibbitts said. "It's really about happiness. We are creating a unique environment that's all about connection — with oneself, with new neighbors and with adventure."
Trilogy is one of Summerlin's active adult, age-qualified neighborhoods.
"Our staff-gated, attached condos offer homebuyers a simple, lock-and-leave lifestyle without sacrificing access to an array of amenities and activities," Tibbitts explained. "We're designing homes that fit homebuyers' interests and priorities during this exciting time of their lives."
More than a place to live
Summerlin is more than a place to live: It's a way of life. Built in 1990, Summerlin has grown to encompass more than 150 parks, nine golf courses, three resort hotels, world-class recreational facilities, retail shops, entertainment centers, office parks, schools, a medical center and more, all connected by more than 150 miles of trails. There are all kinds of amenities and dining options, plus a gorgeous desert and mountain landscape right in Summerlin's backyard. Trilogy fits in well with this incredible community.
And, of course, one of Summerlin's greatest perks is its close proximity to Las Vegas, the entertainment capital of the world and the oasis of Nevada. There's the unbeatable nightlife, casinos, and plethora of shopping, but Las Vegas has plenty more to offer. From some of the finest championship golf courses in the world to the theaters, art galleries and many recreational activities in the colorful Mojave Desert, Vegas has it all. And so does Trilogy in Summerlin.
Preview event coming soon
Trilogy in Summerlin has been hosting a series of preview sessions in the past couple months that bring fantastic opportunities to learn more about the private, members-only Resort Club; community amenities; homes; and Trilogy lifestyle. The next community preview sessions will be released soon for the month of June. To stay informed and attend the next preview sessions, you can join the interest list. At these upcoming sessions, more information will be shared about the unique, attached home collections that are coming soon, which will range from 1,538 to 2,828 square feet.
In the meantime, to learn more about Trilogy in Summerlin, visit TrilogyLife.com/Vegas.