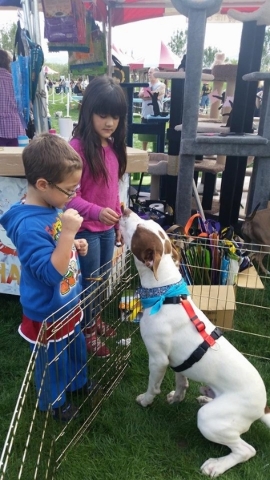 As the season of giving approaches, the annual Family, Fur & Fun Festival provides an opportunity to help animals in need and learn about proper care for pets — and as the name implies — in a fun way. The free event is to be held Oct. 17 from 10 a.m. to 3 p.m. at Exploration Park in the Mountain's Edge at 9700 S. Buffalo Drive.
Designed for all ages and well-behaved, leashed four-legged friends, the festival promotes helping, fostering and adopting abandoned and neglected animals. While the event is free to attend, proceeds from the sale of raffle tickets and entry fees for the popular Halloween Pet Costume Contest benefit shelters and rescues in Southern Nevada.
Attendees will enjoy a variety of educational, interactive and service booths and demonstrations and hands-on activities for children to experience pets. There also will be pet adoptions, arts, prizes drawings and refreshments. Trained dogs will show off their agility and fly ball skills, and there will be an opportunity for attendees and their pets to conquer the agility course. Additionally, the USA Sevens Rugby Club will conduct demonstrative matches with student athletes.
With Halloween just a few weeks away, costumes are welcome for the Halloween Pet Costume Contest, beginning at 1:30 p.m. Prizes will be awarded for Best in Show, Best Family (can include humans and/or multiple pets), Funniest Costume and Cutest Costume. Registration will be at the event with entry at $3 per category.
The Family, Fur & Fun Festival is sponsored by The Law Office of Donna Stidham LLC, Mountain's Edge, Amica, At Your Service Pet Supplies & Grooming, NutriSource, Pictographics, USA Sevens Rugby and West Charleston Animal Hospital.
For information and participation opportunities, visit www.familyfurandfun.com, call 702-595-0644, or email info@familyfurandfun.com.
Before or after the event, attendees are welcome to enjoy Exploration Park and learn about the Mountain's Edge master plan. The 3,500-acre community in southwest Las Vegas celebrates the rich history and natural beauty of the area. Developed by Focus Property Group, it has consistently ranked among the country's top best-selling master planned communities by leading independent real estate advisory firms.
Mountain's Edge has close proximity to the Red Rock National Conservation Area, major employment and Las Vegas Strip entertainment offerings; a wealth of floor plans and single and multifamily subdivisions from top builders; parks, trails and open spaces; and public facilities and schools. A series of paseos wind through the community, connecting residents and their neighborhoods to recreation areas. These include the 20-acre Nathaniel Jones Park and adjacent Mountain's Edge Regional Park and the 80-acre Exploration Park with Western Theme Village, water play area, picnic areas, amphitheater, playgrounds and the 2,846-foot-tall Exploration Peak.
Mountain's Edge is at 9725 S. Buffalo Drive (corner of Buffalo Drive and Blue Diamond Road). For information, call 702-898-5777 or visit www.mountainsedge.com.