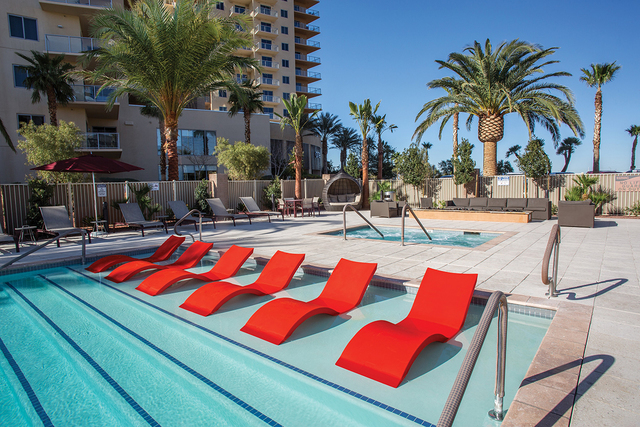 When homebuyers receive the keys to their new home at One Las Vegas, the twin-tower, high-rise condominium community on Las Vegas Boulevard's south end, they unlock more than just their dream home.
Under the direction of Evelyn Connors, the community's full-time lifestyle director, residents are offered activities and gatherings that stimulate conversations, foster connections and encourage residents to socialize.
"While it's rewarding helping residents find the perfect floor plan that fits their needs, enabling them to feel a sense of belonging and build valuable friendships with neighbors is priceless," One Las Vegas sales director Stephanie Reese said. "Moving into a new community can sometimes be intimidating, so we strive to make the transition as welcoming as possible.
"By getting to know our residents, we identify the types of activities that resonate most with them. From wine tastings and ice cream socials to painting and book clubs, there is something for everyone, and what better way to make friends than with others who share a common interest?"
Some resident activities are globally inspired, such as learning to create Vietnamese summer rolls and sushi with the Culinary Club and sipping wines from Italy during Wine on Wednesday. Because fitness and well-being matter One Las Vegas' team and residents, there is a lineup of fitness experiences that change monthly and include water aerobics, boot camps, tennis, yoga and Pilates.
"Sometimes the best ice-breaker for residents is to engage in some friendly competition, which is why our trivia and game nights continue to outpace many other events in terms of popularity," Connors said.
"We recently hosted a giant Pictionary game night, which saw a great turnout. People piled into the room, created giant post-it sheets and really got into it with others who they had just met for the first time. Whether you're attending with your significant other, a friend or solo, these events are so much fun."
One Las Vegas' homes range from 831 to 2,857 square feet; many floor plans offering views of the mountains and the Strip. One-bedroom homes are priced from the low $200,000s; two-bedroom homes from the high $200,000s; and three-bedroom homes from the low $400,000s. The penthouse, offering 3,000 square feet of views, is priced at $1.1 million. One Las Vegas also is approved for Veterans Affairs loans.
For more information, visit the One Las Vegas onsite sales center at 8255 Las Vegas Blvd. South or visit www.theonelv.com or call 702-405-9020. The sales center is open 10 a.m. to 6 p.m. Monday through Friday; 10 a.m. to 5 p.m. Saturday; and noon to 5 p.m. Sunday.