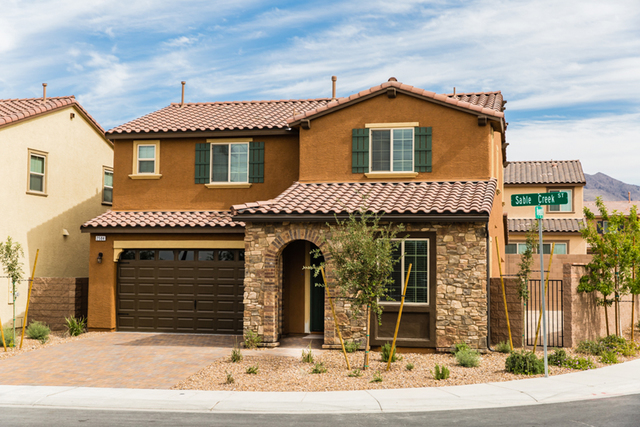 Pardee Homes offers a collection of new and homes among five neighborhoods — Escala, Montero, Solano, Bella Verdi and Alterra — in Henderson's Inspirada master-planned community.
Located off Via Firenze and Via Cartanda Ave., just east of Potenza Park, Pardee's Montero and Escala homes at Inspirada are featured in Mid-Century Modern, Contemporary Spanish, Desert Prairie and Desert Contemporary architectural styles. Prices start from $508,000 at Escala and $420,000 at Montero.
A move-in ready, single-story Plan 1-DR at Escala features Mid-Century Modern architectural style and measures 2,898 square feet with three bedrooms, 2½ baths, lounge, two-car garage plus one-car garage and upgraded flooring, kitchen countertops and cabinets.
The home is at lot No. 220 and is priced from $601,991.
At Montero, a move-in ready Plan 4-B at cul-de-sac home site No. 102 measures 3,496 square feet with five bedrooms, 4½ baths, bonus room, upgraded flooring and upgraded stainless steel appliances, covered patio and two-car garage, plus one-car swing garage. Priced from $543,545, the home has a Desert Contemporary elevation.
A limited number of homes remain available at Pardee's Bella Verdi, Solano and Alterra neighborhoods.
At Bella Verdi, a Plan 3-CR at home site No. 11 measures 3,065 square feet with four bedrooms, three baths, large game room, buyer's selection of flooring and a 60-day closing. The home is a Prairie elevation and is priced from $444,415.
A move-in-ready Solano Plan 2-D, featuring a Tuscan elevation at corner home site No. 82, measures 2,267 square feet with four bedrooms, three baths, loft, upgraded flooring, window coverings and stucco patio cover. The home is priced from $334,606.
At Alterra, a move-in-ready Plan 4-B at home site No. 70 measures 2,987 square feet with three bedrooms, three baths, den/office, loft, upgraded flooring, downstairs master bedroom and unique second-floor loft with bedroom and full bath. The home is an Italian elevation and is priced from $451,397.
For information about Pardee neighborhoods in the Las Vegas area and move-in-ready opportunities, call 702-604-3332 or visit pardeehomes.com.
To reach Solano from St. Rose Parkway, head south on Executive Airport Drive, which becomes Via Inspirada south of Volunteer Boulevard. Continue south on Via Inspirada, which becomes Bicentennial Parkway. Turn right on Via Firenze to reach Solano and turn left to reach Escala and Montero.
Pardee sales offices are open from 10 a.m. to 6 p.m. Tuesday through Sunday and from 11 a.m. to 6 p.m. on Monday.
Pardee Homes is a member of TRI Pointe Group, a family of premium regional homebuilders supported by the significant resources, economies of scale and thought leadership of a national foundation.
The family also includes Maracay Homes in Arizona, Pardee Homes in California, Quadrant Homes in Washington, Trendmaker Homes in Texas, TRI Pointe Homes in California and Colorado and Winchester Homes in Washington, D.C. area — all together making TRI Pointe Group one of the largest homebuilding companies in the United States.