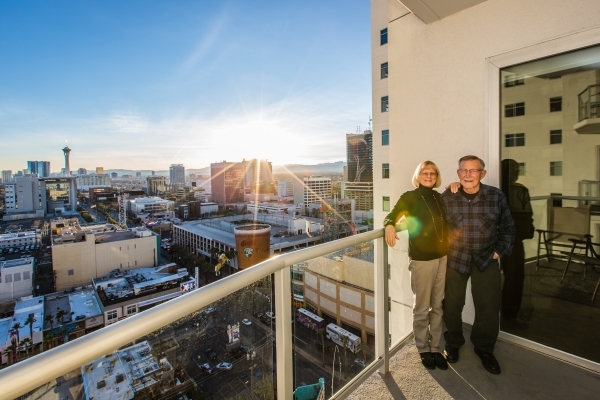 Ron and Alyce Malm have a lot to be thankful for, including 61 years of wedded bliss, good health, a large family and more friends than they can count. Last summer, they added a new item to their list — a one-bedroom home at The Ogden in downtown Las Vegas.
"Ron and I met in Washington when we were teenagers, and almost instantly knew we were soul mates," Alyce said. "We got married when I was 17 and Ron was 19 and have since raised three daughters. We've owned numerous homes, many which we built together. We couldn't be happier to own a home in Las Vegas, especially at The Ogden, where we're surrounded by great dining, shopping and museums just steps from our front door."
The Malms have lived in Washington most of their lives, but when they retired in 2000, they purchased a home in Green Valley, Ariz., which they used to escape the northwest winters. During the holiday season in 2014, Alyce felt a sudden desire for change.
"Alyce decided she wanted a lifestyle change for the both of us," Ron said. "When I asked her what she had in mind, she expressed a desire to live in a high-rise that was located in a bustling city. We immediately contacted our Realtor, who ended up purchasing our Arizona (home) just two days later."
One of the Malms' daughters had suggested looking at homes in San Francisco, but Ron and Alyce were immediately turned off by the city's high cost of living. They had visited Las Vegas numerous times before, so they decided to explore their options around the valley. A Realtor friend of the Malms introduced the couple to The Ogden, and immediately after seeing a presentation of The Ogden, they knew they had found their next home.
"When we started our home search, I often daydreamed of stepping outside my home and finding myself in the middle of a vibrant, cultured and walkable city," Alyce said. "At The Ogden, we can do all that and so much more. We have always lived in homes that featured breathtaking views, including beautiful blue lakes and majestic mountains. The Ogden is no exception to that rule, and every morning we wake up to views of the mountains that rim the valley, along with great views of the bustling Fremont Street beneath our feet and the glittering Las Vegas Strip just a few miles down the road."
Alyce and Ron especially appreciate The Ogden's round-the-clock security, friendly staff and neighbors. And while they've only lived in their home for a few months, they've already hosted friends and family several times.
"It's just the two of us, so we don't need more space than this, but when our loved ones visit, we insist they stay here because the experience is so wonderful," Ron said. "Guests who stayed with us last month enjoyed their time here so much, they plan to sell their current home and buy a home here at The Ogden. I said, do it! You only live once, so do it right!"
Homes at The Ogden range from a one-bedroom, 815-square-foot residence for $229,000 to a three-bedroom, plus den, 2,044-square-foot home for $629,000. Residences feature a modern design aesthetic in keeping with the architecture and the lifestyle vibe, private balconies and expansive views of downtown Las Vegas, The Strip and the mountains that frame the valley.
The Ogden's single-story, open floor plans offer flex spaces that can serve as a home office, den or yoga room, extra bedrooms for accommodating multigenerational family and guests and spacious windows that fill interiors with natural light.
For more information, visit The Ogden's onsite sales center at 150 Las Vegas Blvd. N. or online at Ogdenlv.com.