Retired Veteran and East Coast Native Plants Roots at Spanish Palms
February 9, 2017 - 4:18 am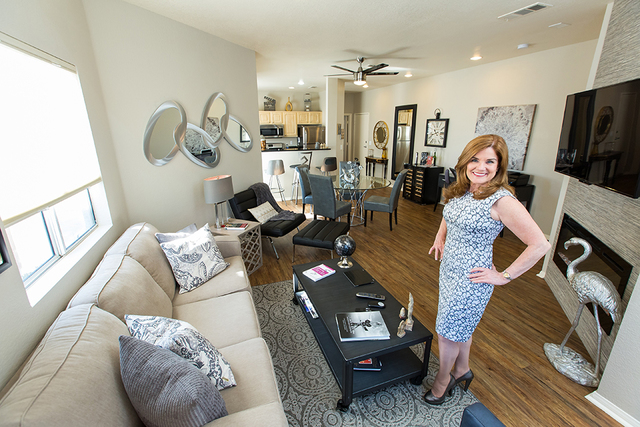 Miriam Michael was born and raised in Pennsylvania, and she became a globetrotter during her 34-year tenure in the military. No stranger to owning various types of residences, including condominiums, Michael locked in her dream home at Spanish Palms this past summer, thanks to the help of Veterans Affairs financing.
"Upon retiring from the military in 2013, and after living through brutal East winters for years, I was eager to live in a more moderate climate," Michael said. "I considered many factors in my relocation decision, including cost of living, accessibility to great shopping, dining and entertainment, and even natural disaster statistics in certain regions.
"So it's no surprise, considering my criteria, Las Vegas made the most sense for my needs and lifestyle. While I originally intended on purchasing a high-rise condominium, I was instantly swayed after experiencing everything Spanish Palms had to offer."
Spanish Palms offers three single-story floor plans ranging between 744 square feet and more than 1,131 square feet. Each home comes with its own attached garage that also provides an additional storage stage, a rarity in the condominium world. Homes are priced starting from $138,900. Located on the west side of the valley across from the celebrated private golf club Spanish Trail, Spanish Palms is just minutes from the Strip and McCarran International Airport, and it is surrounded by popular restaurants, retail centers and neighborhood services.
Spanish Palms offers several financing programs including VA-, Federal Housing Administration- and Fannie Mae-backed loans, which make buying a home possible for many who otherwise weren't in a position to buy. Today, fewer than 16 of more than 370 homes are still available for purchase.
Michael is especially attracted to many of the community's amenities and features, and she is particularly enamored by the its 24/7 guard-gated security, state-of-the-art fitness center that she utilizes daily, mature and lush landscaping and proximity to the Strip.
"The buying experience was seamless and effortless, and The Federal Savings Bank was a huge help throughout the VA loan application process," Michael said. "Everyone is so genuine and committed to making life comfortable for residents. Whenever I need maintenance assistance, someone is always there. I'm surrounded by some of the city's best dining and shopping, yet the community provides enough privacy that I can escape the hustle and bustle of Las Vegas simply by coming home."
With three master's degrees and one Ph.D. under her belt, Michael now is working on her second Ph.D.
"I'm currently an executive leadership coach, mentor and speaker but am working toward completing my second Ph.D., and have found it so peaceful and quiet to be able to write my papers in the comfort of my new home," she said.
Michael also joked that prior to living in Las Vegas, she rarely had friends visit and stay with her. But since moving to Spanish Palms, visiting friends are commonplace.
"I have a two-bedroom, attached two-car garage, and it's perfect for guests," she said. "I also paint art as a hobby and have transformed part of my garage space into a mini-studio. I couldn't be happier with how quickly I've been able to make my new residence home sweet home, and I look forward to exploring more of what Las Vegas has in store for me."
Spanish Palms continues to be one of the fastest-selling condominium communities in Las Vegas for many reasons, including enhanced amenities such as a fitness studio, private clubhouse that is perfect for gatherings and parties and two resort-style pools. The centerpiece of the community is Central Park, which features lush and well-manicured landscaping with barbecue grills that make it ideal for picnics and entertaining; plenty of shaded areas; a playground, putting green and gazebo; and a pet park with an agility course.
For more information, call 702-719-6100 or visit SpanishPalmsLV.com. The sales center is at 5250 S. Rainbow Blvd., No. 1055, and it is open Monday-Friday from 10 a.m. to 6 p.m.; Saturday, 10 a.m. to 5 p.m.; and Sunday from noon to 5 p.m.