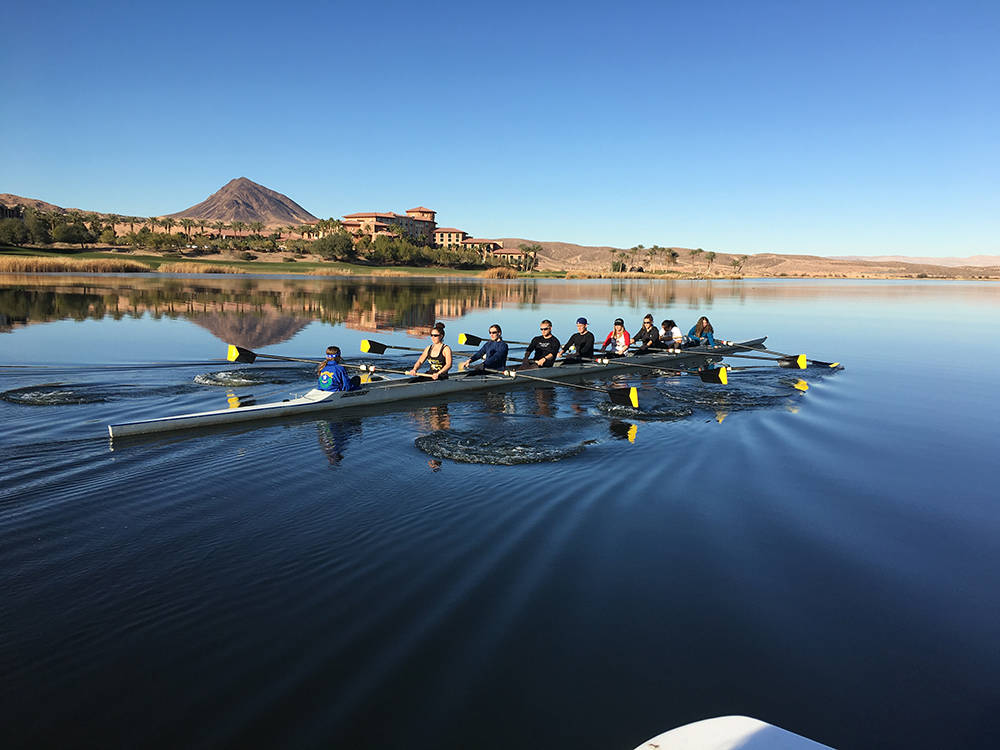 The Lake Las Vegas Rowing Club is offering Summer Rowing Junior Camps for teens, beginning June 26, and other programs. The newest competitive sport in Nevada provides great fitness and team-building opportunities as well as fun on the 320-acre private lake at the Lake Las Vegas master-planned community. No experience is required, just a desire to learn.
"We understand that most kids here haven't had the opportunity to row a racing shell, but we have the experience and enthusiasm to teach them about the great sport of rowing," coach Jim Andersen said. "Rowing is the ultimate team sport with no superstars, and it provides a noninjury environment and lets athletes compete at the highest levels in high school, college and the Olympics."
The Summer Rowing Junior Camps are 8 a.m. to noon Monday through Friday for $125 per week. Dates are June 26-30, July 10-14, July 17-21, July 24-28, July 31-Aug. 4 and Aug. 7-11. Athletes ages 13-18 may register for as many weeks as they like at llvrc.org.
Other upcoming rowing programs include "Free Learn to Row" Saturday sessions today and June 24, a yearlong competitive Junior Rowing Program with practices beginning Aug. 15 and various adult programs from beginner to master levels.
The Junior Rowing Program is not affiliated with any high school. Boys and girls teams compete against teams from other states. The first two weeks of the Junior Rowing Program are free, followed by a monthly $120 fee.
Rowing programs are coached by Andersen, an experienced rowing coach from Marin Rowing in Larkspur, California, and Riversport in Oklahoma City. He has coached multiple national championship teams. Many of his former athletes have gone on to successful college teams, and a few have become Olympic athletes.
For information and registration, visit llvrc.org, call 702.463.5453 or email jim@llvrc.org.
The Lake Las Vegas Boathouse is at 15 Costa Di Lago in MonteLago Village within the Lake Las Vegas community. It is just minutes from Galleria Parkway and Interstate 515/U.S. Highway 95, or off Lake Mead Parkway and Lake Las Vegas Parkway. Free parking is available in the Hilton Lake Las Vegas Resort &Spa parking garage adjacent to MonteLago Village.
Rowing is one of the country's fastest-growing sports. Prior to the Lake Las Vegas Rowing Club's formation this past year, Las Vegas had been the only one of the top 25 metropolitan areas without such a program.
For high school boys and girls, rowing provides a rigorous competitive sport, free from injuries and offering collegiate benefits, with 145 colleges and universities offering women's rowing scholarships and men's rowing programs at Pac-12, Ivy League and other major universities.
The nonprofit Lake Las Vegas Rowing Club was established to promote the sport of amateur rowing and to educate and train residents — particularly youth — throughout the Las Vegas Valley.
Founded by nine local ex-rowers and rowing enthusiasts, it works closely with and is supported by the Lake Las Vegas Master Association, Lake Las Vegas Marina and Nevada State College.