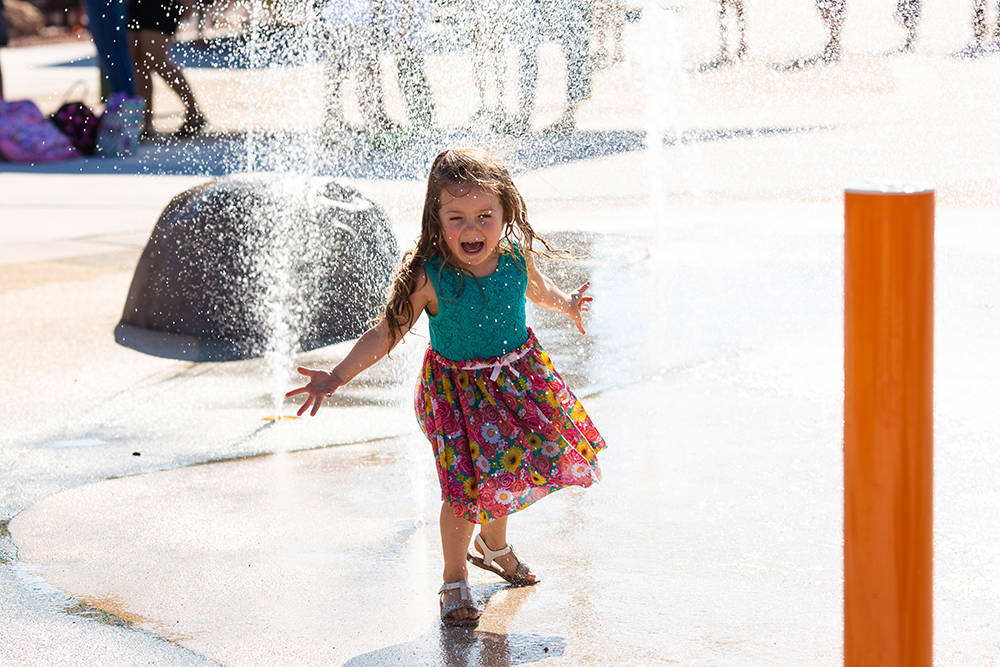 The ribbon-cutting with Clark County Commissioner Susan Brager and local dignitaries made it official, but the inaugural soccer ball kicks and dashes through the splash pad by neighborhood children made it a party, as Southern Highlands' new 17-acre Olympia Sports Park opened to the public Aug. 28.
An estimated 300 residents, community leaders and students from nearby Stuckey Elementary School joined in the grand opening festivities for the new multipurpose park at 4855 Starr Hills Ave., which included complimentary frozen treats from Kona Ice and Baskin-Robbins, as well as free soccer balls for the first 50 kids in attendance.
"The wonderful turnout for our grand opening event underscores just how much excitement there has been for this park and the resources it provides to the community," said Chris Armstrong, Olympia's vice president of planning. "We look forward to seeing a regular flow of residents of all ages enjoying the park throughout the day, from early morning walkers and joggers to after-school play dates and evening sports practices and games."
Set against the vibrant Spring Mountains, the new park boasts six basketball courts; three full-size, lighted, multipurpose fields that can be used for soccer, flag football, lacrosse and other sports; a full playground with state-of-the-art equipment and shade; a splash pad and a hilltop walking trail with workout stations. There are also several covered family picnic areas, shaded benches and nearly 100 parking spaces.
The sports park was constructed by Southern Highlands developer Olympia Cos. in accordance with the development agreement it has with Clark County.
"Particularly now that school is back in session and youth sports are starting up, we are proud to present this park to the residents of Southern Highlands and all of Clark County to enjoy for years to come," said Garry Goett, chairman, CEO and president of Olympia. "More than a physical addition to the landscape of Southern Highlands, this park represents a new social hub for the community, where life will unfold and memories will be made.
We invite residents throughout the Las Vegas Valley to come spend an afternoon at the park and take advantage of everything it, and the surrounding community of Southern Highlands, has to offer."
Located just west of Interstate 15 at St. Rose and Southern Highlands parkways, Southern Highlands master-planned community offers residents access to award-winning schools, a variety of shopping and dining options and community activities and seasonal events throughout the year. Currently, 26 new model homes are available to tour in 10 new neighborhoods from premier national homebuilders Blue Heron, Lennar, Pulte, William Lyon and Woodside. For more information, visit www.southernhighlands.com.