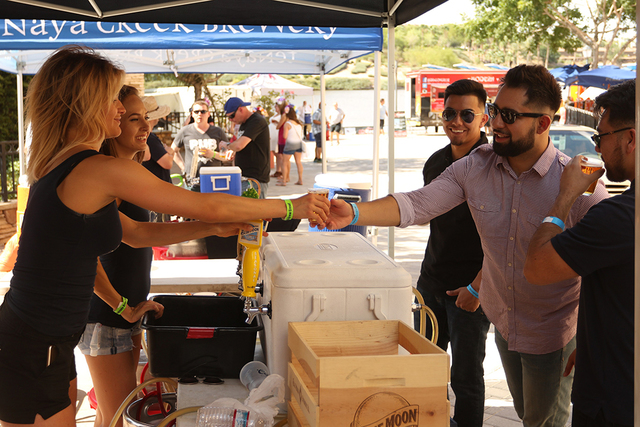 The MonteLago Village Beerfest returns Saturday for the second time this year to kick off the three-week Fall Festival at Lake Las Vegas. The event is from 2 to 7 p.m. and features 30 local, regional and national breweries with more than 100 craft beers, including seasonal selections.
Beer-centric specialty vendors will showcase their products, and MonteLago Village restaurants will offer a variety of special menu items during the festival, and be open for lunch and dinner. Five local bands will perform from 2 to 10 p.m.
Advance tickets are $45 for VIP and $35 for general admission. Same-day tickets will be $60 for VIP and $45 for general admission.
Participants will receive a wristband and complimentary 7-ounce souvenir glass for unlimited sampling during the festival. VIP ticket holders can begin sampling at 2 p.m., with general admission starting at 3:30 p.m.
Hilton Lake Las Vegas Resort &Spa and The Westin Lake Las Vegas Resort &Spa will offer special room rates for attendees who wish to stay overnight.
Event proceeds will benefit KUNV-FM 91.5, a nonprofit radio station broadcasting from the University of Nevada, Las Vegas that provides quality, cultural, educational, informational and entertainment programming, while giving UNLV students the opportunity to develop professional broadcast and media management skills.
The MonteLago Village Beerfest is sponsored by the MonteLago Village Association and Lake Las Vegas, and is hosted by The Auld Dubliner Irish Pub.
MonteLago Village is in Lake Las Vegas at 15 Costa di Lago, Henderson, conveniently located east off the Galleria Parkway exit and Interstate-515/U.S. Route 95 or off East Lake Mead Parkway east of Boulder Highway. Free parking is available in the Hilton Lake Las Vegas Resort &Spa parking garage, which is adjacent to MonteLago Village. Free hayrides from the garage to the village also are available as part of the Fall Festival.
For more information or to purchase tickets, visit mlvbf.com.
The Fall Festival at Lake Las Vegas features a variety of fall and Halloween-themed events and activities for all ages in MonteLago Village through Nov. 5. For details, visit lakelasvegas.com.
Inspired by the beauty of centuries-old Mediterranean villages, MonteLago Village is a pedestrian-only experience where streets curve to plazas lined with the new Seasons Market and The Galleries at Lake Las Vegas, lakeside restaurants and quaint outdoor cafes with residential units on the floors above evoking a classic European community.
The 55,000-square-foot village is part of the Lake Las Vegas residential, golf and resort destination, and borders the 320-acre lake. It is adjacent to the Hilton Lake Las Vegas Resort &Spa, and just down the parkway is The Westin Lake Las Vegas Resort &Spa.
Lake Las Vegas Marina, tucked along the water's edge of the village, offers rentals of canopied electric boats, gondolas, kayaks, peddle boats, the Flyboard Las Vegas Experience, and the newest addition of stand-up paddleboards to transport guests and residents between The Westin and the village.