The Ogden at the center of Life is Beautiful
September 11, 2015 - 2:39 pm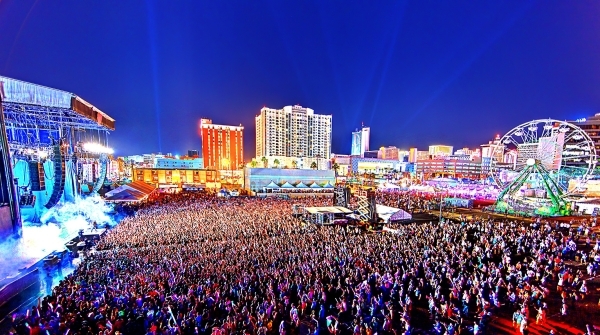 The Ogden in downtown Las Vegas will be in the center of it all when the Life Is Beautiful festival returns, Sept. 25-27. Residents of the 21-story condominium tower, located within the footprint of the festival, are looking forward to the whirlwind of activity featuring music, food, arts and learning.
Entering its third year, Life is Beautiful has climbed to the top of most anticipated weekends for Las Vegas and for music-goers and foodies who travel to town to binge on the festival's eclectic artist lineup, culinary bites and provocative art. Life Is Beautiful stretches nearly 11 blocks, blanketing much of the bustling downtown Las Vegas area.
While Ogden residents already enjoy countless perks of living steps from Las Vegas' urban playground, Life Is Beautiful adds to that growing list of benefits. From their balconies, residents can bask in the panoramic views of all the action; in fact, most can not only hear the music performed by the 70-plus established and up-and-coming artists, they probably can feel the vibrations pulsating from the four main festival stages scattered throughout their downtown neighborhood. With headliners such as Stevie Wonder, Imagine Dragons, Kendrick Lamar and Duran Duran, there's an artist for every musical taste.
For Ogden residents who prefer to directly immerse themselves amidst a sea of festival enthusiasts (last year, the festival drew 90,000 fans), the action is just outside their front door. As a ticketholder, there will be more than enough food than one person can chew on within a 72-hour period. From celebrity chefs, local food vendors, a craft beer and garden, as well as more than a dozen scattered food trucks, the culinary experience alone is reason enough to attend. Adding to the beauty of being an Ogden resident, the festival shines a spotlight on iconic downtown Las Vegas attractions in The Ogden's backyard, including Downtown Container Park, which hosts Life Is Beautiful's main culinary village.
"The Ogden's proximity to the festival's activities validates the truth behind the saying, 'location is everything,'" said Uri Vaknin, a partner at KRE Capital LLC, whose company, in partnership with Dune Real Estate Partners, purchased The Ogden as DK Las Vegas. "The opportunity to live within the heart of one of the region's most iconic music, art and food festivals is exhilarating and builds a sense of pride our residents feel about their home. And when our residents have had enough fun at the end of the night, they are just steps from home."
Homes at The Ogden range from a one-bedroom, 815-square-foot residence for $229,000 to a three-bedroom plus den, 2,044-square-foot home for $629,000. Residences feature a modern design aesthetic in keeping with the architecture and the lifestyle vibe, private balconies and expansive views of downtown Las Vegas, the Strip and the mountains that frame the valley.
The Ogden's single-story, open floor plans offer flex spaces that can serve as a home office, den or yoga room, extra bedrooms for accommodating multigenerational family and guests, and spacious windows that fill interiors with natural light — all sought-after design features by millennials, professionals, empty-nesters and retirees. For more information, visit The Ogden's onsite sales center at 150 Las Vegas Blvd. North or online at Ogdenlv.com.