The Ogden is home to foodies of all sorts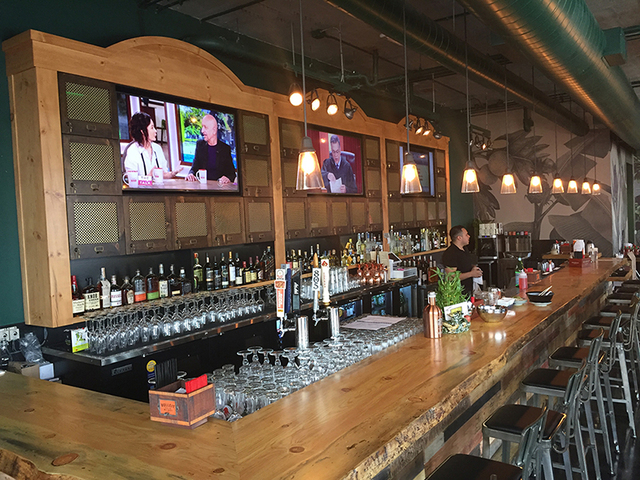 Those who choose to live in a high-rise are generally seeking a more convenient lifestyle, and those who choose an urban location are seeking access to amenities that create a vibrancy not found in the suburbs. The Ogden, the 21-story high-rise tower in the heart of downtown Las Vegas, provides the convenience of condo living with immediate access to all the city offers. In fact, the iconic tower is surrounded by no fewer than 150 restaurants, many that rank among the city's best, within walking distance of The Ogden.
"It's common for residents at The Ogden to become 'foodies' if they weren't already, simply because of the abundance of dining options that surround them," said Stephanie Reese, director of sales at The Ogden. "Exploring the variety of cuisine in Downtown Las Vegas is one of the best perks about living downtown. Whether residents are looking for a stimulating cup of coffee, an upscale steakhouse or authentic Mexican or Thai cuisine, there is truly something for everyone in downtown Las Vegas, and it's one of the many reasons The Ogden is such an attractive place to call home."
Le Pho, a Vietnamese restaurant that just opened in Juhl, a low, mid- and high-rise residential community just a few blocks from The Ogden, is downtown's newest culinary attraction that offers delicious authentic fare, including traditional Pho, spring rolls and the fan-favorite chicken wings tossed in tamarind sauce. As the demand for Asian cuisine continues to rise, Ogden residents have a number of them right at their fingertips, from Le Thai on Fremont Street, to Bocho Sushi on 6th Street and Itsy Bitsy: Ramen and Whisky, located on the first floor of The Ogden.
"Our residents don't even have to leave the building for a great meal since we house two popular restaurants in our lobby," Reese said. "Rachel's Kitchen offers healthy and hearty breakfast and lunch options, including smoothies for those who are on the go, while Itsy Bitsy has become a go-to spot for a refreshing cold beer and Asian cuisine after a long workday."
Directly across the street from The Ogden is Fremont East Entertainment District, which offers Ogden residents more than a dozen restaurants and bars all within a few blocks. Residents can indulge in La Comida's Mexican food, bar hop between The Griffin, Beauty Bar and Commonwealth or experience the newest kid on the block, F. Pigalle, a nod to Paris' Red Light District that features fondue and unlimited wine options.
East of The Ogden is Downtown Container Park, an open-air shopping center filled with boutique retail shops, family-friendly entertainment and restaurants such as The Perch, Cheffini's Hot Dogs and Big Ern's BBQ. Other eclectic dining choices in the area include Therapy, known for its progressive American cuisine; Carson Kitchen, a popular gastropub that makes its own bacon jam; The Beat Coffeehouse &Records, perfect for coffee, a croissant and some tunes; and Eat, Chef Natalie Young's breakfast and lunch joint that features classic dishes with a modern twist.
Recently renovated downtown hotels, such as The Plaza and Golden Nugget, provide direct access to the illuminating Fremont Street Experience and are home to eateries such as Vic &Anthony's, Pop-up Pizza and Oscar's Steakhouse. El Cortez, another iconic Downtown Las Vegas destination features Siegel's 1941, a vintage-inspired restaurant featuring a round-the-clock menu and a carefully curated wine and cocktail list.
"Residents who prefer to dish up meals in the comfort of their own kitchen can visit The Market, Downtown Las Vegas' urban grocery store featuring an array of organic and natural foods, baked goods and locally grown, fresh produce," Reese said.
Homes at The Ogden range from a one-bedroom, 815-square-foot residence with prices starting in the mid-$200,000s to a three-bedroom plus den 2,044-square-foot home starting in the low $600,000s. Residences feature a modern design aesthetic in keeping with the architecture and the lifestyle vibe, private balconies and expansive views of downtown Las Vegas, the Strip and the mountains that frame the valley.
The Ogden's single-story, open floor plans offer flex spaces that can serve as a home office, den or yoga room, extra bedrooms for accommodating multi-generational family and guests, and spacious windows that fill interiors with natural light.
For more information, visit The Ogden's onsite sales center at 150 Las Vegas Blvd. North or online at Ogdenlv.com.