Childhood Las Vegas home of 'Dancing with the Stars' siblings up for sale
February 16, 2018 - 4:58 pm
Updated February 18, 2018 - 12:38 pm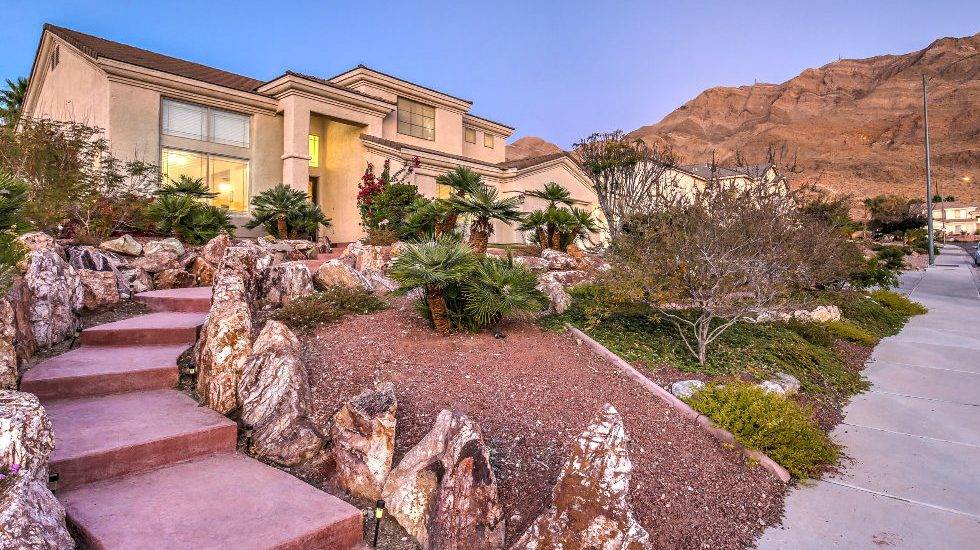 It's a northeast Las Vegas home straight out of "The Brady Bunch" television series, which is fitting since two entertainers and television personalities grew up in it.
Financial consultant Aaron Nelson and his wife, Marriann, the mother of "Dancing with the Stars" brother-and-sister combo of Derek and Julianne Hough, have listed their Clearview Estates home for $699,000.
The home is in the highlands area of northeast Las Vegas at the base of Frenchman Mountain, across from The Church of Jesus Christ of Latter-day Saints Temple on New Moon Way.
It's listed by Anthony Keep, the broker of Horizon Realty Group.
"This is an enclave and full of people that know each other and like each other," Keep said. "There is a real sense of community here. When you get up here, it's a whole new world."
The Nelsons got married in 1998. She had five children from a previous marriage, and he had four from a previous marriage in a story like the "Brady Bunch" of two large families merging. They needed the space.
The family moved from Salt Lake City to Las Vegas in 1999 and into a two-story home built by Coventry Homes. They proceeded to do a lot of the interior work themselves to suit a family of 11.
"All we wanted was to get a big enough house for nine children," Marriann Nelson said in choosing the locale.
That's why she said it's suited for a large family and even an extended family with a casita in the rear of the home. It's a perfect place to entertain large groups and hold family reunions just like they did.
Aaron Nelson, who was raised in a family that owned a homebuilding company, crafted, along with Marriann Nelson, the granite counters, oak flooring, oak staircase, wood floors, tile floors, crown molding, the ceilings and elevated family room.
The home measures just over 4,000 square feet with six bedrooms. There's a seventh bedroom if you count a theater room with two hidden queen-sized Murphy beds. There's four full baths, a recreation room with a pool table. The home has vaulted and angle ceilings and chandeliers.
The 721-square foot guest house in the rear was built by Aaron Nelson. It has two bedrooms, a living room, kitchen and attached garage with a workshop, recording studio and sleeping loft.
"It's a beautiful guest house," Keep said. "It's more than just a casita."
The backyard with its garden landscaping has a swimming pool and eight-person spa, waterfall, pond, putting green, fire pit, barbecue area and covered patio. There's a three-car garage and driveway for recreational vehicle or boat parking with power, water and sewer connections.
Julianne Hough is an actress, singer and dancer who is now a judge on the ABC reality series "Dancing with the Stars" after performing on the program as a professional dancer. Her brother, Derek, is a dancer, choreographer, singer and actor. He continues to dance on "Dancing with the Stars."
It started at their Las Vegas home.
Julianne Hough attended Las Vegas Academy of the Arts. She and Derek Hough later went to London to study dance. Their Las Vegas home had a karaoke machine, guitar, amps and microphones where they would do some of their early performances.
"They were always going to be entertainers, singers and dancers," Aaron Nelson said.
The home continues as a base of art. Aaron Nelson composes music and Marriann Nelson is an accomplished painter, and her paintings of her children are displayed in the home.
The Nelsons said they want to sell because the children have moved out of the home, and they want to relocate to North Carolina, Nashville or Dallas. They want to be closer to other family members with 18 grandchildren and two more on the way. Marriann Nelson said she wants to transition to a more temperate climate.
"Somewhere where it's green," she said. "I really like the green. I think we also want to build again. We enjoy building. I enjoy going to Home Depot and enjoy the process."
The home not only was the center of a large young family over the years, but it has been a place that has continued to serve large family reunions and even gatherings of the crew of "Dancing with the Stars" where 25 to 30 people can easily stay without it feeling crowded, Aaron Nelson said.
Aaron Nelson said there are many "wow factors" of the home with the architecture of the Mormon temple across the street and views of the city lights from his backyard.
"Many people don't realize what's up here, and the city views that you have," Aaron Nelson said.
About the home
Price: $699,000
Location: Clearview Estates, northeast Las Vegas
Size: Two-story, 4,000 square, six bedrooms, three-car garage and four baths
Features: 721-square-foot guest home, theater, recreation room with pool table, recording studio in guest home, swimming pool, large spa, putting green, fire pit, pond and covered patio.
Listings: Anthony Keep, Horizon Realty Group