Seven Hills luxury home represents new Las Vegas aesthetic — PHOTOS
February 27, 2017 - 11:47 am
Updated March 2, 2017 - 7:35 pm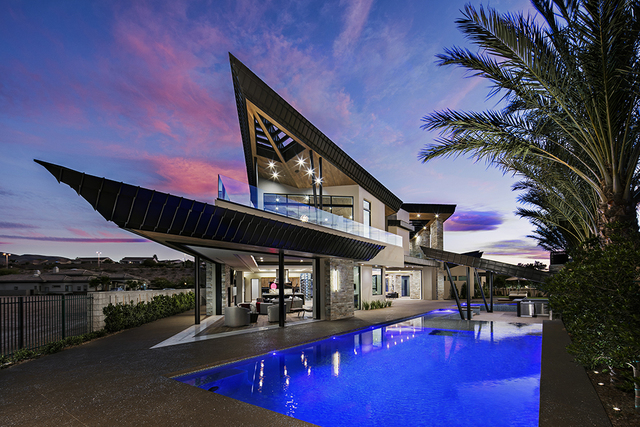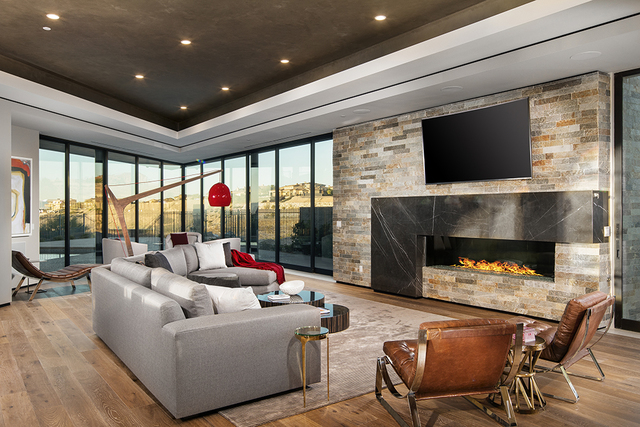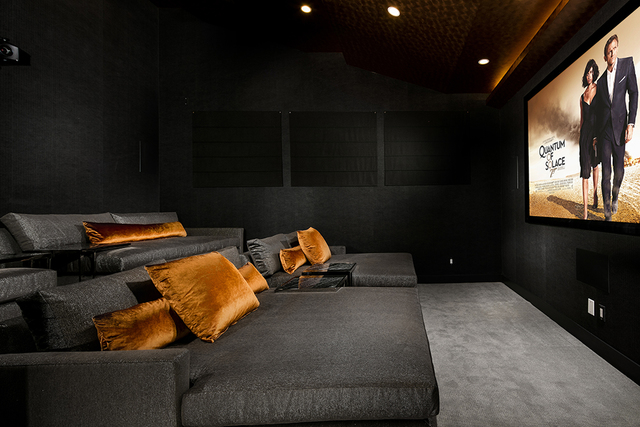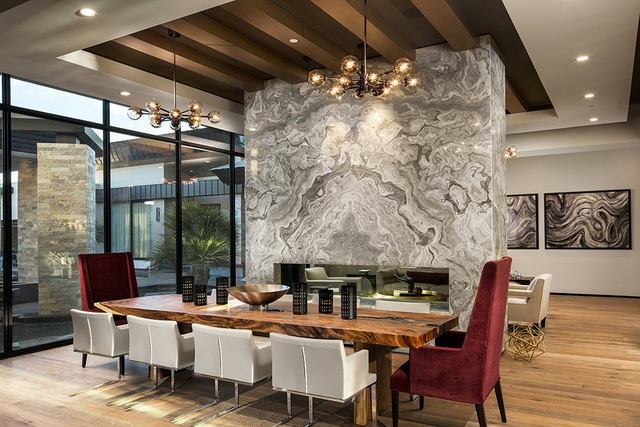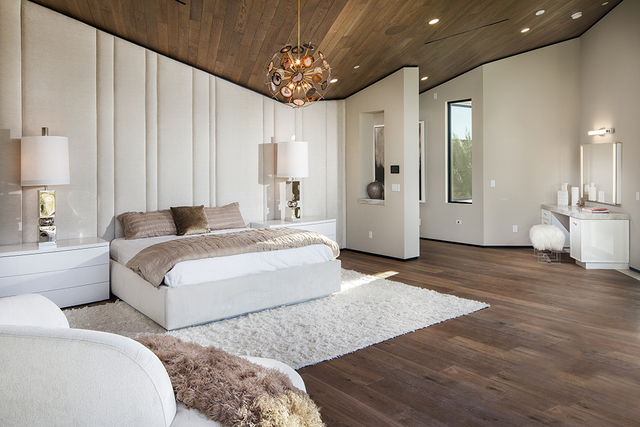 A Seven Hills luxury home might be representative of a city culture emerging from adolescence. The striking, glass-and-steel structure contains five bedrooms and measures nearly 8,500 square-feet of living space.
"People who live in Las Vegas also have a home someplace else — in Newport, in Tahoe, or they have a home out in the country," said Ivan Sher Group, principal with luxury real estate broker Shapiro & Sher Group Berkshire Hathaway HomeServices, Nevada Properties. He has the listing for the $6.2 million home at 2673 Boboli Court. "What is happening is, they are seeing the same or greater level of architecture, design and build quality in their home (here). Las Vegas is now growing up."
NOD TO NATURE
The open floor plan and modern styling are complemented by natural elements, such as Siberian oak-plank floors, stacked stones and double-sided fireplaces. The upper floor unfolds as one walks through it, revealing unexpected rooms and balcony space.
The project took about a year-and-a-half from conception to completion, custom homebuilder Jerry Zigrossi said.
"We had the vision of wanting a modern house with a contemporary feel," he said. "But I wanted to bring in a warmth so that it did not limit anyone from feeling that they could live here. Sometimes people say, 'I do not think I could live in a sharp contemporary style home.' When you walk in here, you see the wood, the stones, the water and the fire — they change their minds real fast."
"I think you've taken a very modern design and softened it," Sher said. "So the home becomes livable even though you have modern architecture. You have a livable, peaceful, tranquil feel; and it feels like a home. That is what I am seeing that people are looking for — the trend of livability."
The builders created a natural flow and ability to open the living space to the patio to take advantage of warm desert evenings.
"It really utilizes all the square footage of the property — you feel like it is all (connected) as one," Zigrossi said.
LUXURY LIVING
The property offers all the features luxury homebuyers have come to expect: smart-home technology, home theater, gourmet kitchen and expansive views from multiple vantage points.
Less common amenities include fire pits and an elevator connecting the first-floor living room to the sleeping quarters on the second level.
One of the striking features of the home is the glass-enclosed wine storage facility, which is adjacent to the dining room. The wine cellar is climate-controlled and capable of storing 350 bottles.
Also, unusual is the six-car garage that frames the entry courtyard.
"As a caroholic, one of my main features I want to find is a lot that can accommodate extra garages," Zigrossi said. "Because there are a lot of us that have the toys, and we do not like storing them in other places. This is a six-car (garage). The next home will be a seven-car, the next one is a nine-car garage. That is unique for this valley."
AHEAD OF TRENDS
Zigrossi said that he began his career by owning real estate companies, which afforded him insight into what high-end homebuyers most valued and how building trends tend to function.
"Custom homebuilders started white-washed cabinets," he said. "All of a sudden, the tract homebuilders said, 'Custom has it, we are going to do it.'
So the tract homes started getting the whitewash, and customs wanted something different. It has always been that evolution of what is a little bit more of a top-notch for the custom homes. "For a longtime, Tuscan homes were the most popular product out there, and then there was the feeling that people were leaning more toward a modern home," Zigrossi said. "Well, we have been in that stage now for a while, and you just want to make sure that we are not missing something.
"As far as I know, we have had a pretty good idea of what these buyers are looking for. I think now we want to listen to them a little bit more and see if there is something else in the future that we should be targeting."
CREATING TIMELESSNESS
"You have this great indoor-outdoor feel — you have a great entertainment space," Sher said. "I think it works on so many levels. Whether it is now, 50 years ago, or many years in the future."
"I have been doing this for 33 years now, and I have that lucky vision to walk through a house site and I see it three-dimensionally and how it is going to look," Zigrossi said. "My biggest job is to convey that to the subcontractors to achieve those goals."
He said one of the aspects of the home he was most pleased with was the water feature that greets people approaching the front door from the gate and ties to the infinity pool and hot tub at the building's rear.
"It did shock me a little bit," he admitted. "It turned out nice, a real pleasure."
BUILDING PASSION
"I am one of those guys that feels like if you enjoy your job, you never work a day in your life. I get up at 4 a.m. I cannot wait to get to work. To get involved in creating products like this. To see a piece of dirt turn into a finished product like this — it is special. It is unbelievable."
Zigrossi said that despite the passion he feels for his work, he never feels an emotional tug from a completed home ready for market.
"We come back and explain the house to the new buyers and work with them and get them used to the house," he said.
"We become friends. I can honestly say that I have built hundreds of custom homes, and I have been to parties, to dinners. I never feel like it is over when the house is built. I enjoy it coming back and seeing what they have done and accomplished. It is always a fun treat."
LOCATION: 2673 Boboli Court, Seven Hills, Henderson
PRICE: $6,250,000
SIZE: 0.68 acres, 8,452 square feet, five bedrooms, five baths
FEATURES: Contemporary design, climate-controlled, 350-bottle wine cellar, six-car garage, Siberian oak-plank floors, stacked stones and double-sided fireplaces, home theater, smart-home technology
HISTORY: Custom homebuilder Jerry Zigrossi built the home in 2016
LISTING: Ivan Sher Group, principal of Sher & Shapiro, Berkshire Hathaway HomeServices, Nevada Properties