LVCVA gift card scandal attracts Nevada ethics scrutiny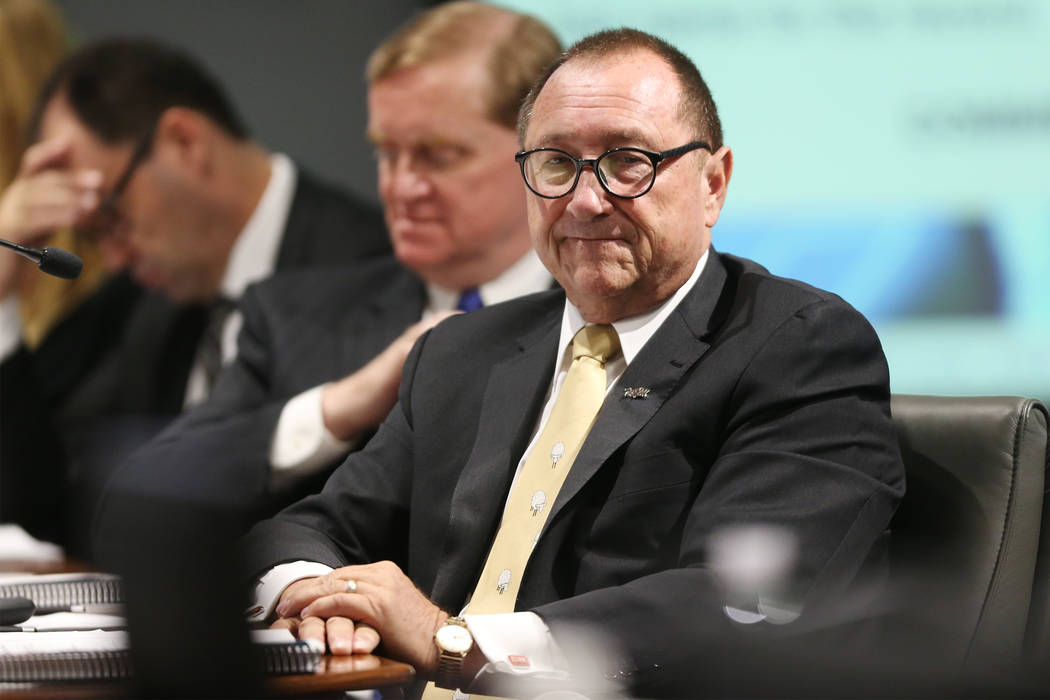 The Nevada Commission on Ethics is investigating whether public funds were misused in the purchase of Southwest Airlines gift cards by the Las Vegas Convention and Visitors Authority, informed sources said.
Retired authority CEO Rossi Ralenkotter and former agency executive Brig Lawson received notice that they are subjects of the investigation and have until later this month to respond to the commission's concerns, the sources said.
Las Vegas police are also investigating the use of the gift cards.
An audit released this year found Ralenkotter used nearly $17,000 in gift cards on personal trips for himself and his wife. Lawson, who resigned amid the audit, hid the purchase of the cards and distributed them to employees within the tax-funded authority. Neither Ralenkotter nor Lawson returned calls for comment Thursday.
More than $50,000 in cards are missing, the audit found.
It is unclear whether Clark County Commissioner Lawrence Weekly, who chairs the authority's board, is also a subject of the ethics investigation. Weekly used gift cards for a $1,400 trip with his daughter. He did not respond to calls for comment.
Ethics commission staff launched the investigation after the gift card audit found the authority had mishandled $90,000 in Southwest cards between 2012 and 2017, a source said. The audit came amid a Las Vegas Review-Journal investigation that found questionable spending at the agency.
Commission Executive Director Yvonne Nevarez-Goodson would not confirm or deny the ethics investigation. She said any investigation is secret by state law until a review panel examines evidence gathered by investigators and decides whether to dismiss the case or send it to the eight-member commission for a public hearing. Witnesses can be called to testify at a public hearing.
"It's not good to face an ethics investigation, even if you come out clean," said Eric Herzik, chairman of the political science department at the University of Nevada, Reno. "If they find you guilty, obviously that's not where you want to be. It undermines public confidence. It hurts you going forward in securing trust among those with whom you deal."
Possible punishment
If the full commission finds ethical wrongdoing, it has several options for punishment, including public reprimands, orders to take corrective action and fines, Nevarez-Goodson said. Willful violations can draw fines of up to $5,000 for the first offense, $10,000 for the second offense and $25,000 for the third offense.
The commission can investigate an official who no longer works for the public agency where the misconduct occurred.
By state law, subjects of an ethics investigation are notified after the commission gives its executive director approval to move forward with the inquiry and present it to the review panel.
Commission staff generally wait for a complaint to be filed before opening an investigation, but they have the legal authority to initiate an investigation without a complaint.
On Thursday, convention authority spokeswoman Jacqueline Peterson said it has not been formally notified of the ethics investigation.
"To the extent the authority is asked for information and asked to participate in this, we of course will participate and be completely transparent," she said.
Personal travel
Ralenkotter apologized for using the airline gift cards on personal trips and paid back the $17,000 to the agency, insisting he did not intend to commit any wrongdoing. Weekly reimbursed the agency for the cost of his daughter's flight.
Ralenkotter left the convention authority Aug. 31 with a board-approved $455,000 financial package.
The deal included a $53,000 separation agreement, a $132,000 performance bonus and a $270,000 post-retirement consulting contract that allows Ralenkotter to continue playing an intimate role in the agency's worldwide marketing efforts. Ralenkotter also is getting at least $350,000 per year in state pension benefits.
Convention authority officials discovered the existence of the cards in January 2017 but did not inform the board until more than a year later after they learned about Ralenkotter's personal use of the cards. The audit was ordered in February by the authority's audit committee chairman.
Las Vegas police opened their criminal investigation in June. But days before the convention authority board approved Ralenkotter's retirement deal Aug. 14, a top police official hand-delivered a letter to Weekly saying the department did not have enough evidence to charge Ralenkotter "at this time." Weekly had solicited the letter.
In an email to board members, Weekly interpreted the letter to mean Ralenkotter was cleared of wrongdoing.
But the investigation remains active, police later said.
The Review-Journal investigation last year found excessive convention authority spending on high-end entertainment, gifts for employees and first-class trips overseas for board members.
The newspaper also found Las Vegas Convention Center security officers were directed to leave their posts to chauffeur Ralenkotter to events, even though he received a $9,000 annual vehicle allowance. The investigation also discovered that authority warehouse staff gave away thousands of dollars in iPads, Bose speakers and other gifts intended to promote tourism without noting the recipient or business purpose. Warehouse staff also provided about $6,000 of gift baskets to Ralenkotter.
The newspaper requested employee gift and travel records more than a year before the board hired the auditors, but the authority did not provide any records of the airline gift cards. It maintained there was no process in place at the time to track usage of the cards.
The Review-Journal is owned by the family of Las Vegas Sands Corp. Chairman and CEO Sheldon Adelson. Las Vegas Sands operates the Sands Expo & Convention Center.
Contact Jeff German at jgerman@reviewjournal.com or 702-380-4564. Follow @JGermanRJ on Twitter.
RELATED
LVCVA board to vote on retirement payout for CEO Rossi Ralenkotter
Nevada lawmaker takes aim at big payout for LVCVA boss
Board member urges LVCVA boss Rossi Ralenkotter to leave
LVCVA boss pursues retirement payout amid criminal investigation
LVCVA boss bypassed board on ex-Las Vegas Mayor Oscar Goodman's raise
Las Vegas police investigating LVCVA airline gift card scandal
Attorneys: LVCVA gift card scandal warrants criminal probe