LVCVA board OKs $455K retirement plan for CEO Ralenkotter
Updated August 14, 2018 - 9:33 pm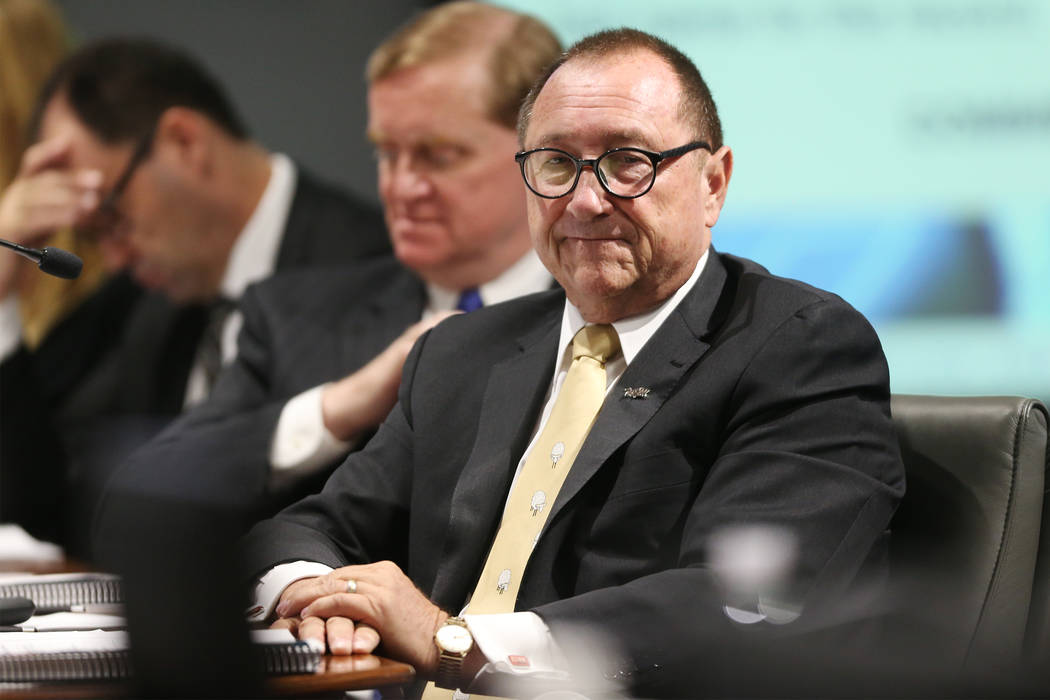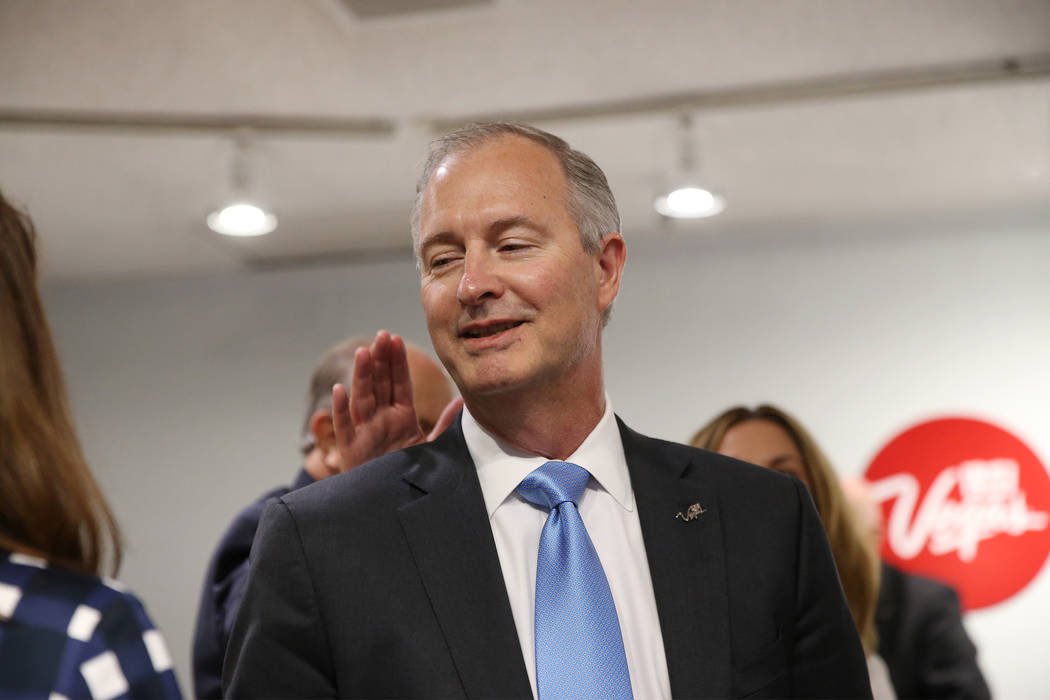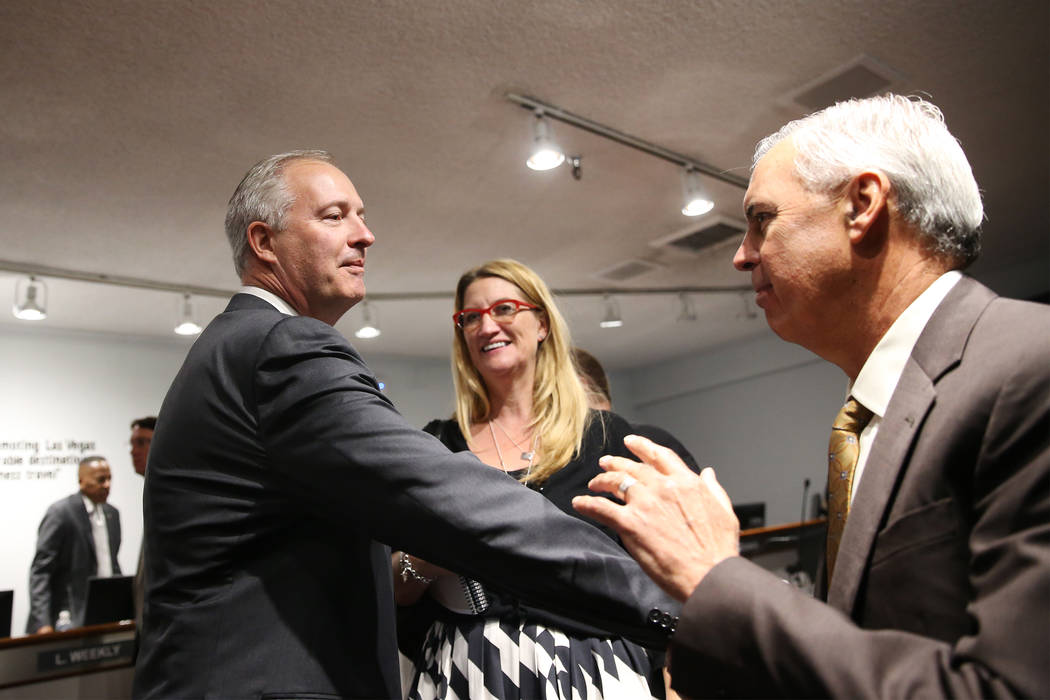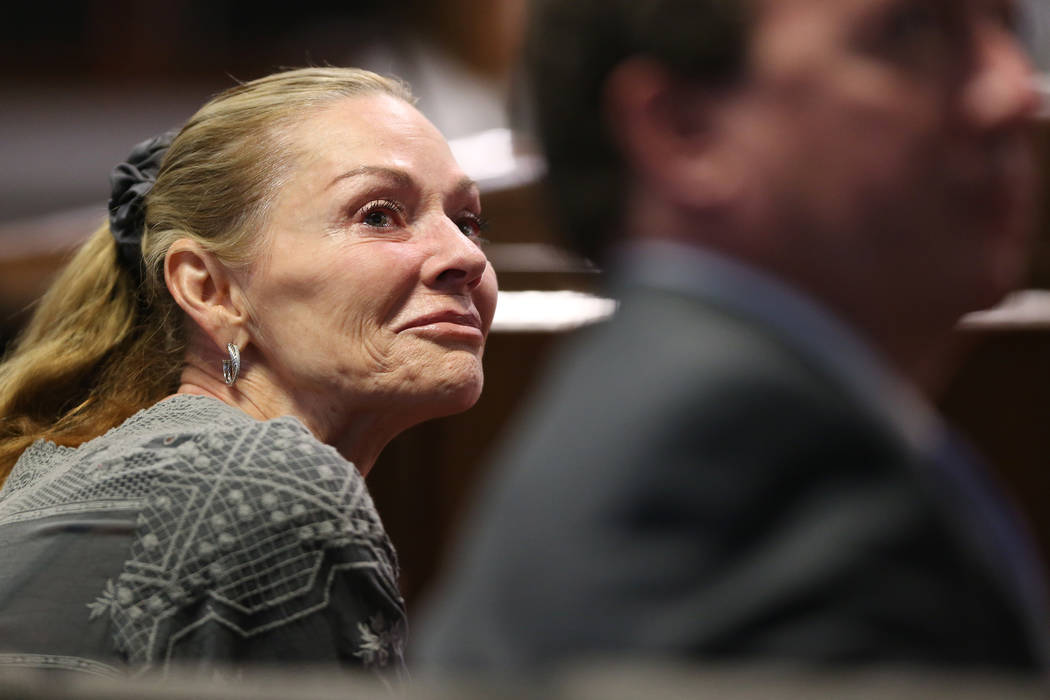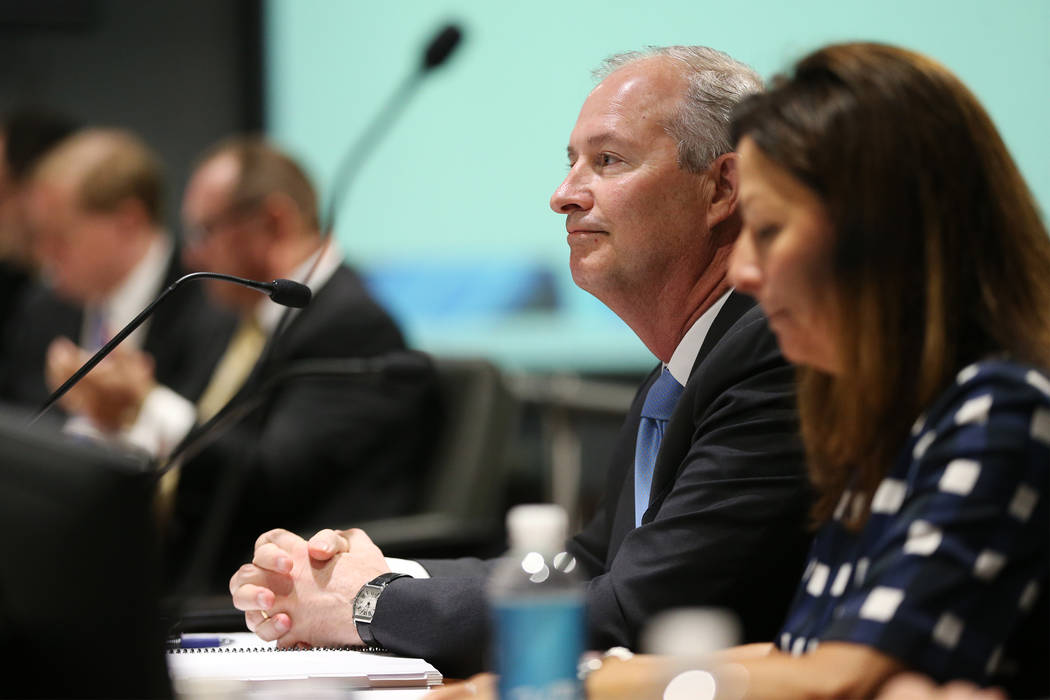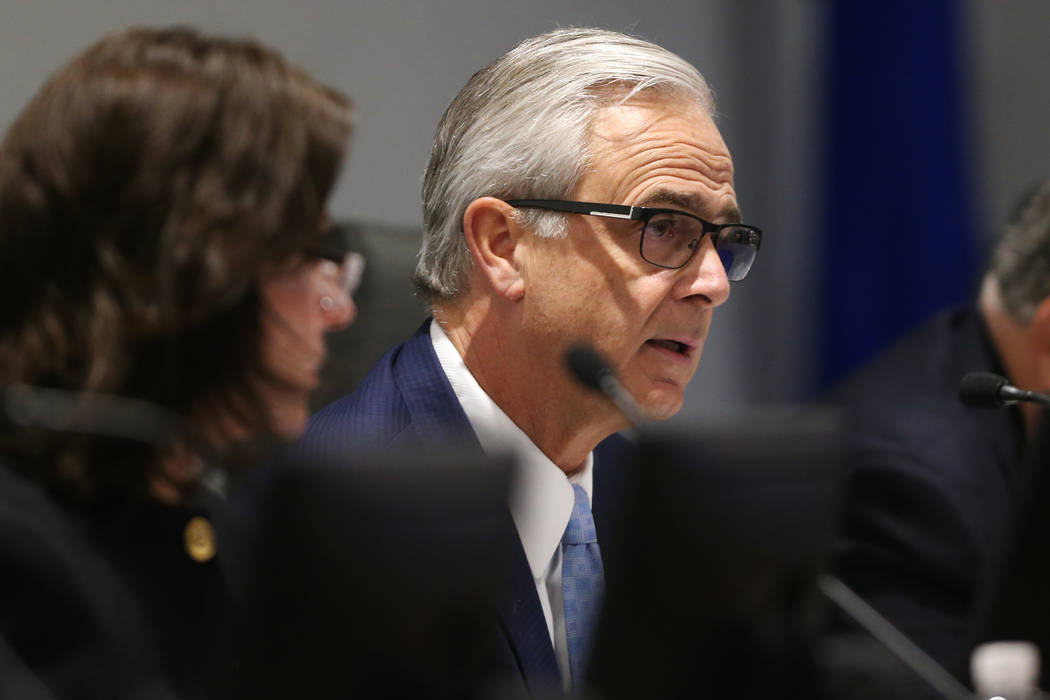 The Las Vegas Convention and Visitors Authority Board sent CEO Rossi Ralenkotter into retirement Tuesday with a roaring applause, video tribute and $455,000 financial package.
Two Las Vegas police intelligence detectives investigating the mishandling of $90,000 in Southwest Airlines gift cards during Ralenkotter's tenure saw it all from their seats in the back of the room. A police spokesman said the investigation is "ongoing at this time."
By a 13-1 vote, the board approved a $53,000 separation agreement, a $270,000 post-retirement consulting contract and a $132,000 performance bonus for Ralenkotter.
The board also voted Tuesday to approve newly hired President and COO Steve Hill as Ralenkotter's successor.
Michael Schaus, a spokesman for the conservative government watchdog group Nevada Policy Research Institute, called Ralenkotter's financial package "an absolute insult to taxpayers."
"The retirement deal shows that the board is nothing more than a club for cronies," he said. "The board had absolutely no obligation to offer any sort of deal, and their decision to use taxpayer money to further enrich someone that has clearly violated the public trust in such an obvious way shows just how unserious the board is about even attempting to be responsible stewards of public dollars."
The deal approved by the board adds to Ralenkotter's state pension benefits worth at least $350,000 per year that he will receive when he steps down Aug. 31.
Clark County Commissioner Lawrence Weekly, who chairs the board, said he had a tough time dealing with Ralenkotter's departure.
"The only reason why I'm going forward with this today is because you've basically told me it's OK," Weekly said. "I'm with you and I'm going to the mat with you for taking me in. When I first came in as chairperson, I was really, really, really green and you said, 'You know what, Lawrence, I got you. Let's sit down and let's talk,' and you helped me through it."
As board members showered Ralenkotter with praise, they downplayed the gift card scandal, saying it pales when compared to Ralenkotter's accomplishments. Ralenkotter, 71, used nearly $17,000 in cards on personal travel for himself and his wife.
He apologized and paid back the money to the agency, insisting he did not intend to commit any wrongdoing. More than $50,000 in cards remain missing, and the board decided it would cost too much money to have auditors try to find the cards.
Brig Lawson, a top convention authority executive who bought the gift cards from Southwest Airlines and distributed them to staff at the agency, resigned earlier this year.
Weekly also used the gift cards to pay for a $1,400 trip with his daughter. He paid back the agency for the cost of his daughter's flight.
Last week, Las Vegas police took the unusual step of providing Weekly with a letter saying they did not have enough evidence to charge Ralenkotter "at this time." Weekly solicited the letter.
In an email to board members, Weekly interpreted the letter to mean Ralenkotter was cleared of wrongdoing.
But the investigation is just beginning. The detectives sat through the three-hour board meeting and an earlier hour-long compensation committee meeting. Police obtained records on June 28 from the convention authority related to an audit that uncovered the missing airline gift cards.
Leaving under a cloud
The lone vote against Ralenkotter's separation agreement, consulting contract and bonus was North Las Vegas Mayor John Lee. He had publicly urged Ralenkotter to leave without a deal because of concerns about the police investigation and Review-Journal stories about excessive spending at the agency.
Lee also was the only vote against Hill.
Henderson City Councilman John Marz urged his fellow board members to put off the Ralenkotter vote.
"The only reason we're here is because there's a cloud over this," he said. "I hope we maybe do the right thing and think about this more."
Two other board members, Las Vegas Mayor Carolyn Goodman and Las Vegas Councilwoman Michele Fiore, said they would vote against Ralenkotter's deal because they didn't want him to leave the agency. They said his experience and contacts within the tourism industry were too valuable.
"I don't accept your resignation, and I don't accept the package that's been offered to you," Goodman said.
Added Fiore, "I don't want to let him go today."
But Marz and the two Las Vegas leaders ended up voting in favor of the financial deal after Ralenkotter told Fiore that he was ready to retire.
"I think that it's time for me to move on," Ralenkotter said. "We (should) stop criticizing the LVCVA in this community and we (should) start celebrating the LVCVA in this community."
The board's attorneys this week added another $90,000 to Ralenkotter's 18-month consulting contract.
Ralenkotter also would receive reimbursement for travel expenses and any pre-approved entertainment costs he incurs as a consultant, according to the contract.
It also allows Ralenkotter to continue serving on public committees related to tourism and work with the agency to develop its global marketing plan. He also can consult with agency staff on all aspects of the convention authority's strategic agenda.
Ralenkotter spent 25 minutes recounting his accomplishments of the past year before the compensation committee approved his bonus.
He cited his leadership, innovation and his financial management.
The airline gift card audit and the police investigation came after a Review-Journal investigation found excessive convention authority spending on high-end entertainment, gifts for employees and first-class trips overseas for board members.
The Review-Journal also found Las Vegas Convention Center security officers were directed to leave their posts to chauffeur Ralenkotter to events, even though Ralenkotter receives a $9,000 annual vehicle allowance. The investigation also discovered that authority warehouse staff gave away thousands of dollars in iPads, Bose speakers and other gifts intended to promote tourism without noting the recipient or business purpose. Warehouse staff also provided about $6,000 worth of gift baskets to Ralenkotter.
The newspaper requested employee gift and travel records more than a year before the board hired the auditors, but the authority did not provide any records of the airline gift cards. It maintained that there was no process in place at the time to track usage of the cards.
An earlier version of this story incorrectly said North Las Vegas Mayor John Lee voted for a $132,000 performance bonus for Rossi Ralenkotter.
The Review-Journal is owned by the family of Las Vegas Sands Corp. Chairman and CEO Sheldon Adelson. Las Vegas Sands Corp. operates the Sands Expo & Convention Center, which competes with the Las Vegas Convention Center.
Contact Jeff German at jgerman@reviewjournal.com or 702-380-4564. Contact Richard N. Velotta at rvelotta@reviewjournal.com or 702-477-3893. Follow @JGermanRJ and @RickVelotta on Twitter. Reporter Arthur Kane contributed to this story.Video: Part 1 of today's meeting